Ready to escape the everyday and dive into the turquoise dreams of St Lucia's beaches? You've come to the right place! Famous for their sugary sands and iridescent waters, these beaches are your passport to paradise.
If your journey to St Lucia is by cruise, your first Caribbean dip could be at Vigie Beach. Just a quick hop from the cruise port, this beach promises peace and serenity. So kick off your flip flops, let the sand sift through your toes, and make the biggest splash you can in the calm waters!
Not far away, the island's northwest coast is home to Choc Beach. Perfect for the golden hour, it's the ideal spot to unwind and admire a stunning St Lucian sunset. Lounge on the sand, watch the sun paint the sky in hues of pink and orange and let the rhythmic serenade of the waves lull you into a state of bliss.
Craving a dash of adventure? Anse De Sables Beach in the south has got you covered! With steady winds and a wide sandy stretch, it's a windsurfer's dream come true. Get ready to ride the waves and feel the thrill!
Just south of Castries is the golden expanse of La Toc Beach. Here, the fun continues even on land, with the nearby Sandals La Toc Golf Resort and Spa offering some tee-time amidst the tropics.
No beach adventure in St Lucia would be complete without a visit to the scenic town of Soufriere. Famous for the towering Pitons, Soufriere is also home to a charming beach park. Sit back, soak up the sun, and let the magnificent views take your breath away.
For a unique off-the-beaten-path experience, venture to Pebble Beach in Choiseul. Its pebble-strewn shore and tranquil ambiance provide the perfect backdrop for a peaceful retreat. Listen to the gentle waves caressing the pebbles, it's music to the ears!
With a plethora of beaches on St Lucia, every day is a new adventure under the sun. Whether you're a beach bum, a water sports enthusiast, or a sunset chaser, St Lucia has the perfect beach waiting for you. So, slap on some sunscreen, grab your favorite beach read, and prepare for an unforgettable sun-soaked getaway! Let the St Lucian beaches steal your heart and replenish your soul. Here's to sandy smiles and sun-kissed memories!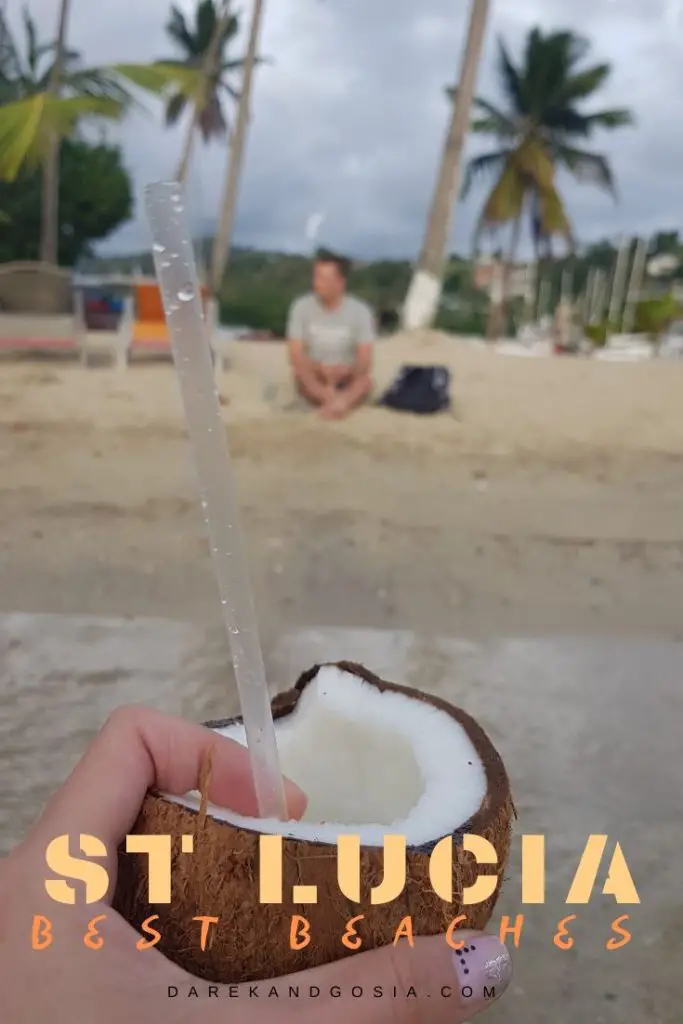 11 best beaches in St Lucia:
1. Sugar Beach
Let's start our piece with Sugar Beach, a sweet name for an even sweeter location. This beauty has to be on any list of the best St Lucia beaches!
Sugar Beach is a Viceroy Resort, though there is some public access. This particular resort is located among over 100 acres of rainforest, which leads down to two beaches of white sand.
The bay is protected and has some gentler and shallower waters; which are perfect for taking younger children into. This is a resort that caters to all kinds of people, though one could argue that families would benefit the most from staying here.
Amenities include a bar and a spa, as well as a restaurant. There are several sports available in the area, such as windsurfing and snorkelling. The resort also offers a babysitting service, and you can have your wedding here!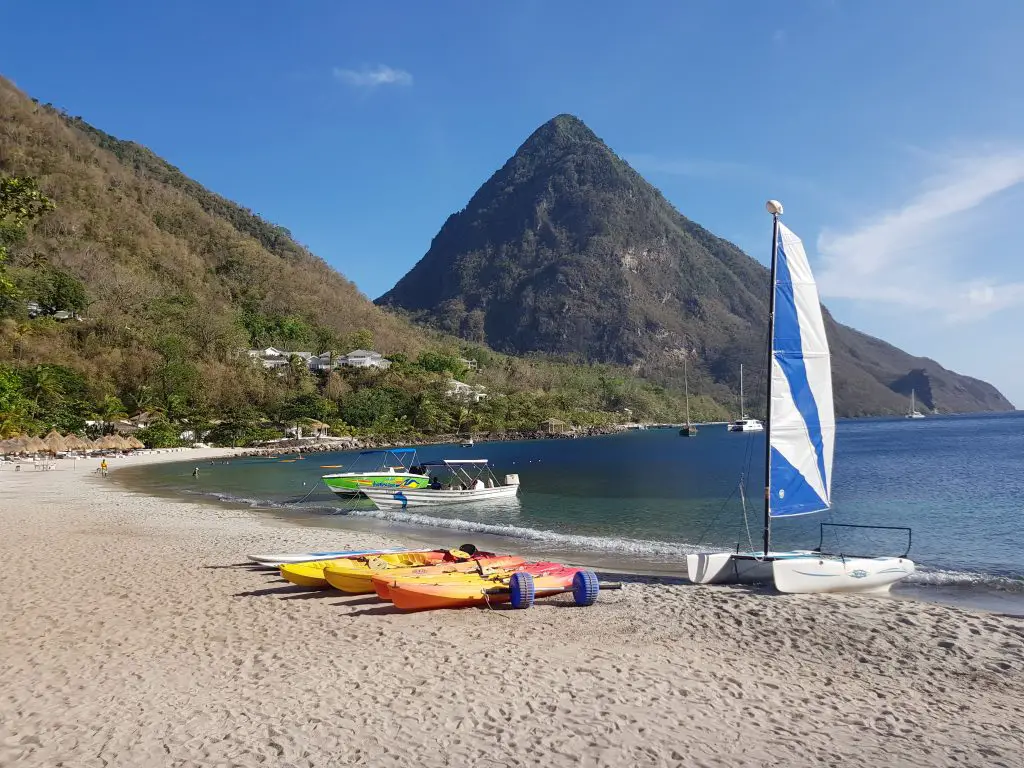 2. Marigot Bay
St Lucia's beaches are among the finest in the world and Marigot Bay Beach is in a very top of that list!
Marigot Bay isn't actually located on the main island of Saint Lucia. There's a small section of land that is two minutes off of the island where the resort is located.
You can get to Marigot Bay by using a complimentary water taxi. It's an uncluttered stretch of land with a natural harbour, but it isn't an island for any exciting activities.
Unlike the main island of Saint Lucia, Marigot Bay is completely quiet and picturesque. It's better for sailboat watching than any strenuous sports or experiences.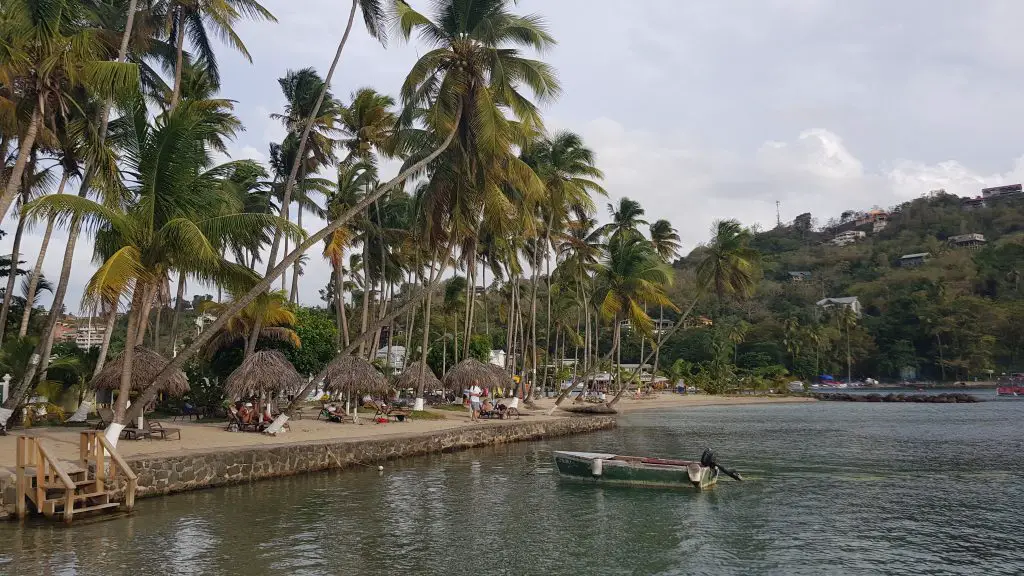 3. Pigeon Island Beach
Tourists arrive from all over the world with a list of things to do in St. Lucia. At the top of every list is Pigeon Island Beach. Do you agree? 🙂
Pigeon Island Beach has been called beautiful but expensive by its many visitors.
The beach itself is free, of course, but be wary if you're going to buy anything while you're there. Alcohol, especially, can be double the price you expect it to be. You'll also need to pay for the beach seats.
On the plus side, there are some delicious restaurants on the beach and there isn't any blaring music.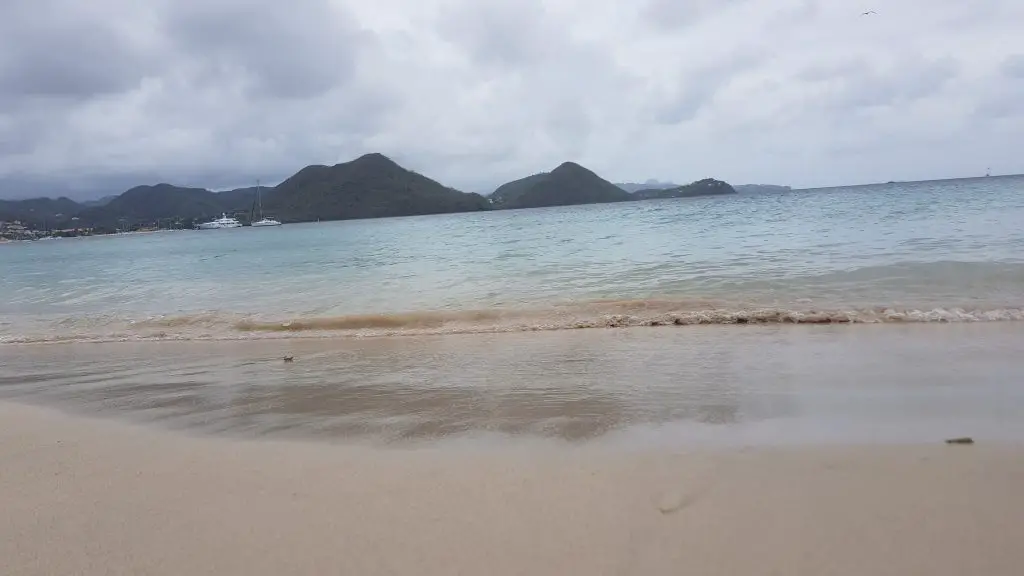 4. Anse Chastanet
Saint Lucia beaches offer the classic Caribbean postcard beauty and Anse Chastanet is one of the most stunning beaches you will visit while on St Lucia!
Anse Chastanet is a unique resort that sits amid 600 acres of hillside. This beach very much has the right atmosphere for anyone looking for a few moments of peace.
The rooms of the resort let you view the sea or the beach, depending on the side of the resort you're staying on. There are also tonnes of activities here; like kayaking and scuba diving.
For those who are simply looking for a relaxing day, there's nothing wrong with taking to the beach like a fish to water or laying on the sand.
But, if you would like to be a bit more active over your island visit, you can benefit from jungle biking or bird watching.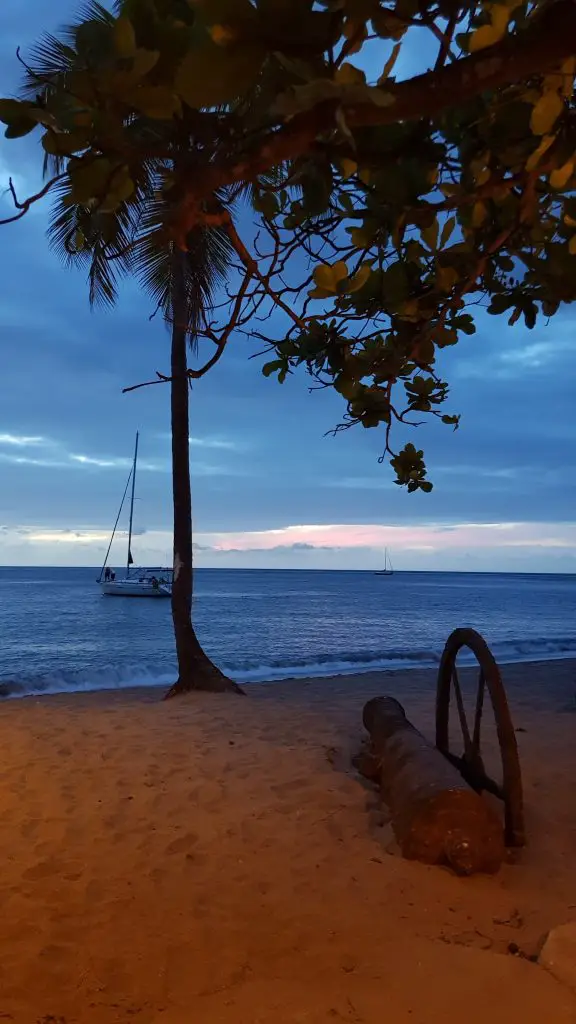 5. Vigie Beach
There are many stunning beaches on St Lucia. Vigie Beach is within walking distance of a nearby cruise port, which is great for anyone passing by the island of Saint Lucia and stopping in for a day or two.
The beach boasts cleanliness, and you won't find any garbage taking away from the natural scenery. However, there aren't any lounge chairs or washroom facilities, so make sure you take everything you need with you.
Visitors say that the ocean is warm, even in November. And for authentic, local food, visit Eugenies for amazing Caribbean delights. It can get a little noisy here because the beach is so close to the airport, but it isn't anything extreme, and it's definitely not a party beach.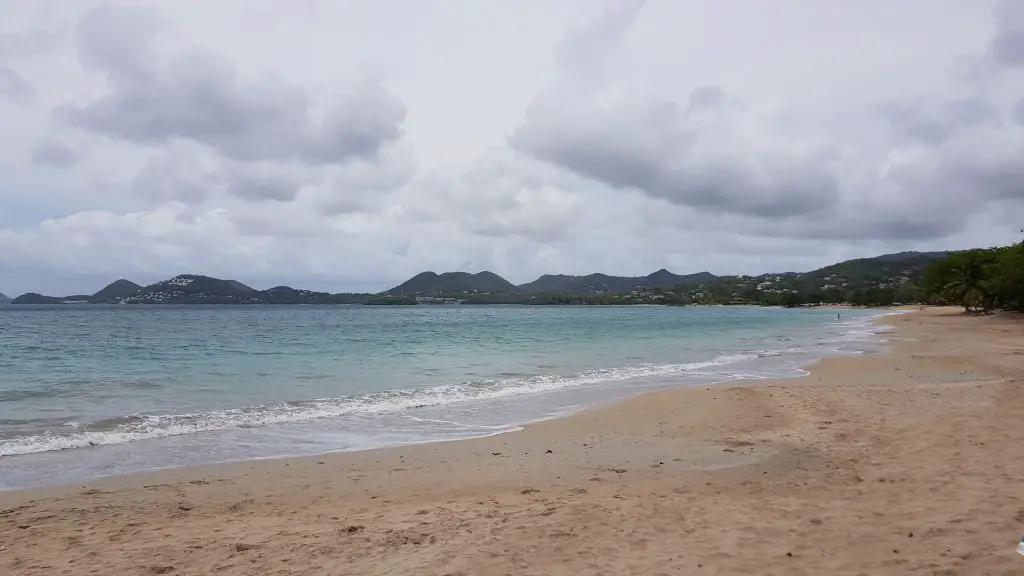 6. Anse Des Sables Beach
St. Lucia is known for majestic mountain views, rainforests and of course, picturesque beaches. If you are looking for sparkling sands and crystal clear water head out to Anse Des Sables Beach – a top-notch beach in St. Lucia island!
Anse des Sables beach is a stretch of white sand that opens out to a shallow bay. It can be found in the south of Saint Lucia, and it has crystal clear water.
Because of the strong gusts of wind at Anse des Sables beach, the area is more popular for guests that want to experience windsurfing. This beach is flanked by the Vieux Fort Bluff, which gives it views that make it look like a paradise.
For anyone that is staying on the south side of Saint Lucia, we couldn't recommend this beach any more than we already have.
Anse des Sables beach is quite close to Vieux Fort Lighthouse, so visitors have the option to walk or to take a cab to the lighthouse and explore the area around it. If lighthouses aren't your thing, the George Odium Stadium is less than two miles from this beach, as well. Would you call it the best beach in St Lucia?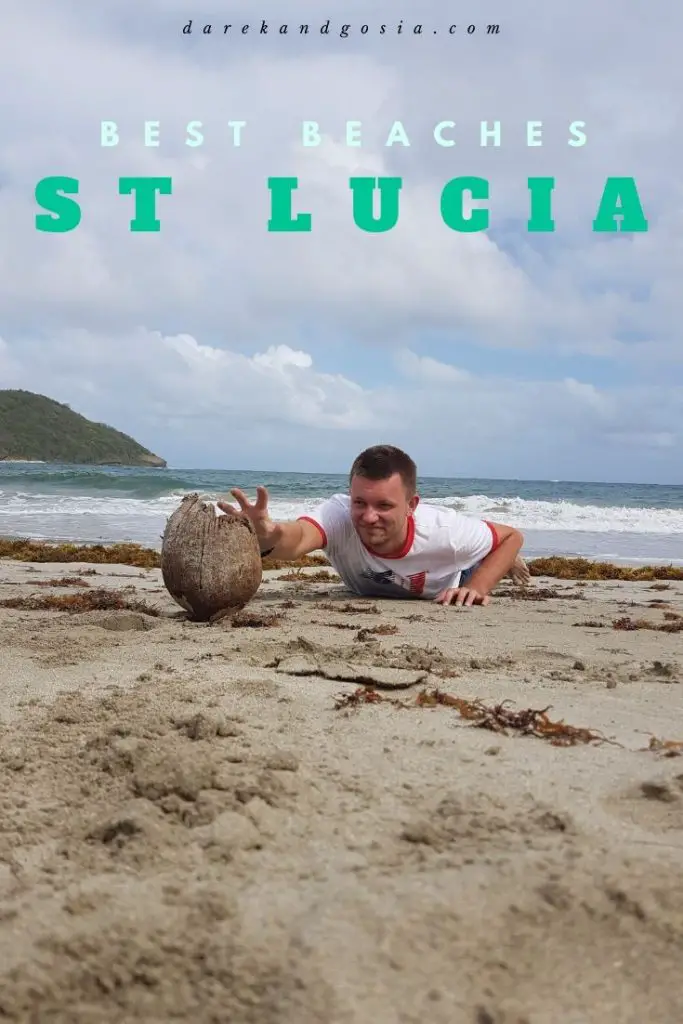 7. Reduit Beach
Reduit beach is one of best beaches on St Lucia. It has golden sands and an interesting inflatable complex on the water.
The inflatables add park-like features to the beach, with slides that will dip you down into the ocean waters, and places to simply lay down and relax. Even cloudy days are comfortably warm here, and you'll have plenty of chances to kick back with a cocktail while your kids play on the bouncy sea-bound inflatables. It's a different kind of beach, that's for sure.
It can get quite busy here because people that come from cruise ships stop near this beach and flock towards it. But there are plenty of restaurants and other things to keep everyone entertained; even on the busiest of days.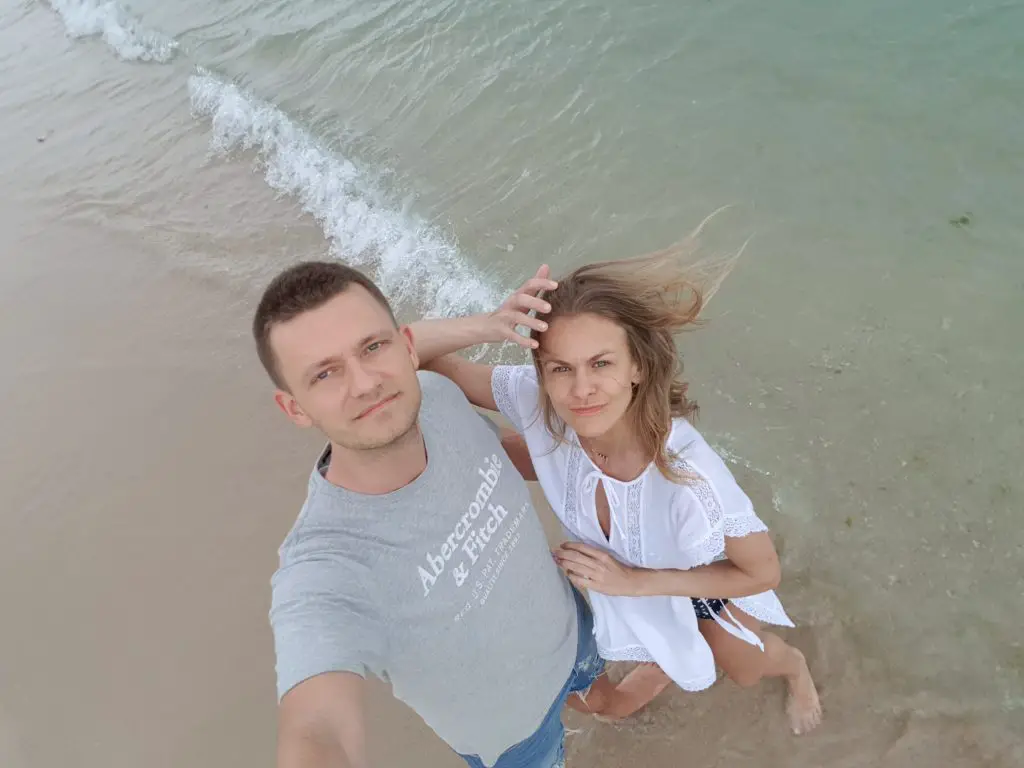 8. Sandy Beach, Vieux-Fort
We couldn't forget about Sandy Beach in Vieux-Fort on our list of the best beaches Saint Lucia, could we?
Sandy beach is great for kitesurfing and windsurfing! This beach has medium-sized waves, which are great for everyone from the experiences to those who have never tried a water sport before.
The beach is also located in the perfect place for anyone that wants one last dip in the sea before they head off to the airport. Or, if you happen to be staying at Coconut Bay Resort, you can wander out to this beach and enjoy the sights.
There are tour options that cover this beach, as well as other areas of the east of Saint Lucia. Some even offer photography included in the price! No need to get that selfie stick out or try and find someone to take a picture for you.
The bars here are nicely priced, and you won't overpay for anything that you want to drink.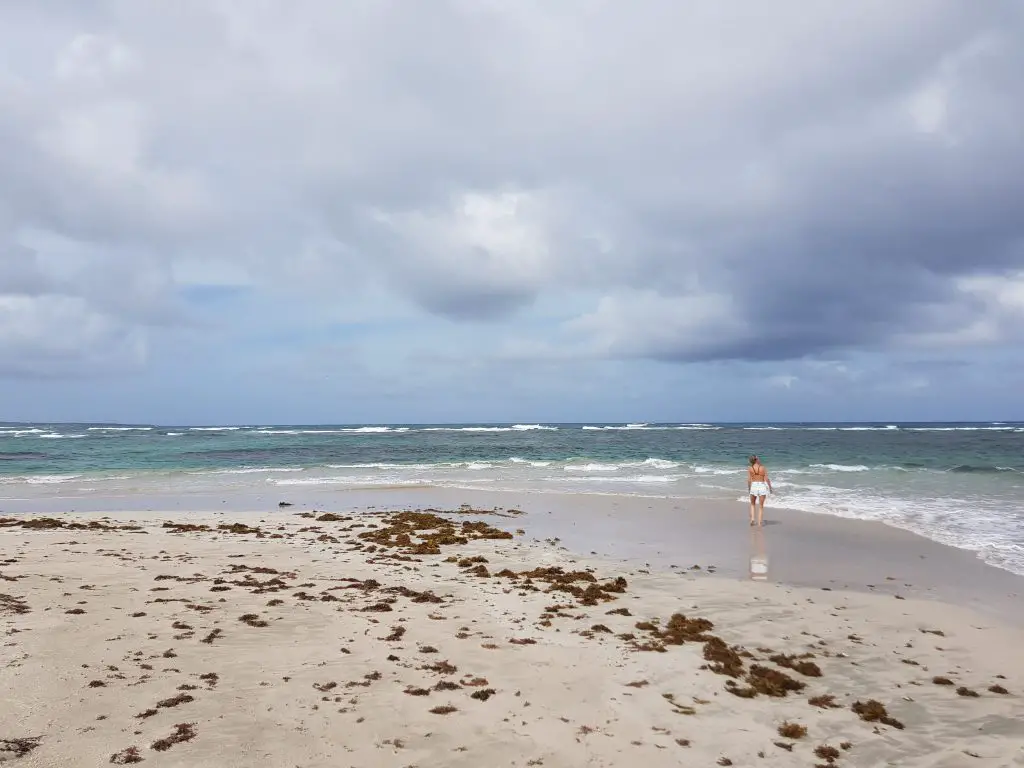 9. La Toc Beach
A fan of bigger and more thrilling waves? La Toc Beach is the place for you! Visitors often head to La Toc for swimming, sailing, paddle-boarding, and kayaking.
Beware of beach vendors, as there are quite a few that will head down to La Toc to sell to tourists. They can be persistent, but a polite and friendly no is the best way to deal with them – unless you do want to buy something, of course!
Guests have also noticed that there is a quite sharp slope that heads down into the sea, so anyone planning on visiting should be cautious when walking into the water; particularly if you have younger children that you're planning on taking into the sea with you.
The waters can be a bit rougher than other St. Lucia beaches. We won't deter you, but if you have small children or aren't very strong, another beach might be better for you and your family to visit. If you do go to La Toc, exercise some caution upon entering the water.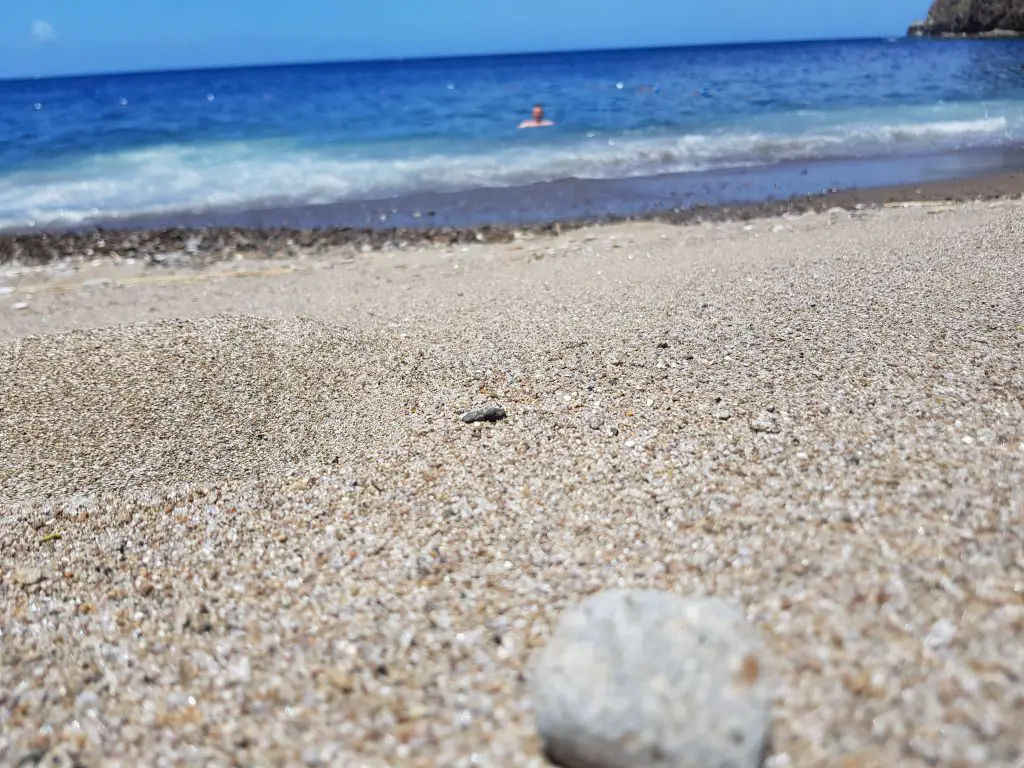 10. Choc Beach
A beach that's not as well known as other beaches on the island of Saint Lucia, but it's no less beautiful than its fellows.
Choc beach is a different kind of beach, with a sweep of sand and plenty of coconut trees. This beach is studded with hotels, so finding accommodation won't be a problem for visitors, at least.
This beach is also quite close to Castries, the capital of Saint Lucia. Castries is great for buying souvenirs or going shopping during your visit. Many guests have recommended this area for its friendly and helpful staff members, as well as the amazing cruises from Joy Cruises that run from this area.
11. Soufriere Beach
Last on our list is Soufriere beach! Soufriere beach has a beautiful bay with a great area for snorkelling at the northern end.
There are plenty of activities for children and adults on the beach, and it's used by guests and locals for relaxation and fun. The view is amazing, and unlike other beaches on Saint Lucia, it's not a destination that is catered directly towards tourists – so you won't be bothered by people trying to sell you things or overcharge you for beach seats.
The spires of the Pitons rise over the water here, and with the sun beating down and creating beautiful colours over the sea, it's a sight you won't soon forget.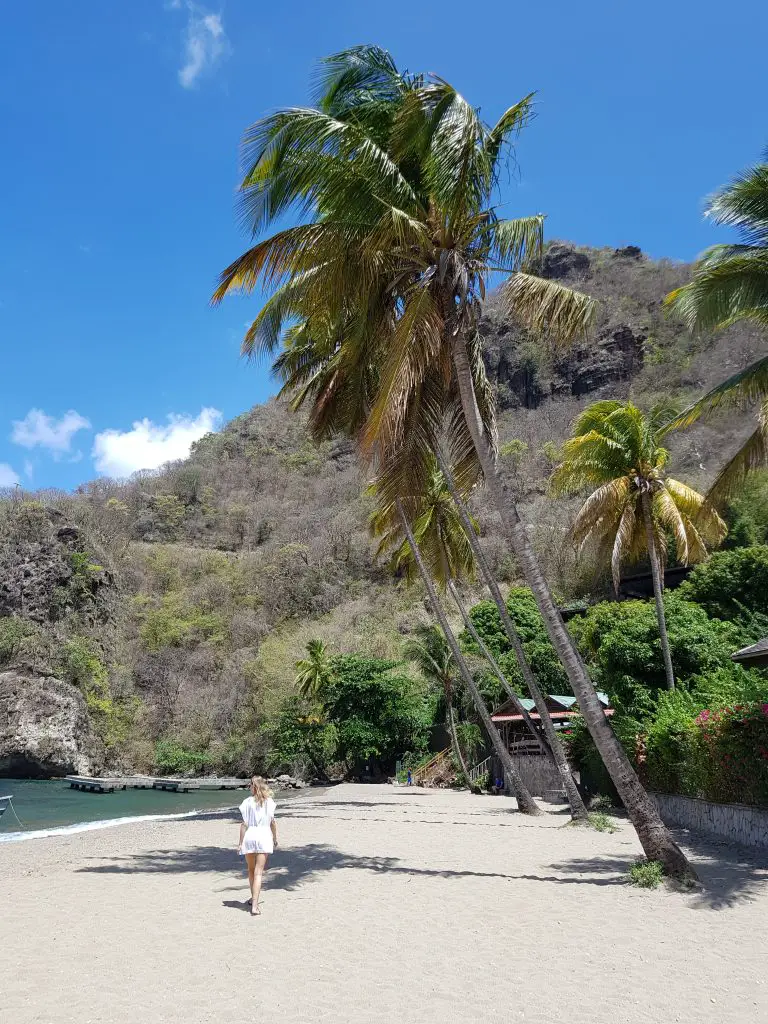 Is St Lucia great for a beach holiday?
The island of Saint Lucia has a variety of beaches, with sands that are coloured from silver to black, with golden tones in between. The island is one of the best places in the Carribean for a beach holiday.
It's difficult to find a beach that doesn't meet your needs on this island; whether that's relaxing and sunbathing or going diving and seeking thrills.
Some of the beaches are livelier than others, hosting bars and extreme water sports, while others are backed by jungle overgrowth and perfect for a day in the sun without any worries.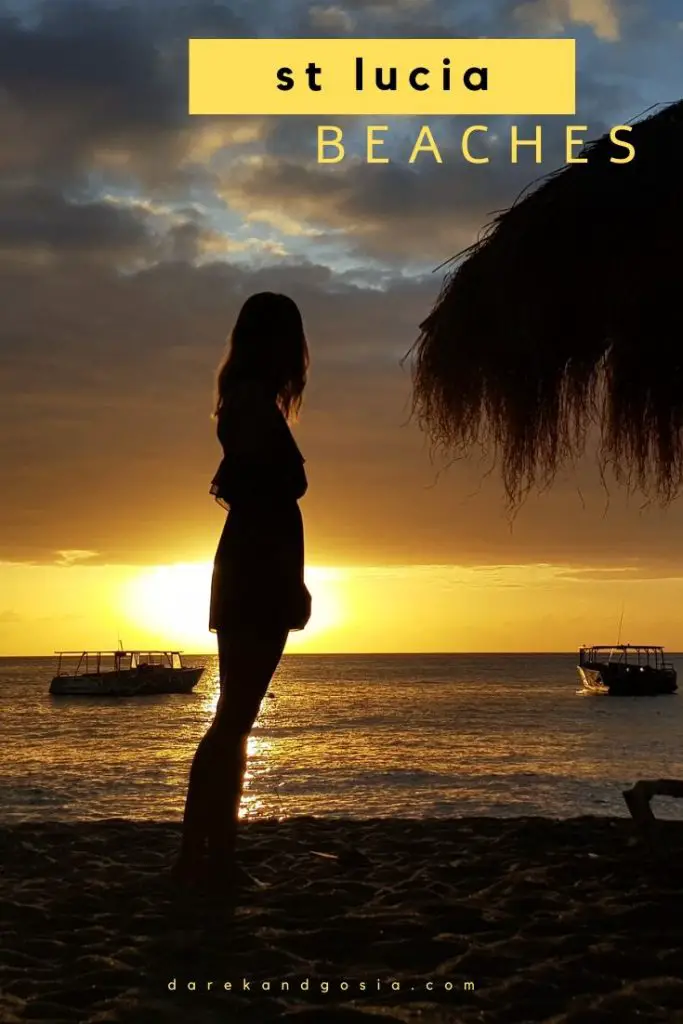 St Lucia truly is a beach lover's paradise. With a plethora of stunning beaches scattered around the island, each offering their unique charm and allure, there's a sandy retreat for every traveler.
From the convenience and tranquility of Vigie Beach and Choc Beach, just a stone's throw away from the cruise port, to the adrenaline-fueled windsurfing adventures at Anse De Sables Beach, this beautiful Caribbean gem offers a perfect blend of relaxation and excitement.
The golden sands of La Toc Beach welcome you to soak up the sun and enjoy some golf, while the picturesque backdrop of the Pitons at Soufriere Beach Park will make your beach day absolutely unforgettable. And for those looking for a serene escape, Pebble Beach offers a unique, peaceful retreat.
So, whether you're disembarking from a cruise, staying at a nearby resort, or exploring the island, the best beaches in St Lucia are waiting to enrich your vacation with their tropical charm. Pack your beach essentials and get ready to discover the magic of St Lucia's beaches, where the sun shines brighter, the sand feels softer, and the ocean sings sweeter. The perfect Caribbean beach escape is just a flight (or cruise!) away. See you on the sunny side of St Lucia!
Articles you may like: