Visit Lavenham village & have an amazing day out in Suffolk. From stunning walks and top British pubs to beautiful buildings from Tudor times – there is a lot to see in Lavenham!
The village of Lavenham is located in the heart of the amazing Suffolk countryside. It is considered to be one of Britain's best-preserved medieval villages.
With 300+ listed timber-framed buildings it's a must-visit place in this part of Southern England.
Lavenham is also known as one of the prettiest villages near London. The village and its surrounding area are just perfect for anyone looking for an escape to the stunning British countryside!
If you are looking for places to go for a weekend away in England and consider Lavenham as your base, book The Angel Hotel or find a hotel near Lavenham.
Where is Lavenham, England?
Lavenham is a small village and civil parish in the county of Suffolk. In the east of England, Lavenham sits three miles northeast of Acton town and is 16 miles to the west of Ipswich. London is just 57 miles from Lavenham, and the village is only 4 miles away from the border of Essex.
It comes under the district of Babergh, which is primarily made up of rural locations across the Suffolk countryside. The two towns closest to Lavenham are Sudbury and Hadleigh.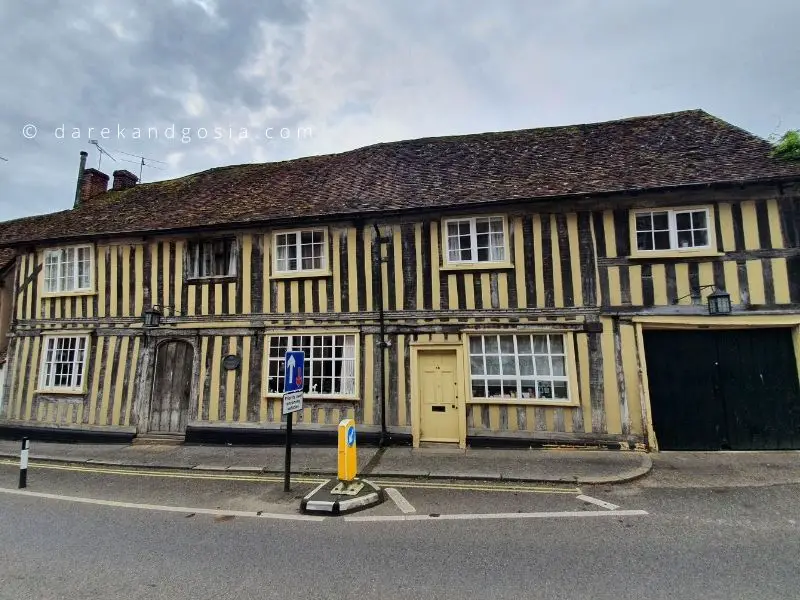 How to get to Lavenham village?
Visitors can reach Lavenham by car or train, but one of the reasons this lovely village has remained unspoilt for so many years is because it isn't the easiest to travel to. While the roads to Lavenham are not challenging, the village itself is not overly signposted, so it's much easier to follow a satnav when travelling to Lavenham.
The best route is to head to Sudbury and then head northeast on the B1115, exit on the B1071, and you will arrive in the Lavenham. There is plenty of free parking. If taking the train, the closest station is Sudbury which has direct links to London Liverpool Street. You can then catch the 753 Bus from Sudbury to Lavenham.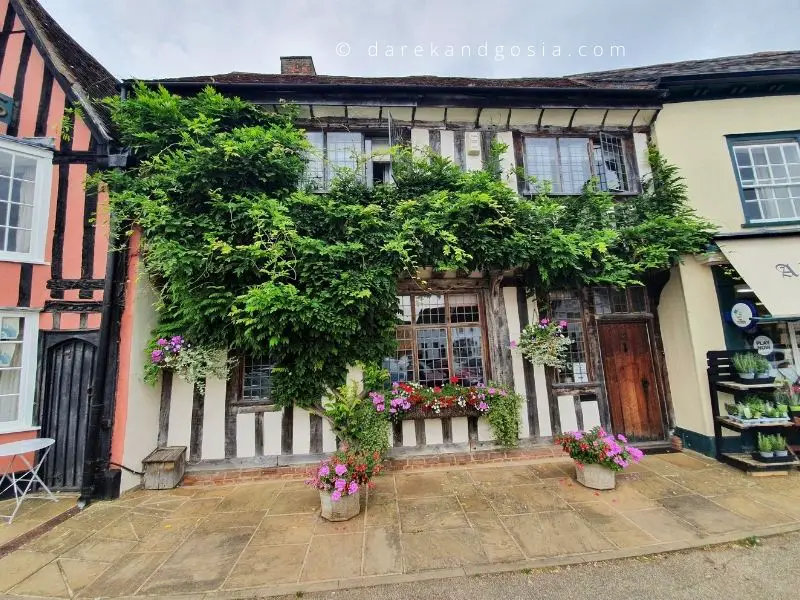 Why is Lavenham famous?
Lavenham is considered one of the best-preserved medieval villages in England. There are more than 300 listed buildings in the village, which are certainly a sight to behold. But that isn't the only claim to fame for Lavenham. The historic area is also known for being a medieval wool town.
Many years ago, Lavenham was considered the fourteenth wealthiest place in the country thanks to the success of the wool trade. It was famed for producing blue broadcloth, which was exported as far as Russia.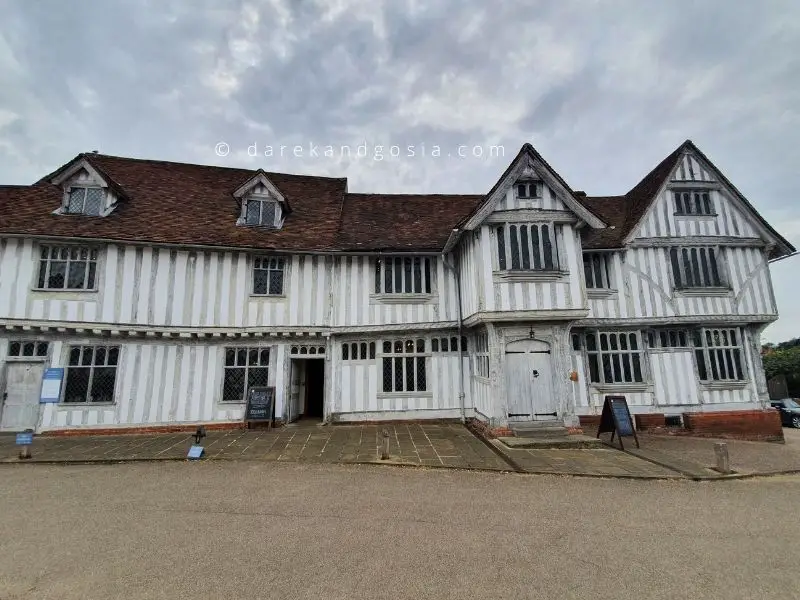 Lavenham facts:
| | |
| --- | --- |
| Population: | 1,700 |
| District: | Babergh |
| County: | Suffolk |
| Region: | South East |
| Famous for: | Cottages |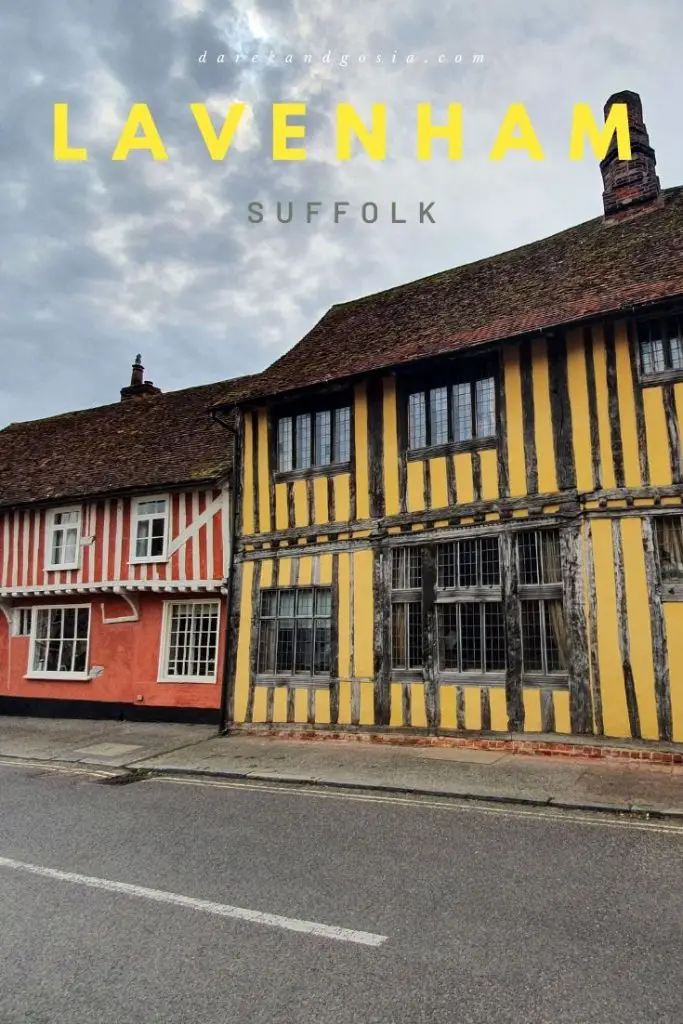 Things to do in Lavenham Suffolk
1. Harry Potter House Lavenham
Where to go in Lavenham? The beautiful streets of Lavenham were used as the backdrop for Godric's Hollow in Harry Potter and the Deathly Hallows Part 1. While the actors never actually filmed in the village, the buildings were shot and then edited using CGI. Lavenham Guildhall has become known as Harry Potter House in Lavenham, as it played the part of Harry Potter's parent's old house.
In the film, Harry visits the derelict house and his parent's graves in Godric's Hollow. Today, Lavenham Guildhall is a National Trust property and can be visited Wednesday to Sunday.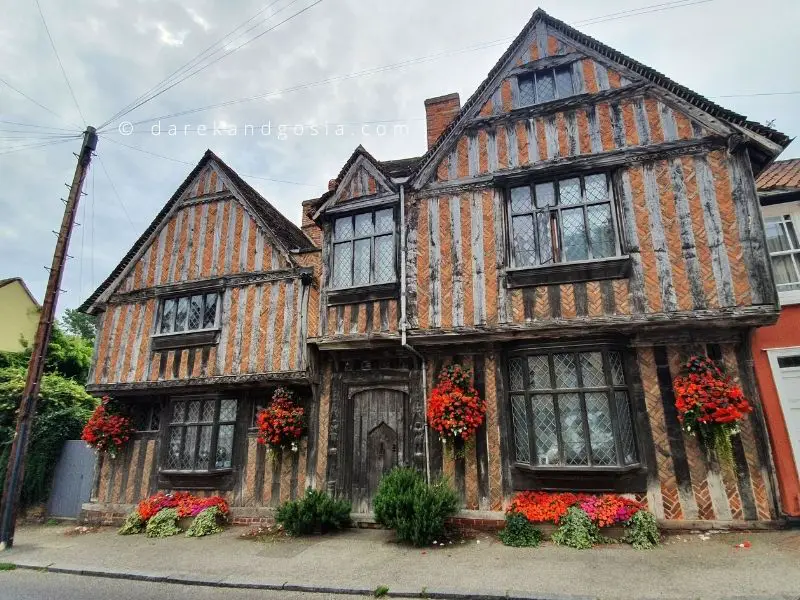 2. Greyhound Lavenham
Must see in Lavenham UK? The Greyhound is a modern restaurant and pub on Lavenham High Street and is well worth visiting when in the area. The traditional English inn boasts a rich history and is a delightful spot for casual and refined dining. The building itself dates back to 1324 and has been operating as an inn since the 1700s, although it has changed hands a lot over recent years.
These days, you can visit The Greyhound in Lavenham for a roast dinner every Sunday or a delightful Tapas menu during the week.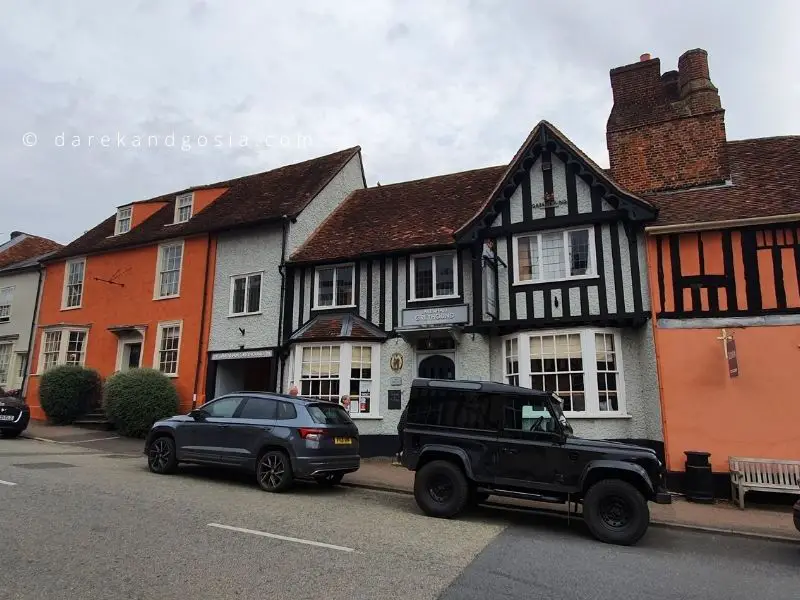 3. The Angel Hotel
Where to stay in Lavenham Suffolk? Located in Lavenham Market Place is The Angel Hotel. As well as offering accommodation, The Angel is also a popular pub and restaurant among locals and tourists to the area. The historic, timber-framed building has been a hotel and inn since 1420. Over 600 years later and The Angel Hotel is still welcoming visitors to Lavenham.
There are eight unique bedrooms, a traditional timber bar, and beautiful spacious gardens to enjoy in the summer.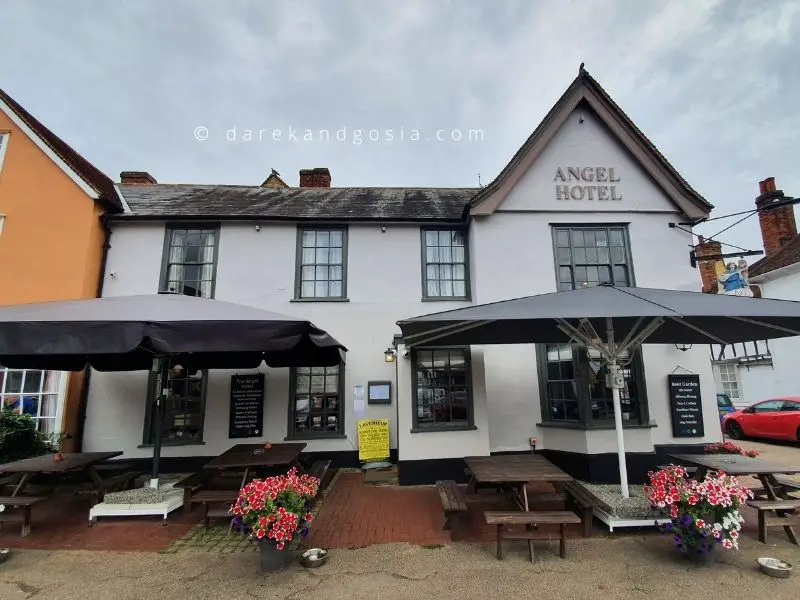 4. Crooked House Lavenham
What to see in Lavenham village? Many of the historic buildings in Lavenham are noticeably wonky and unique, but there is one that has become a landmark in its own right. The Crooked House in Lavenham can be found on the High Street (number 7 to be precise!) and is exactly as the name suggests. It is a grade II listed building and is thought to be more than 600 years old.
The Crooked House looks as though it is leaning up against the neighbouring houses and is painted a vibrant orange. It has previously been used as a tearoom, but after a recent sale of the building, it is set to open for guided tours in 2022.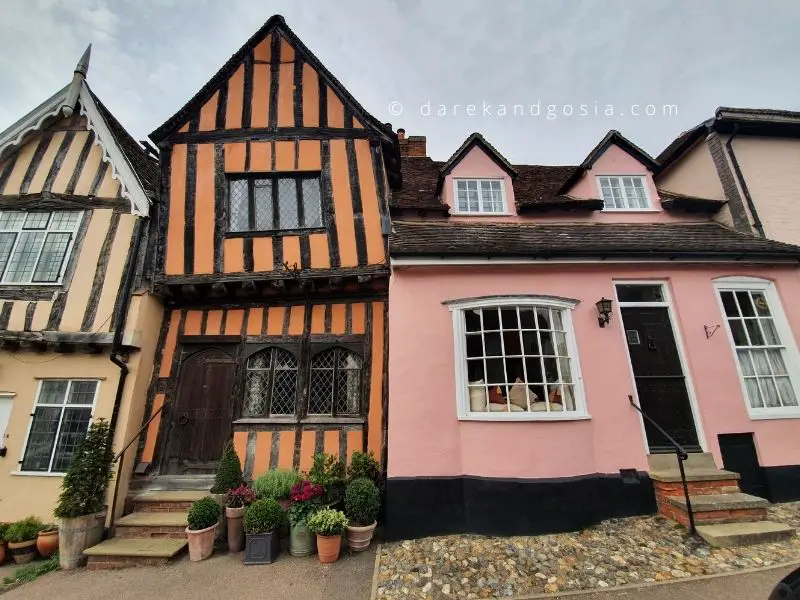 5. Lavenham cottages
What to see in the village of Lavenham? The cottages that line the streets in the village of Lavenham are certainly a sight to behold. With 320 listed buildings, it is no surprise that they are something special. When wandering around Lavenham you will be able to muse at the many colourful cottages which are now used as cafes, shops, and homes.
The majority are half-timbered two-story houses, which have been well preserved over the years. Many were originally built as weavers' cottages during the wool eras of Lavenham.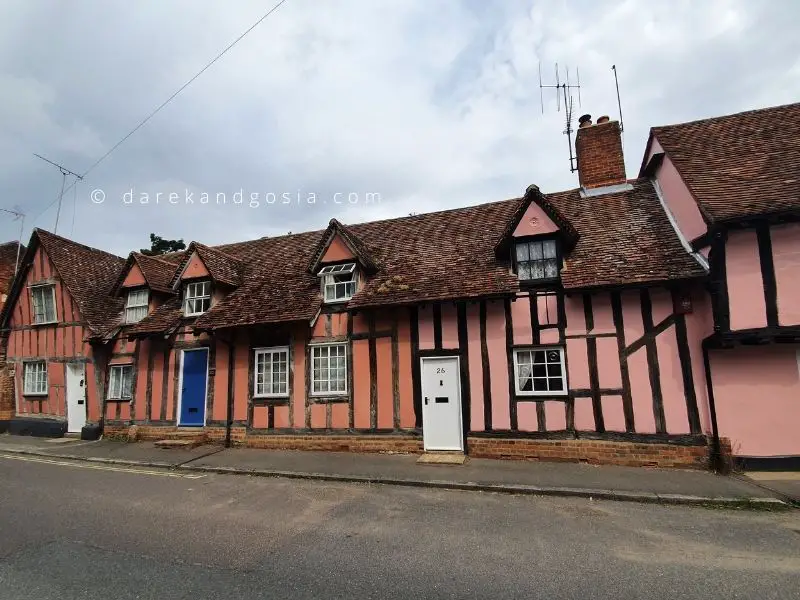 6. Lavenham antique shops
There are various antique shops to visit in Lavenham and surrounding areas. Many have been lovingly restored to house modern retail stores, but the medieval structures still exist today. The High Street is the main spot to find antique shops, with favourites such as Blue Magpie, a framing studio and treasure house which sells everything from quirky gifts to antiquarian prints.
Another store worth a visit is Curiosity Corner on Church Street, a specialist bear collectors showroom with a unique gift shop.
7. The Great House Lavenham
Best Lavenham places to visit? The Great House is a hotel and restaurant in Lavenham. Situated on the Market Place, The Great House is homed in a 14th-century building which is simply stunning. It was originally built by the Caustons, who were an important weaving family.
Today, you can still see part of the 14th-century chimneys in one of the hotel rooms. Visitors love the grand hotel and delicious cuisine, which is served every day in the beautiful dining room.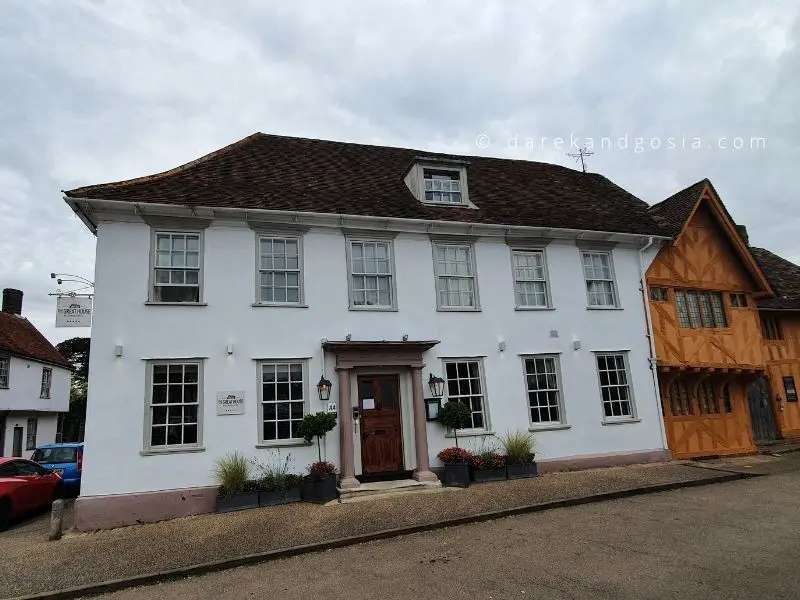 8. Lavenham Blue Vintage Tea Rooms
Things to do in Lavenham Suffolk? Lavenham Blue Vintage Tea Rooms is a firm favourite among tourists and locals in Lavenham. Serving delicious treats, the tea room is the dream of owner Amanda Mortimer, who transformed her home into a café after a life-changing illness in 2016. Guests can enjoy a cuppa and cake in the stunning 15th-century timber-framed cottage overlooking the Lavenham Guidhall.
Amanda only serves the finest local produce, such as sandwiches made from the baker's three doors down the road!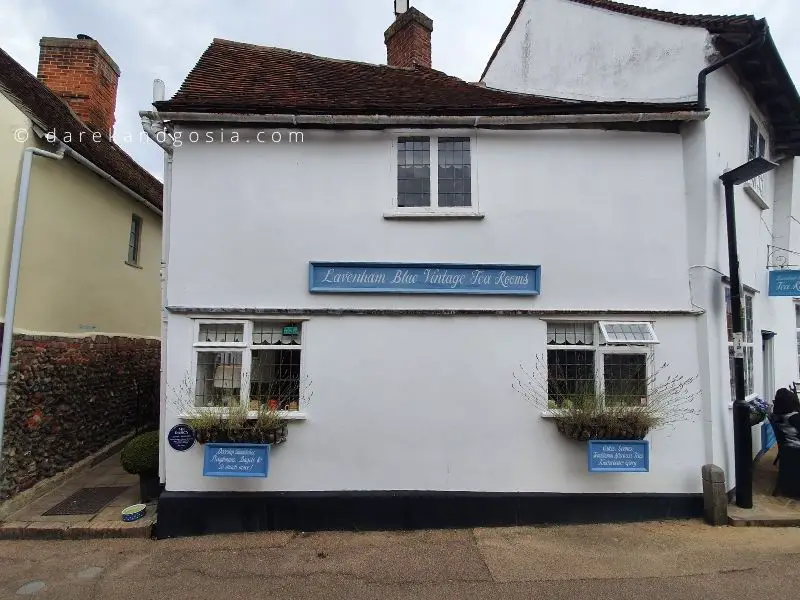 9. Little Hall Museum, Lavenham
Top Lavenham sightseeing? Situated on the main square in Lavenham is the Little Hall Museum. A 14th-century hall house where visitors can learn all about the story of Lavenham and its rich history. It is one of the oldest buildings in the village and has been lovingly restored over the years.
A trip to Lavenham is not complete without spending a few hours exploring the interesting tales of the local area. The Little Hall Museum is open during the summer months and closes for the season in winter.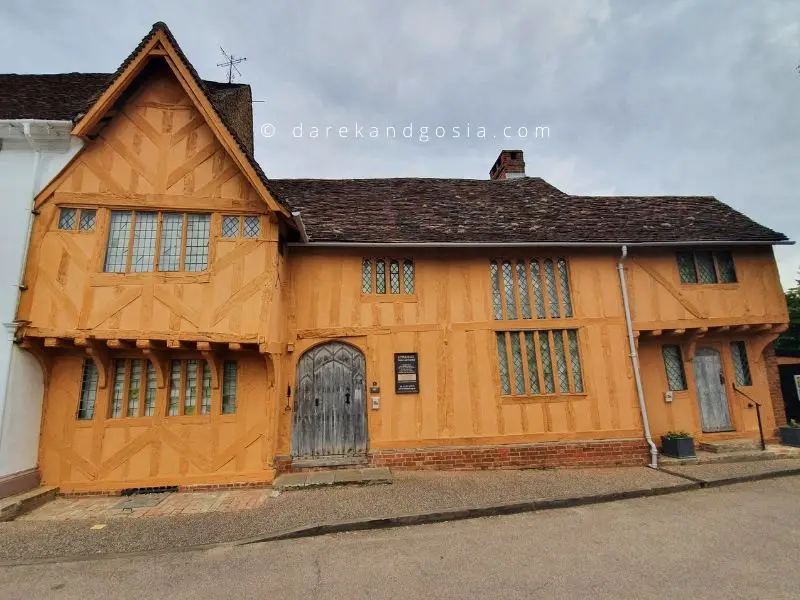 10. Number 10 Lavenham
Must see places in Lavenham? Those looking for a tipple in Lavenham should head to Number 10 Wine Bar and Kitchen. Located on Lady Street, you can visit Number 10 for a glass of wine, a cheese board, or a three-course meal.
In the winter, there is a cosy fire to warm you up, and you can take in the beauty of one of the villages most historically significant buildings. Number 10 is run by Jo and Rod, who both grew up in Lavenham and know the area very well.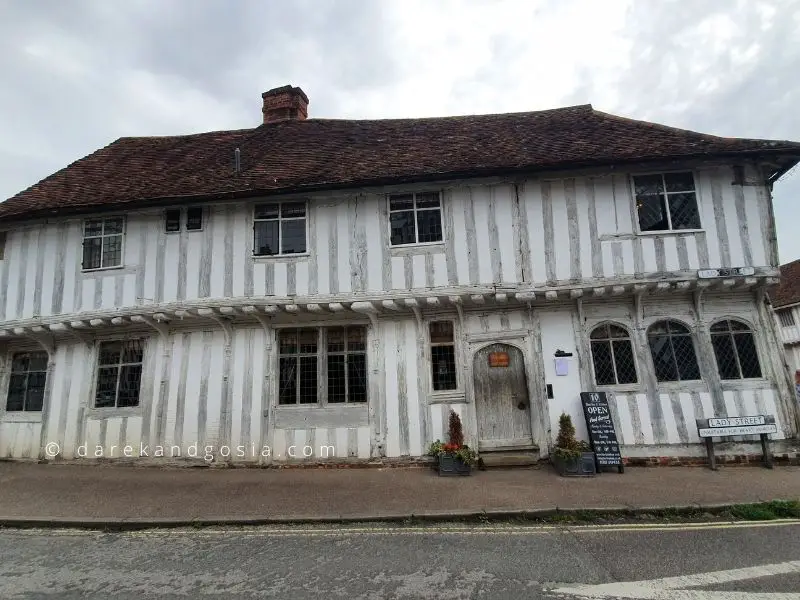 11. Angel Gallery
What to see in Lavenham UK? Angel Gallery is a delightful art gallery on Market Place in Lavenham. Art lovers will rejoice at the unique selection available to choose from. Open daily; you can find rare and local pieces of art in the Angel Gallery. Housed in a quaint cottage with a stunning white façade, Angel Gallery stands next to the Angel Hotel in Lavenham.
They often exhibit international, national, and local artists and have permanent displays from Mary Wild, Leslie Gibson and John Leach.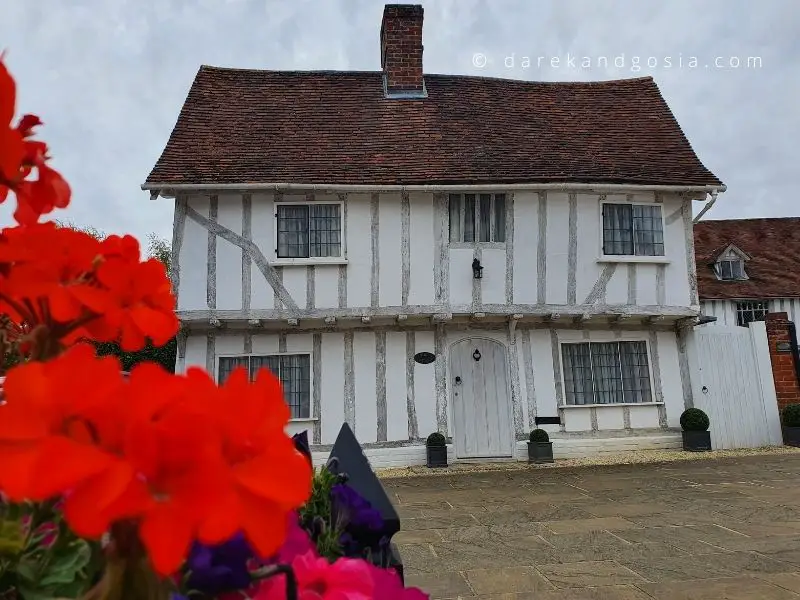 12. The Parlour Lavenham
Where to go in Lavenham Suffolk? If you are a fan of ice cream and sweet treats, you need to plan a visit to The Parlour in Lavenham. This boutique spot is an ice cream store that also sells a range of delightful kitchen gifts.
At The Parlour, they have been making their own ice cream for over 21 years, and there are so many delicious flavours to choose from. As well a homemade ice cream, The Parlour serves hot chocolate, coffee, chocolates and more.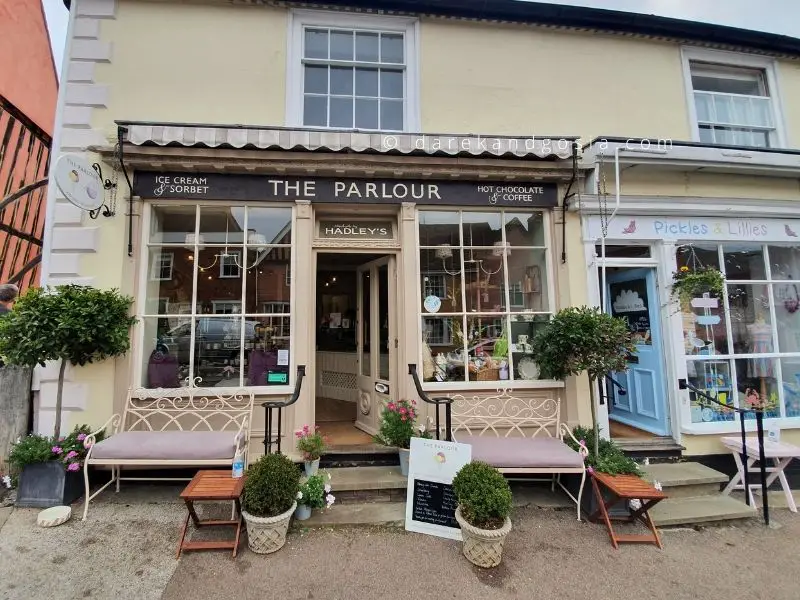 13. Lavenham walks
What is there to do in Lavenham? Lavenham isn't just a wonderful village in itself; it is also surrounded by some beautiful Suffolk countryside. There are plenty of walking routes from Lavenham, which are a great way to stretch your legs and get out into the great outdoors.
The Lavenham Woodland Walk is a popular option and organised by the National Trust. You can explore the Lavenham Woodland community project, the Long Melford Great Eastern Railway Line, and parts of old Lavenham.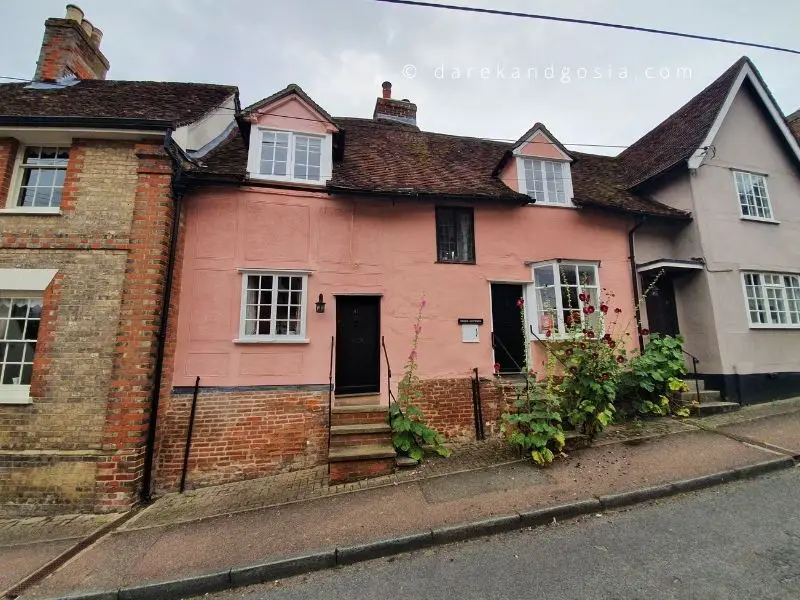 14. No 8 Gift shop
Best things to do in Lavenham Suffolk? When you head to the Market Place in Lavenham, you will find the No 8 Gift Shop. The store sells a beautiful collection of collectables and antiques. You will find a range of unique products for both the home and garden, making this the perfect place to find a souvenir from your trip to Lavenham.
No 8 Gift Shop is open every day apart from Sundays and is a wonderful spot for some retail therapy.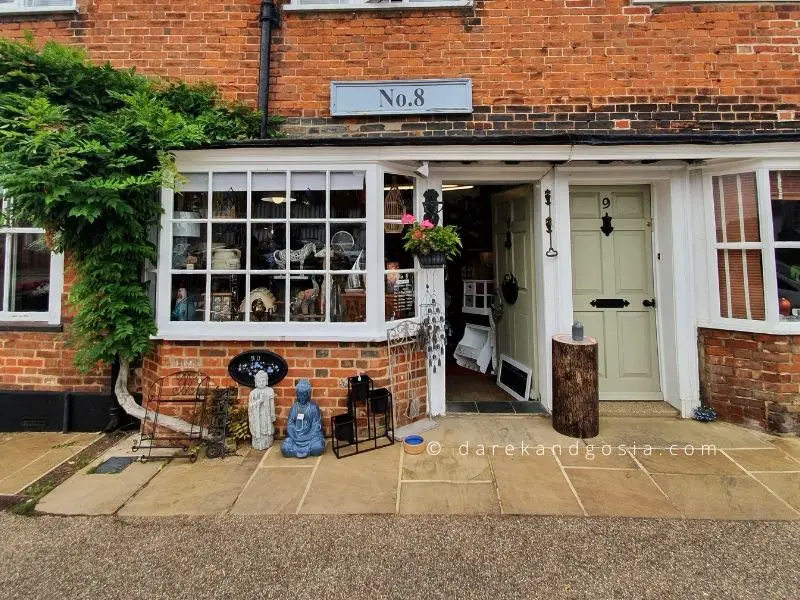 15. High Street
Must see places in Lavenham village? The High Street is the heart and soul of Lavenham, and a wander down this road will take you right back to the village's historic past. You can marvel at the stunning listed buildings and enjoy local treats from many stores and cafes.
From Lavenham Butchers to Posy Boutique, there is something for everyone on the High Street. Stop for a bite to eat at The Greyhound or a bit of luxury at The Swan Hotel & Spa.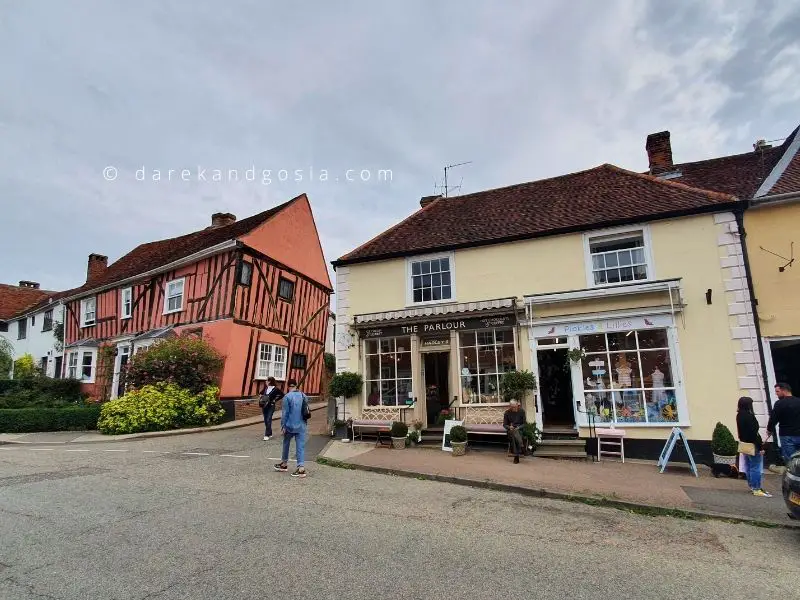 Places to visit near Lavenham:
Kersey: 8 miles away from Lavenham
Finchingfield: 22 miles away from Lavenham
Saffron Walden: 28 miles away from Lavenham
Wendens Ambo: 31 miles away from Lavenham
Felixstowe: 32 miles away from Lavenham
Cambridge: 37 miles away from Lavenham
Aldeburgh: 41 miles away from Lavenham
Epping Forest: 52 miles away from Lavenham
Hitchin: 68 miles away from Lavenham
St Albans: 77 miles away from Lavenham
Aldbury: 95 miles away from Lavenham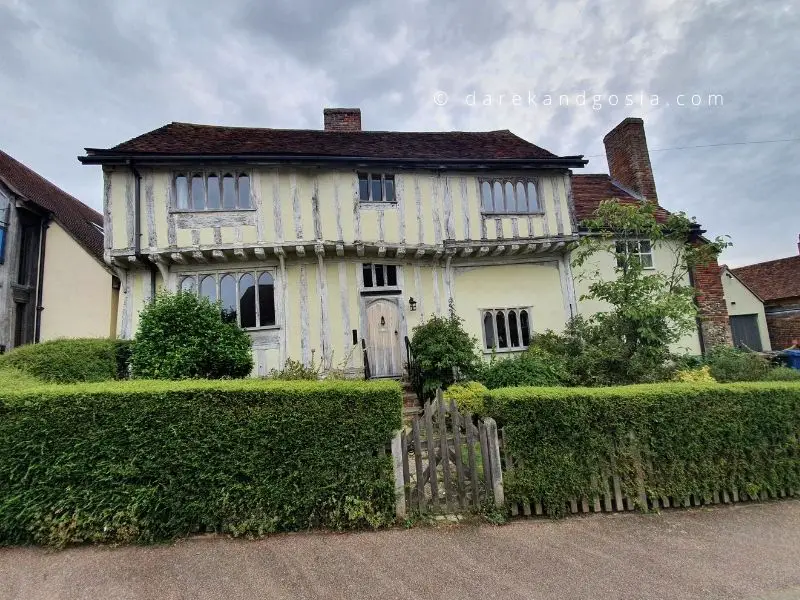 Is Lavenham worth visiting?
Lavenham is definitely worth visiting if you are interested in historical settings, boutique stores, and beautiful countryside. Film fans flock to Lavenham from far and wide to see the spots from Harry Potter and take in the colourful character of the village.
We recommend heading to Lavenham for a day trip if you stay nearby or relax for the weekend in one of Lavenham's lovely hotels.
If you are travelling on public transport be sure to check the bus times, but if you are heading there by car there is plenty of free parking.
If you liked our article about Lavenham, then please check out the below posts too: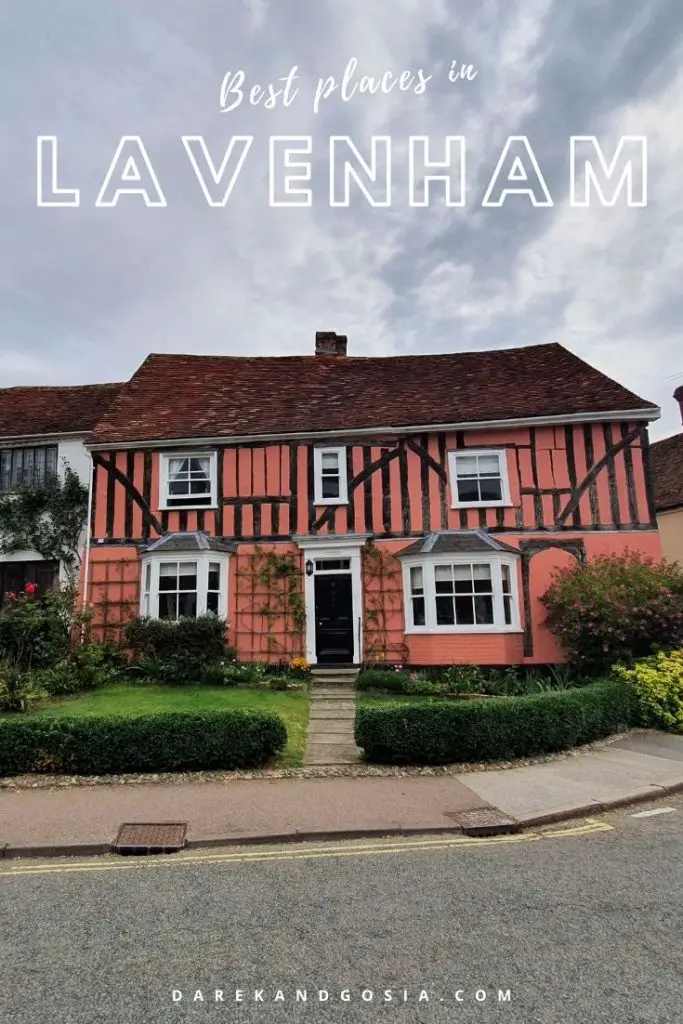 Articles you may like: