Visit Kersey village & have an amazing day out in Suffolk. From stunning walks to top British pubs – all must-see things in Kersey near Hadleigh.
When it comes to stunning English villages, it's hard to find a more beautiful location than Kersey in Suffolk. Kersey is a small village with an abundance of historic buildings and plenty to see.
It is often considered as one of Britain's 10 best villages. Kersey is a quintessential medieval village located in the heart of the Suffolk countryside just between Sudbury and Lavenham.
Without a doubt, Kersey is one of the best places to visit on a day trip from London! Are you ready to learn about this village in Suffolk?
Just have a look below at the pictures of Kersey Suffolk and you will know why we call it one of the most picturesque villages near London.
Where is Kersey?
Kersey is both a parish and a village. That are lies in the rolling countryside of Suffolk in the South East of England. Kersey is actually the only village in the parish. It's surrounded by much smaller delightful hamlets, which is why it's quite so popular with visitors to the area.
The best way to get to Kersey is by car. The public transport links are a little sparse, but as it's only a 30-minute drive from Ipswich and 2 hours from central London, it's a good location for a day trip.
Kersey facts:
| | |
| --- | --- |
| Population: | 359 |
| District: | Babergh |
| County: | Suffolk |
| Region: | South East |
| Famous for: | Village ford |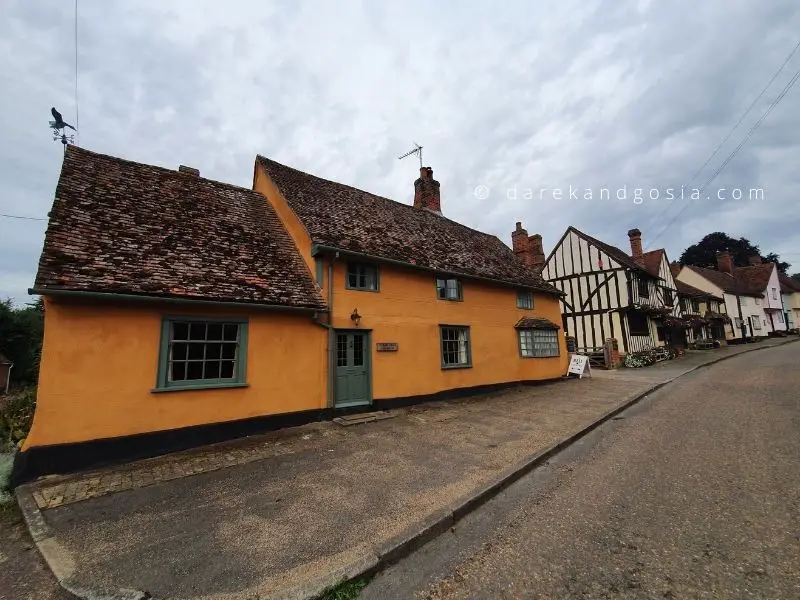 What is Kersey famous for?
Historically Kersey is famous for its contribution to the wool trade. The town was such a big player in the trade that a specific type of coarse woollen cloth gets its name from the town. You can now find Kersey cloth all over the world.
The boom in money from the wool trade means that the homes that went up then are still standing today. As you walk the streets of Kersey, you will see timber-framed thatched cottages, cobbled streets, and a 12th Century Church. It's a picture-perfect village.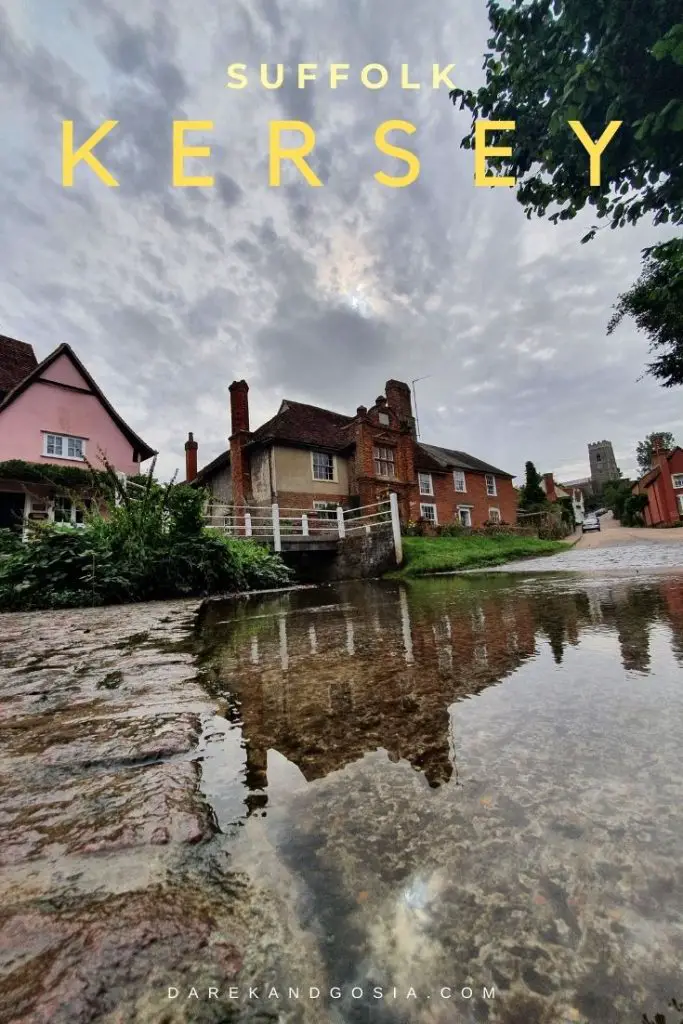 Things to see in in Kersey, Suffolk:
1. Old Drift House – Holiday Cottage
What to see in Kersey village? The Old Drift House is a prime example of the architecture that makes Kersey so special. The large peach coloured, timber-framed, thatched-roof cottage is a delight. Not only can you view it, but you can even rent it out to stay in.
The cottage was originally a weaver's cottage and is over 500 years old. This means that it has no foundations, so as a result, its exact location has shifted here and there over the years.
If you do hope to stay here, you don't need to worry, though. The interior is both modern and comfortable.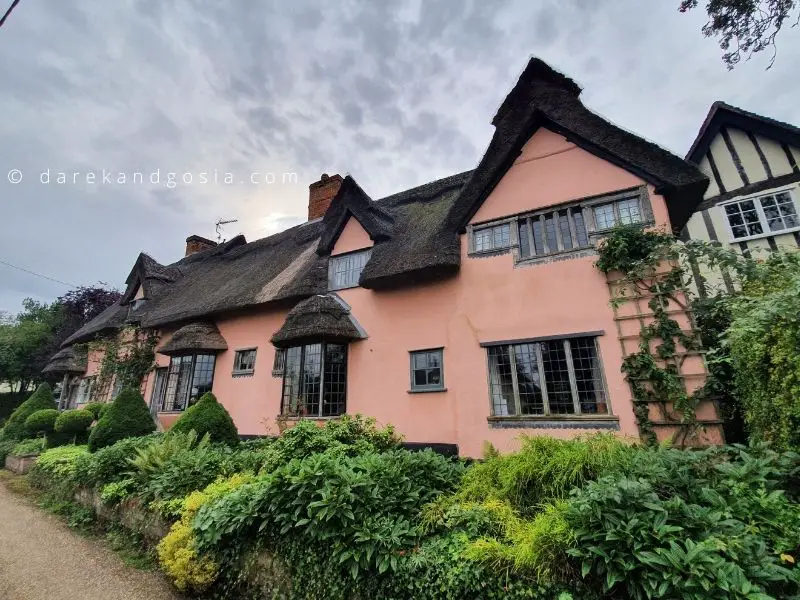 2. St Mary's Church Kersey
What to see in Kersey, England? As you walk through the village, you can't miss the church tower. St Mary's is a medieval church and is a great example of the ancient churches that you can find across the country. However, the site on which the church stands has been associated with prayer and spirituality for a very long time.
The history of the site predates the church. For over 1000 years, it has been the location of a shrine. On your visit, you can see the shrine and the labyrinth that is on the church grounds and take your own little pilgrimage.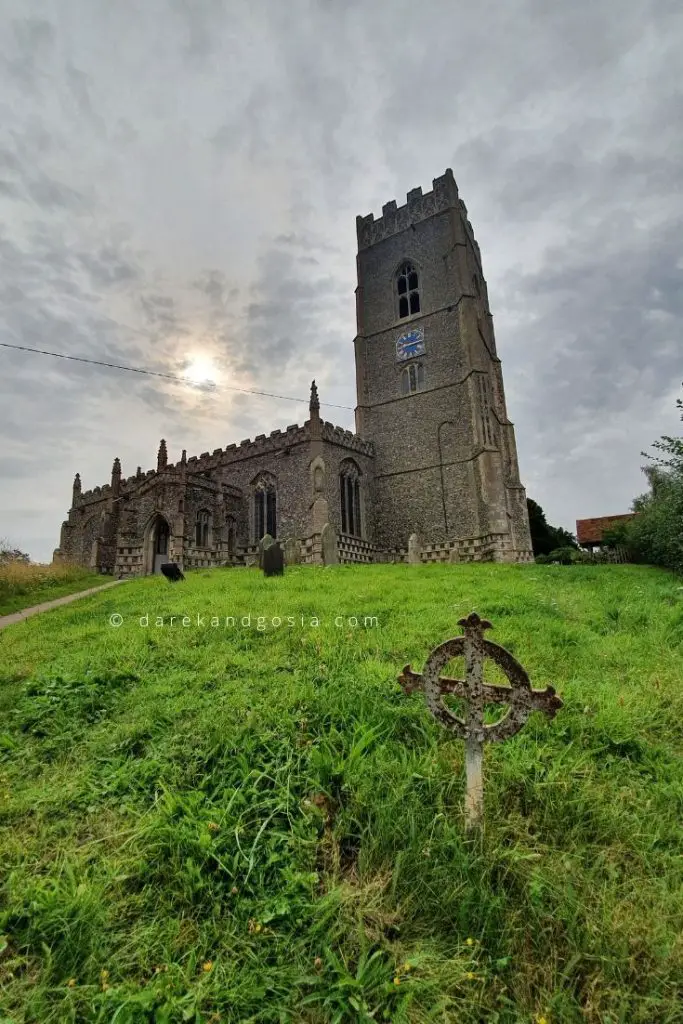 3. Village Ford
Best point of interest in Kersey? At the centre of the village, there is a point where the River Brett crosses the high street. The ford is the point where the river and the street meet. This small section of the road is cobbled. It dates back to the medieval roots of the village. The locals affectionately refer to the section as 'The Splash'.
If you drive through the town, you'll have to get your tires wet. Fortunately, there is a small bridge to let pedestrians cross safely.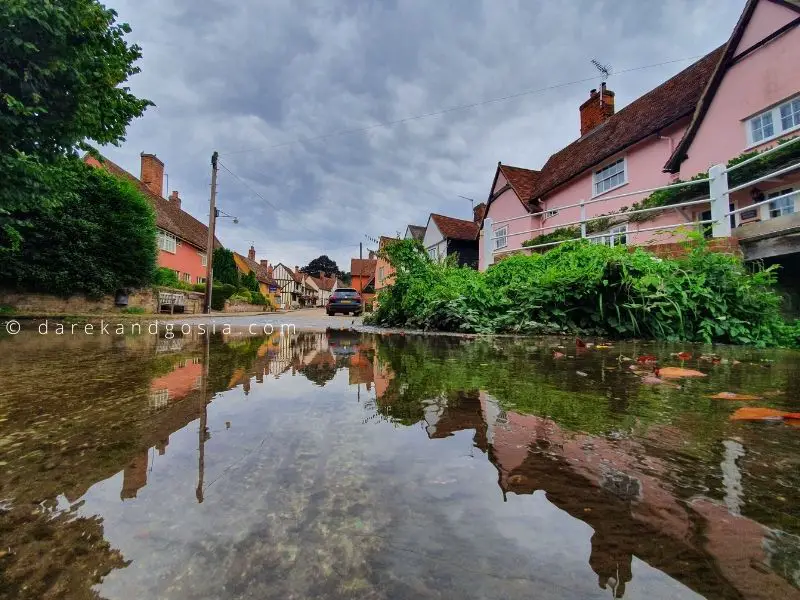 4. River House
Places to visit Kersey? For those with an interest in architecture, there is a real gem just a few steps down from 'The Splash'. The River House is a grade II listed building as it has significant historical value. The impressive building has a timber frame, while the front is faced with red bricks and houses an impressive front gate.
The building has an impressive collection of pinnacles, arches, and gables. On the inside of the front gable, you can spy a modern panel with the inscription 'Ye Olde River House 1490'.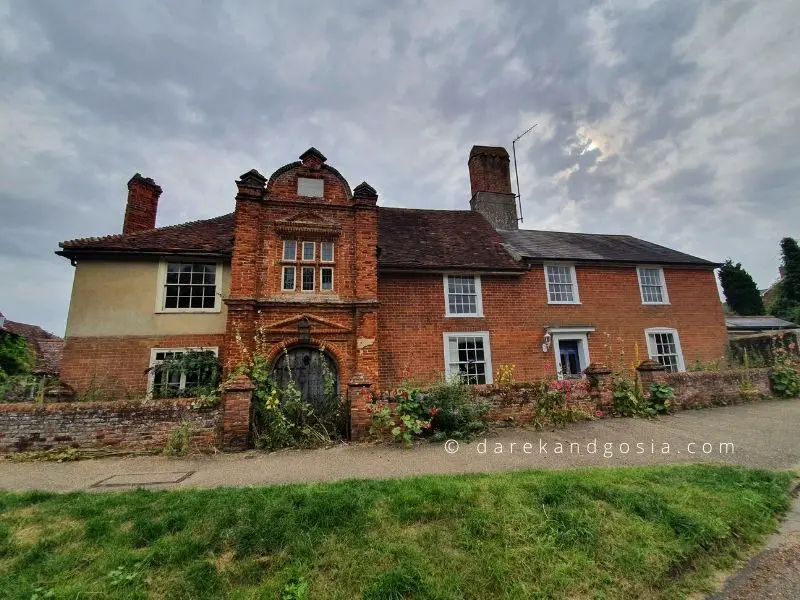 5. Bell Inn Kersey
Where to visit in Kersey Suffolk? On the high street of Kersey, you will find your eye drawn to a beautiful timber-framed inn. The Bell Inn is a big feature of the main street. If you visit in summer, you'll see the impressive hanging baskets the landlords take pride in.
This 14th-century inn has been family-run for generations. It's a proper taste of a quintessential, traditional British pub. No visit to Kersey is complete without stopping at this pub for a drink and a tasty bite to eat.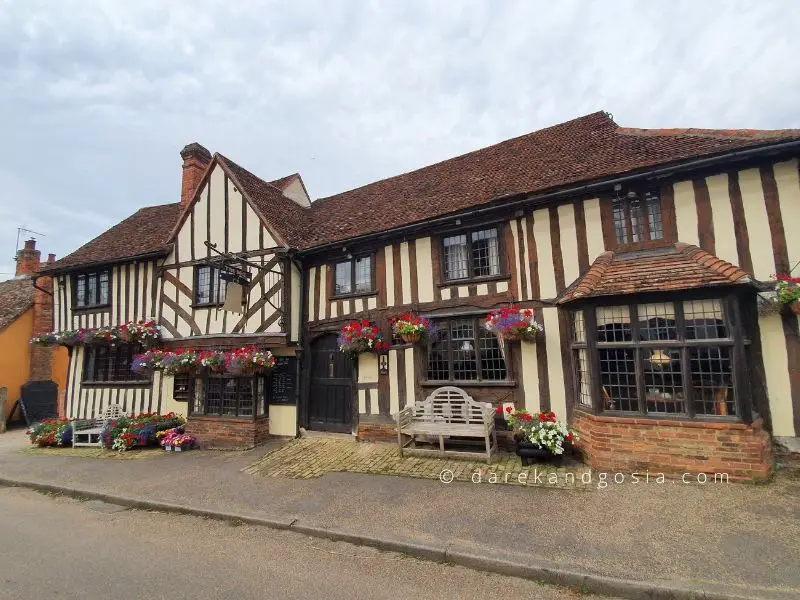 6. Water Cottage
What to do in Kersey in Suffolk? Another great spot to stay if you get the chance is Water Cottage. This restored 15th Century Hall has been converted into a wonderfully cosy and well-appointed cottage. The cottage is right in the heart of the village, with both the ford and the Bell Inn within a stone's throw of the front door.
Not many of us get the chance to live in a village like Kersey, but a stay in this lovely cottage will let you get a small taste of village life.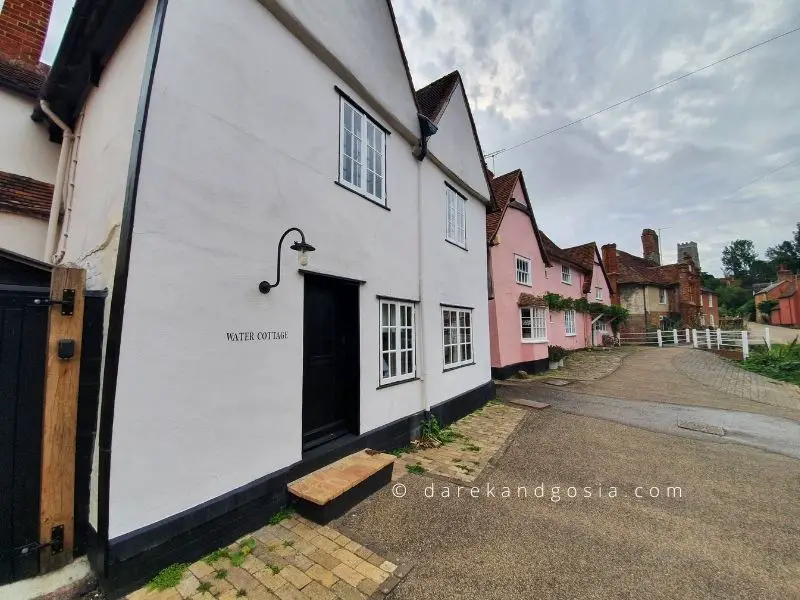 7. The Street
Best places to visit in Kersey, England? Most medieval villages, like Kersey, grow up around one single street that runs through town. Often these streets go a long time without real names, as in a town with one street, you don't need a name.
That's why the main street in town is simply known as 'The Street'. On the Street, you will find the Bell Inn, and if you follow it to the bottom of the hill, you'll reach the cobbled ford at the centre of the village.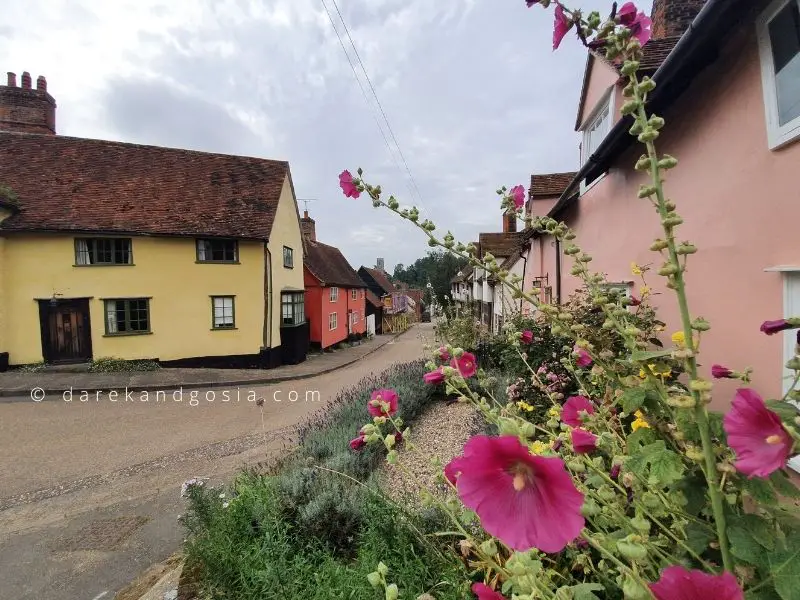 8. Church Hill Street
Top Kersey attractions? Once you enter the ford, or 'The Splash', you'll no longer be on the Street. Instead, you'll begin to climb up Church Hill street. This is the street that leads you back up away from the river and up the hill. Atop the hill is where you'll find St Mary's Church.
The Old Drift House and River House are both on this road. So, it's well worth taking the time to stroll from the ford up to the church to take in the village view.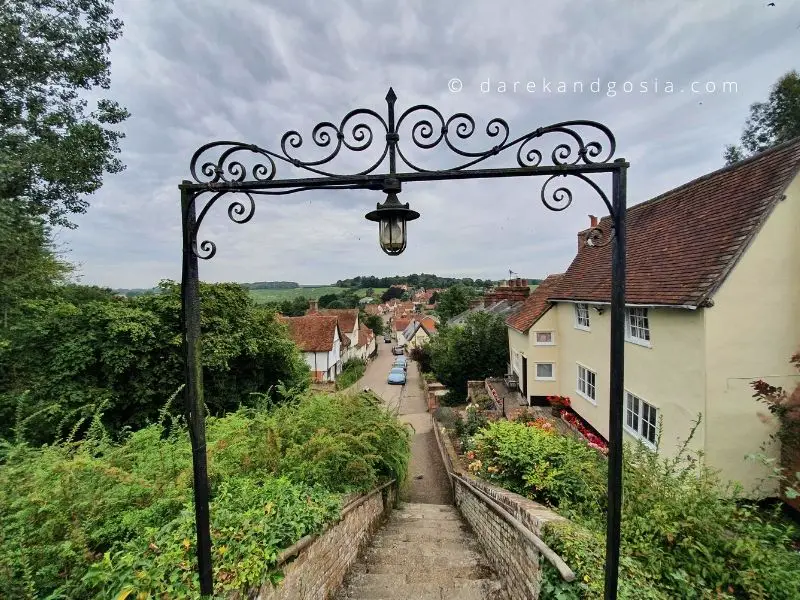 9. Village Hall
Top places to see in Kersey? Like many small villages in England, the Village Hall is the heart of the community. This modest one-room building is used as a venue for all sorts of events.
Not just run by the town council but also privately organised, if you need a space for an event; this is a great option. It's a mere £15 to hire the hall for an hour, so it is a great location for meeting up for a meal with a group before you go rambling in the countryside.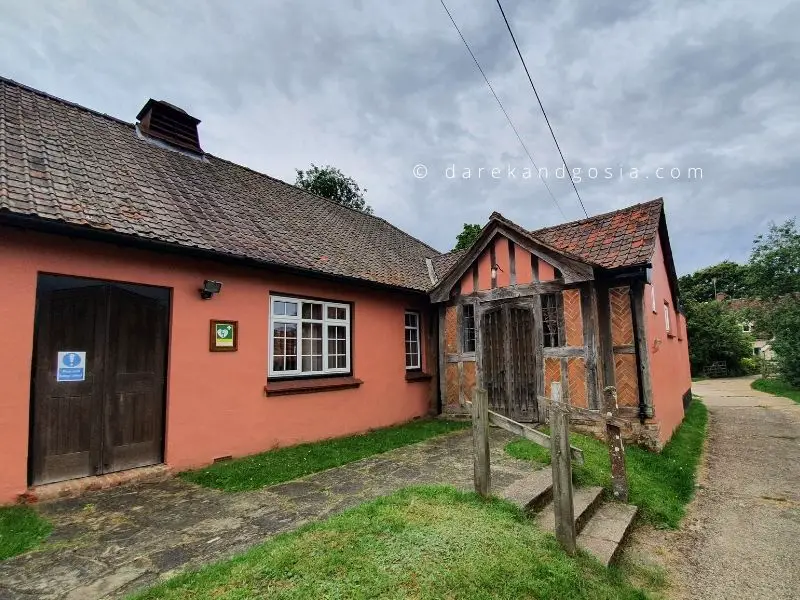 10. Kersey walks
What to do in Kersey? There are so many amazing walking routes around Suffolk. If you fancy exploring beautiful Suffolk countryside then Kersey is a great starting point.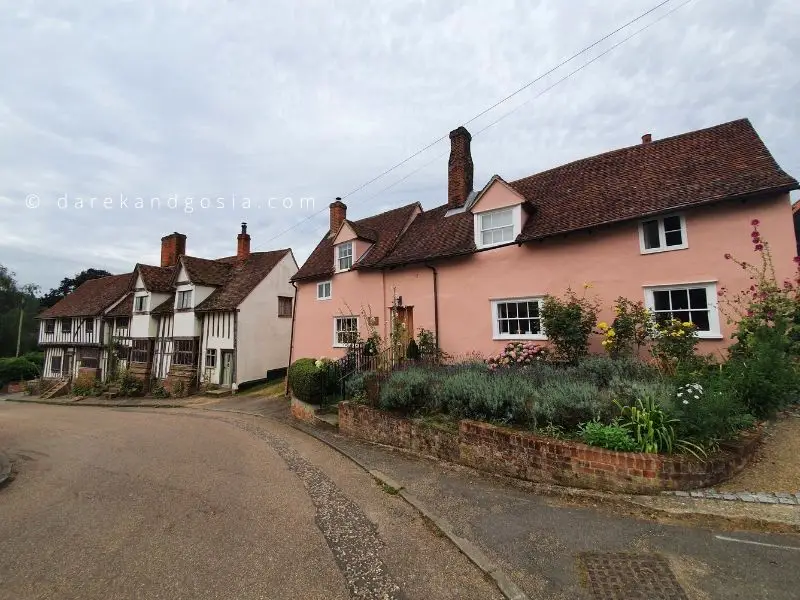 Places to visit near Kersey:
Lavenham: 8 miles away from Kersey
Felixstowe: 24 miles away from Kersey
Finchingfield: 26 miles away from Kersey
Aldeburgh: 36 miles away from Kersey
Saffron Walden: 37 miles away from Kersey
Wendens Ambo: 41 miles away from Kersey
Cambridge: 48 miles away from Kersey
Epping Forest: 55 miles away from Kersey
Hitchin: 74 miles away from Kersey
St Albans: 81 miles away from Kersey
Aldbury: 104 miles away from Kersey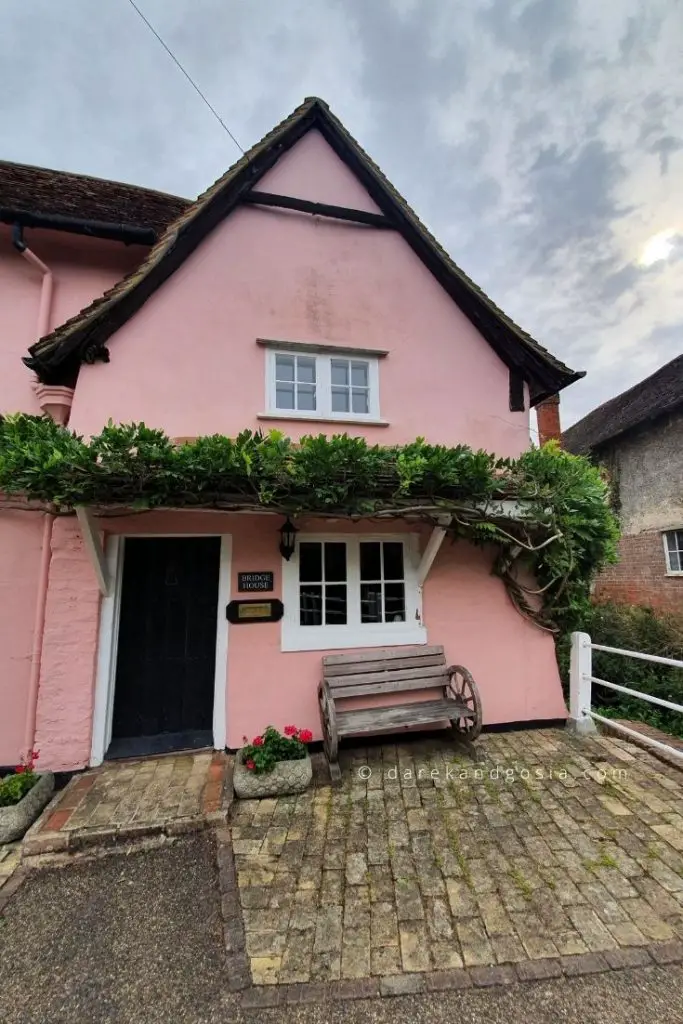 Is Kersey worth visiting?
Kersey is one of the most picture-perfect villages you'll find in England. It's small but perfectly formed. While you won't find enough to do to spend a full day in the village, there are a lot of walks that start and end in town.
If you want an interesting location to explore the rolling Suffolk countryside from, you really can't go wrong with Kersey.
If you liked our article about Kersey, then please check out the below posts too: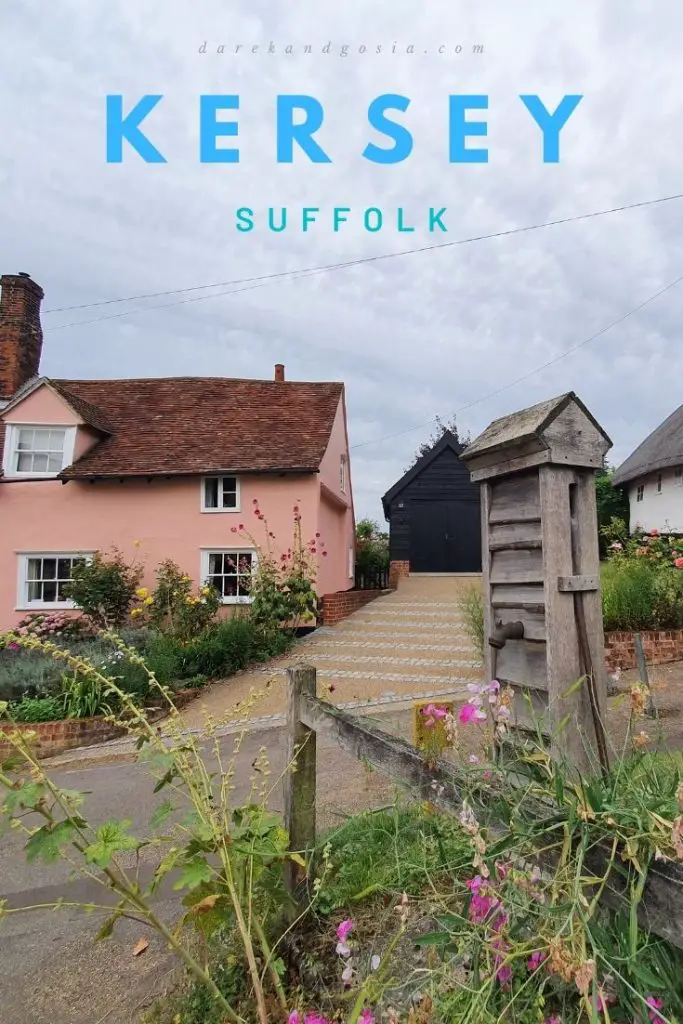 Articles you may like: