Get ready for an unforgettable adventure up to Schafberg Mountain in Austria! Jump aboard the quaint cog railway at St. Wolfgang or strap on your hiking boots for the mountain trail. Whichever path you choose, you're heading up to an elevation of 1783 meters – it's like being on top of the world!
Schafberg is more than just a mountain – it's an iconic symbol of Austrian beauty. Tucked within the picturesque landscapes of the Salzkammergut region, it's a bucket list essential for adventurers and sightseers alike.
The panorama waiting for you at the summit is truly a sight to behold. Not only will you get to see Salzkammergut in all its glory, but you'll be treated to one of the most stunning views across the whole of Europe!
Don't forget to look out for the 'Heaven's Gate' or Himmelspforte Schafberg on your journey, it's a highlight that will take your breath away. And if you fancy staying a little longer on the mountaintop, Schafbergspitze, also known as the Schafberg House, offers cozy accommodation with a view that's second to none.
Thinking about a day trip from Salzburg? You're in for a treat! The journey from Salzburg to Schafberg is a scenic feast featuring the refreshing Lake Wolfgangsee and charming countryside views. So buckle up for a mesmerizing journey to Schafberg Mountain – the experience of a lifetime awaits.
Yes, Schafberg is one of the best places to visit in Europe and we love it! 🙂
Schafberg – car hire:
We have rented cars many times during holidays in Austria and we always used discovercars.com
Check out our guide to car hire in Austria or simply explore the options directly on discovercars.com if you need a car during a trip to Österreich.
If you visit Schafberg on a sunny, clear day you will be rewarded with spectacular views of amazing lakes and the foothills of the Austrian Alps – really breathtaking! You will not want to leave that place, believe me! On the top of the mountain, you will find a hut – yes the famous one – which you probably have seen on Instagram!
It's a Schafbergspitze Hotel, located at an altitude of 1783 meters high above sea level – not a bad place for a hotel! If you are planning to stay at the Schafberg hotel then you will love it!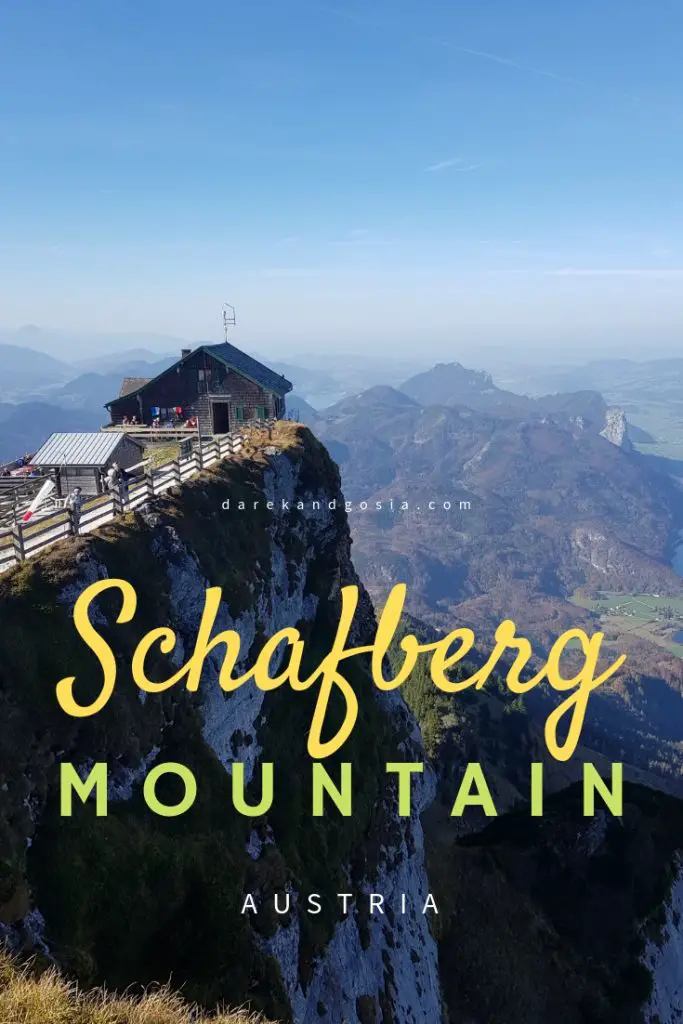 Schafberg Mountain facts
| | |
| --- | --- |
| Elevation: | 1783 m |
| Location: | Near Salzburg |
| Mountain range: | Salzkammergut Mountains |
| When to visit: | May-October |
How to get to Schafberg Mountain Austria?
If you are planning to visit Schafberg Mountain in Austria you will have to fly to Salzburg, the closest airport to the Salzkammergut region in Austria.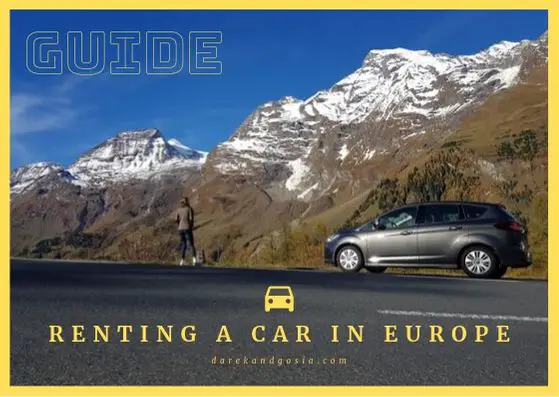 How to get to Schafberg Mountain from Salzburg?
Rent a car at the airport and drive from Salzburg towards St Wolfgang, which will take you about an hour. You can also choose to drive to St. Gilgen (about half of the time) and take a boat to St. Wolfgang. The Wolfgangsee is lovely but this way will require better planning so take this into consideration if time is an issue.
If you are travelling from Hallstatt, it will take you only 40 min to get there!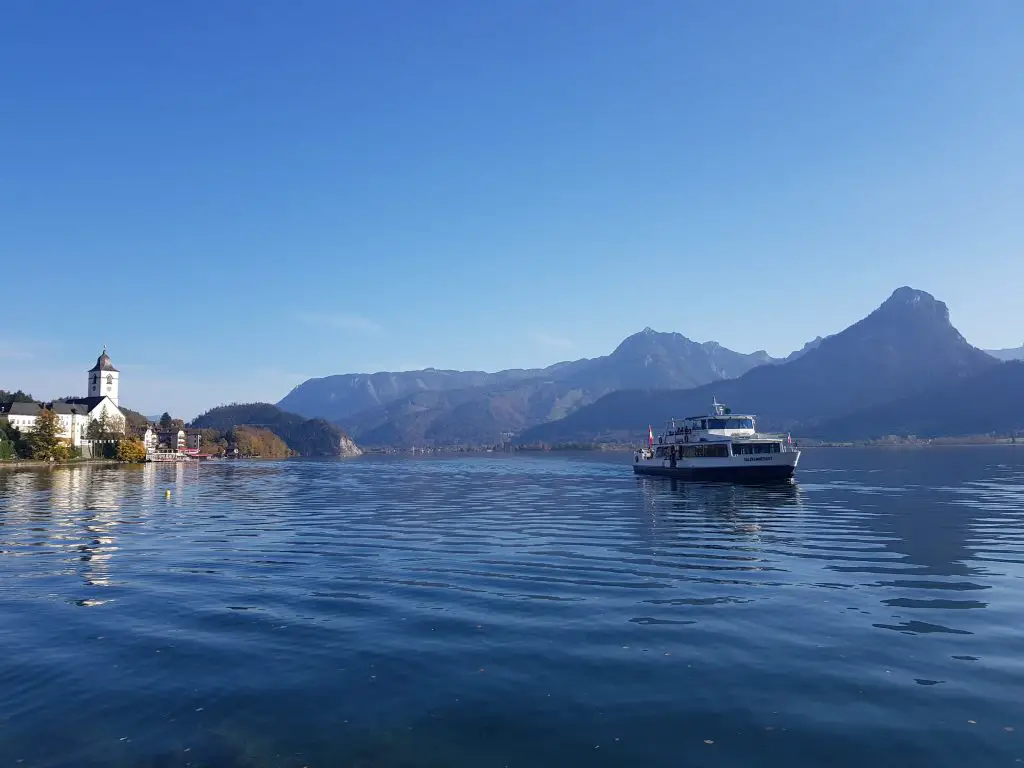 Once you get to St Wolfgang you have two options for how you can get to the top of Schafberg mountain:
Hiking to the top of Schafberg mountain
Schafberg hike? Without a doubt, the best way to travel to the top of Schafberg Mountain is by hiking. For many, this is the ultimate goal of the whole trip to this part of the Salzkammergut region. So your only question will be: which route you should take?
There are three Schafberg hiking routes from which you can choose. You can start from either St. Wolfgang, St. Gilgen or Lake Mönichsee.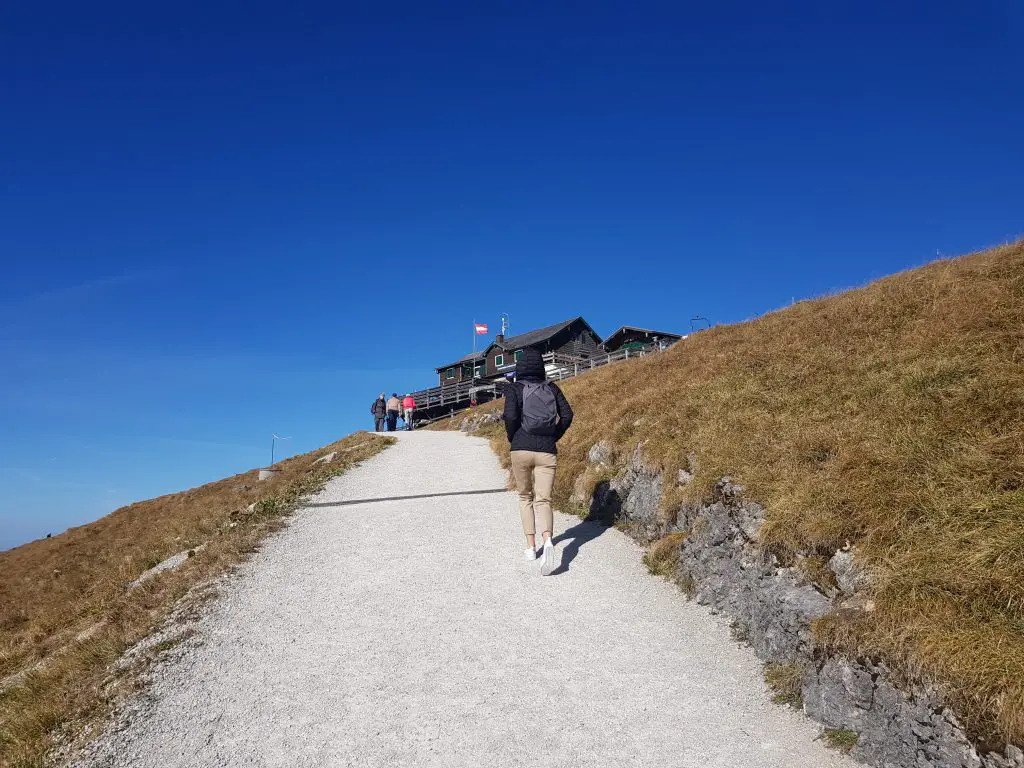 From the valley station in St. Wolfgang, one of the most beautiful towns in Europe, it will take you about 3 hours to reach the top. If St. Gilgen is your starting point, the route will take you to the Schafberg summit in 3 hours. And Lake Mönichsee, which is the longest hike, will require about 4 hours of your time. Do not worry if you don't speak any German, all hiking routes are marked perfectly, so you won't get lost along the way to the mountain.
Take the Cog Railway
If hiking is not your cup of tea, or simply you have limited time for this activity in Austria, just take the Cog Railway to the top of Schafberg Mountain!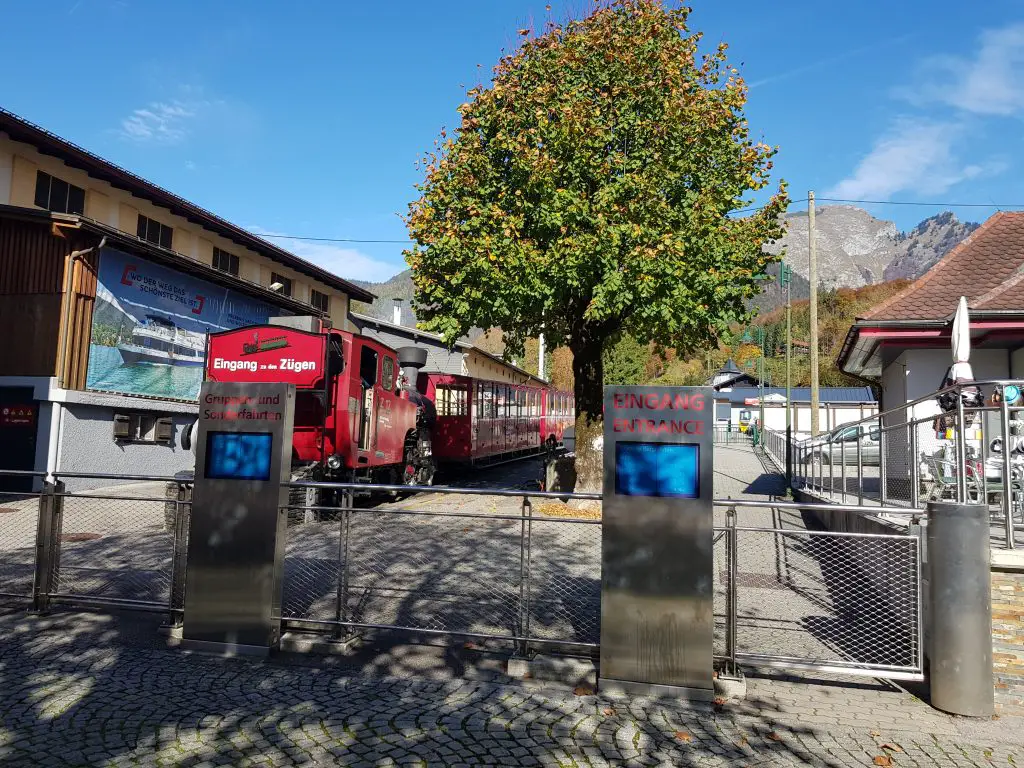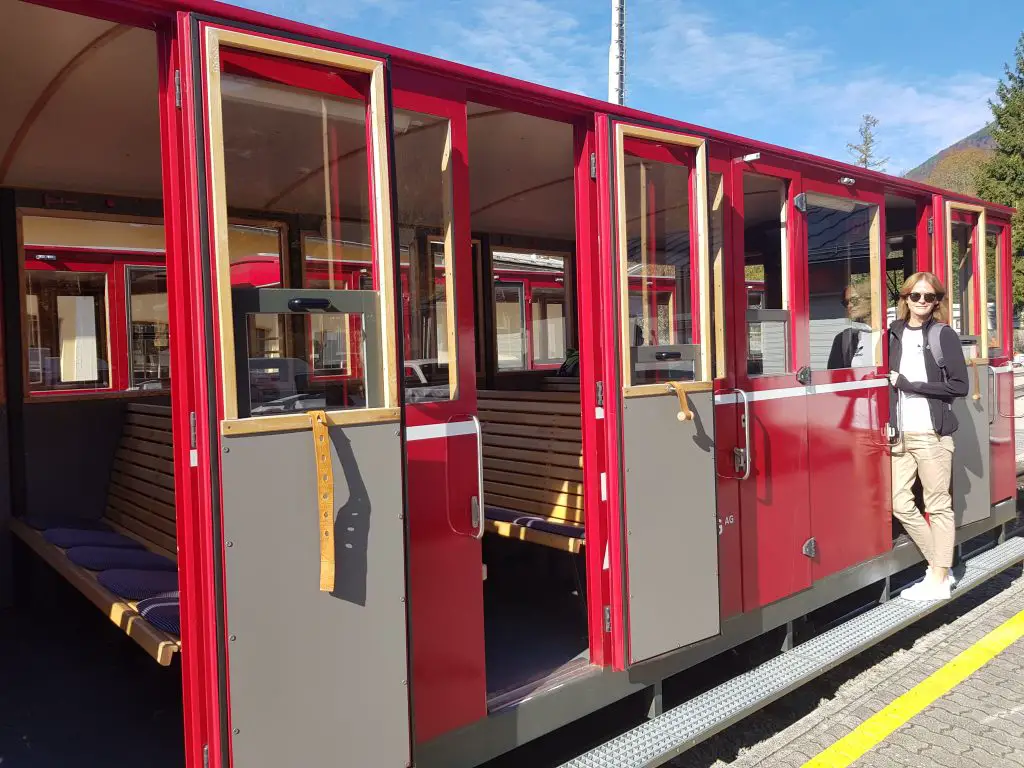 It is really stunning – as many attractions in Austria, it just can't get any more epic than that! While you are relaxing on Austria's much-loved Schafberg Cog Railway the surrounding views will get only better with every minute. The whole experience will take you only 35 minutes, which will give you much more time to admire the stunning views from the top.
This is the way we have taken and that was a great choice 🙂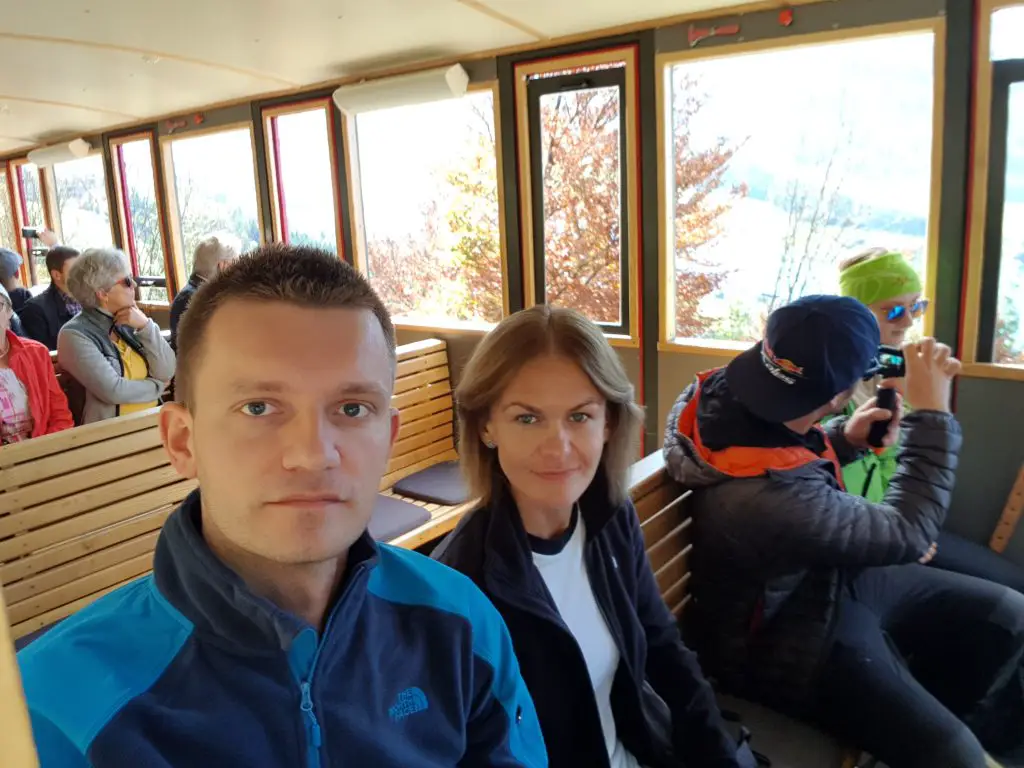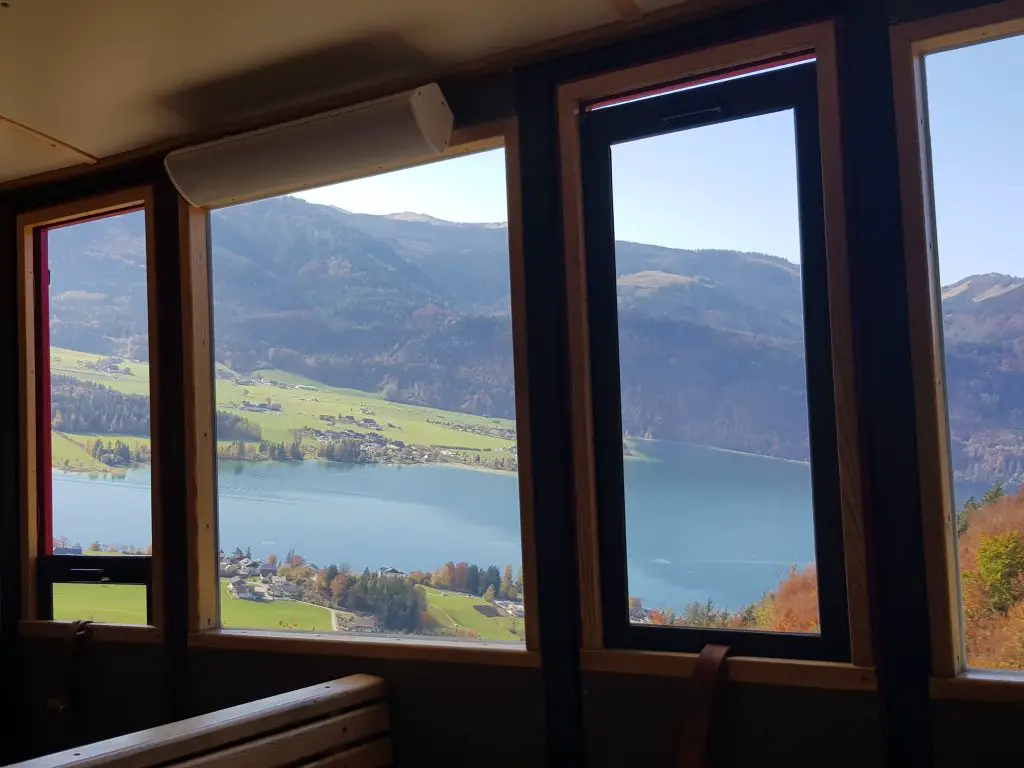 Two things to remember if you are planning to take the Cog Railway to the top of the Schafberg mountain:
In the summertime, this is a very popular attraction so you might not be lucky to get your ticket. Make sure you book it in advance! We went to Schafberg in October so it was definitely less busy.
When you get to the top of Schafberg mountain you will have to reserve a slot to get back. Simply tell one of the Cog Railway team members what time you plan to get back (so you have
a guaranteed place).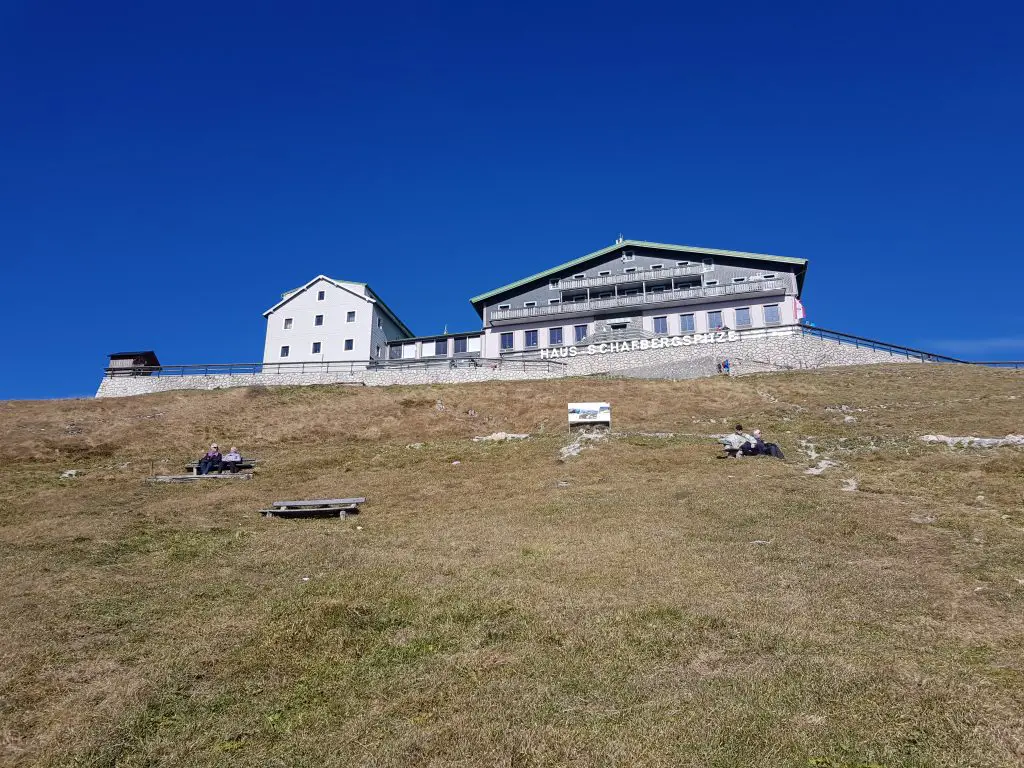 We would recommend spending min. 2 hours on top of the Schafberg mountain – this will give you enough time to walk around, take many stunning pictures and visit the famous restaurant.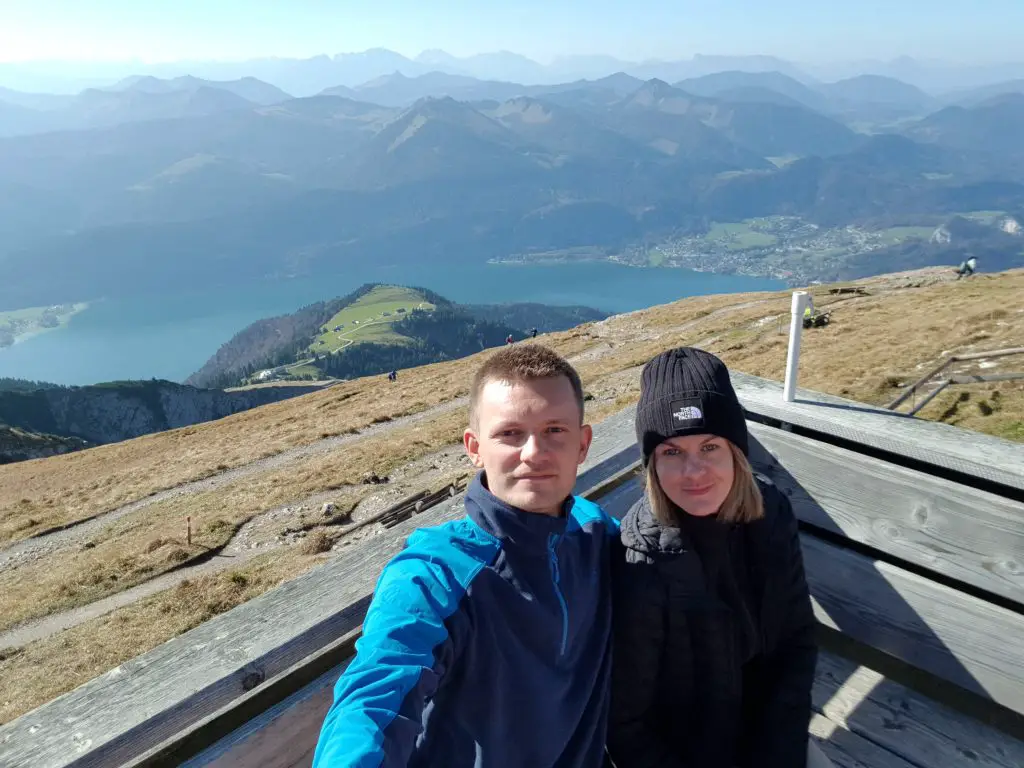 And the views from the top of Schafberg Mountain? Well, just check the pictures below.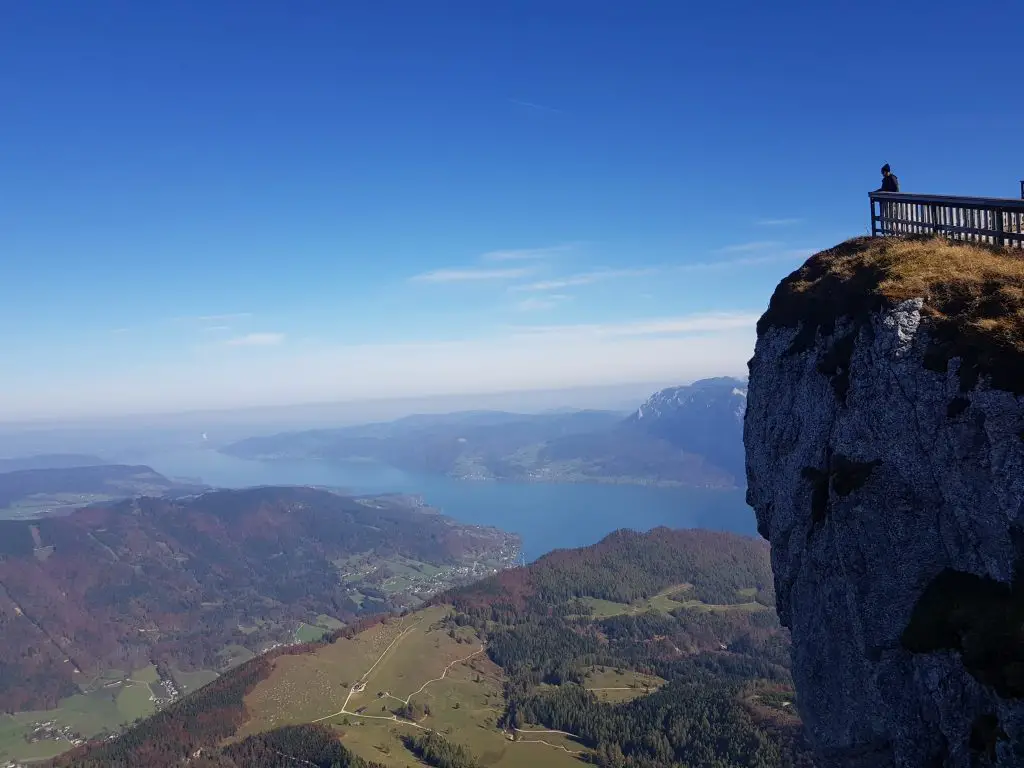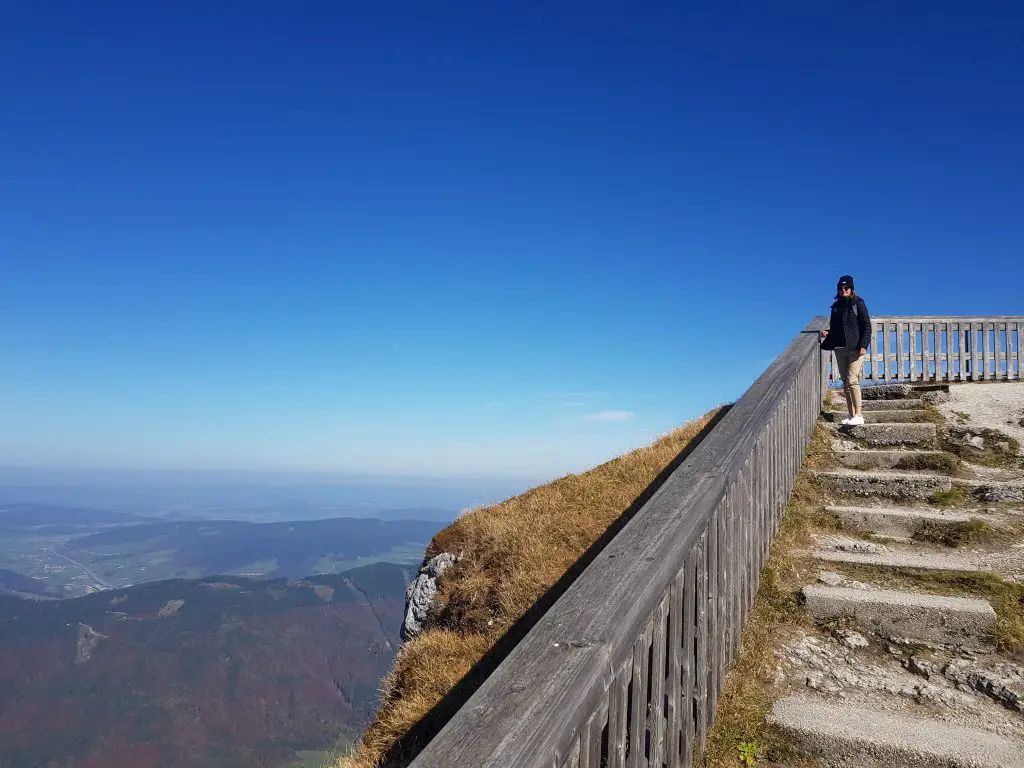 The views from the top of Schafberg Mountain Austria are just stunning! 🙂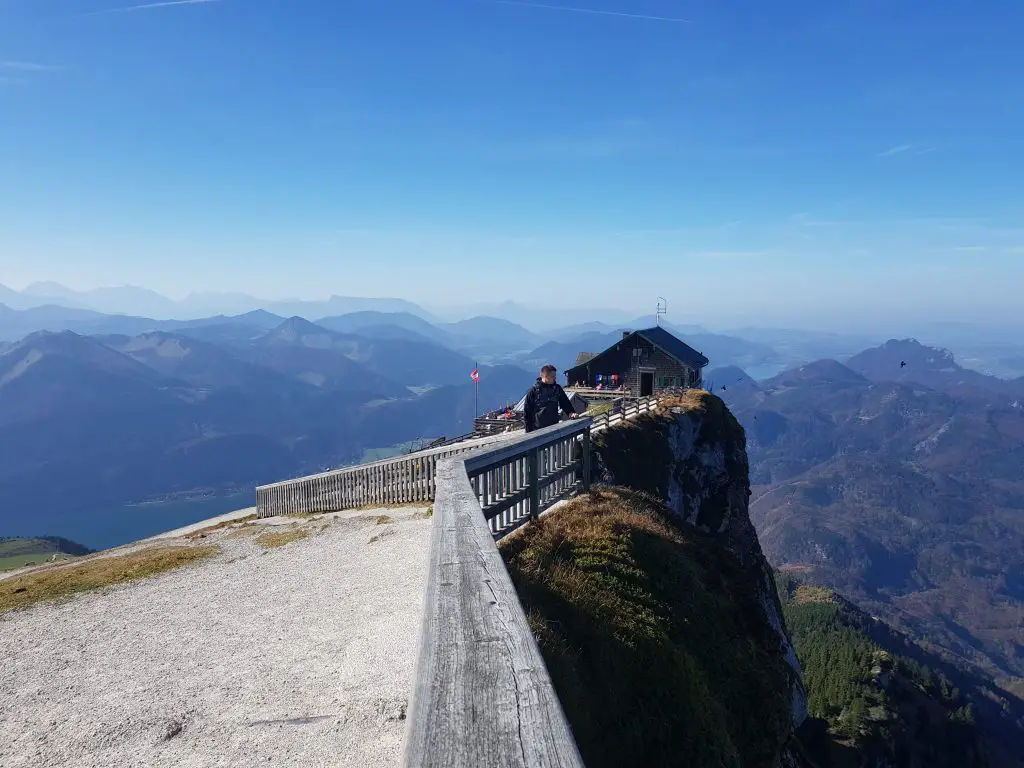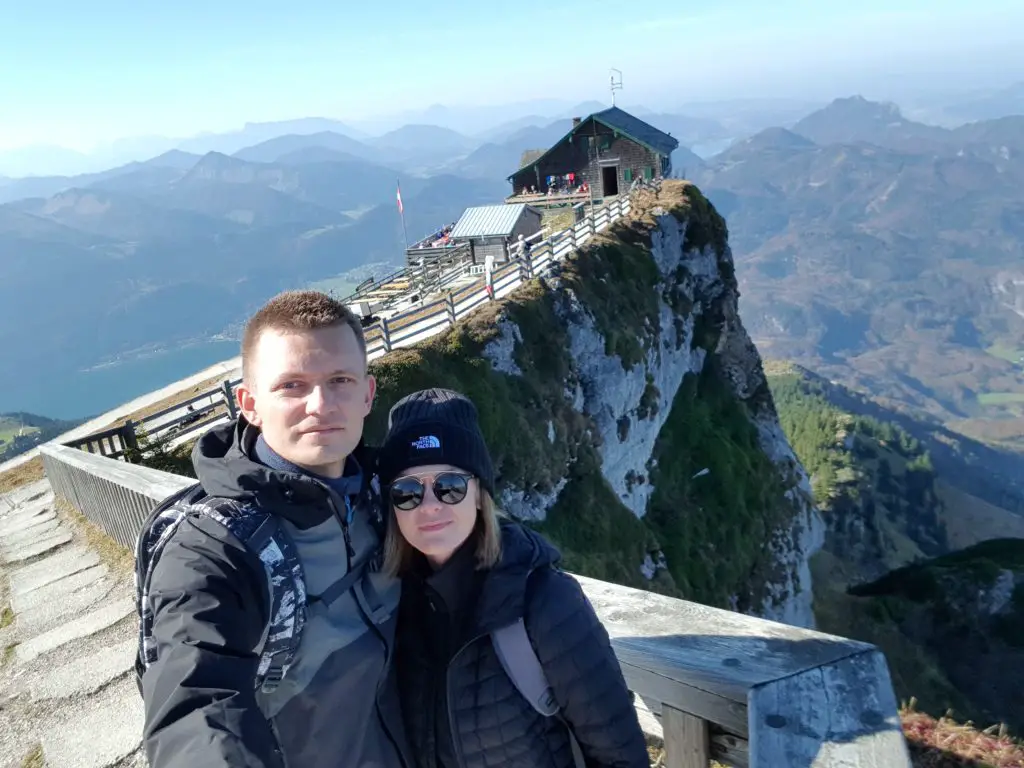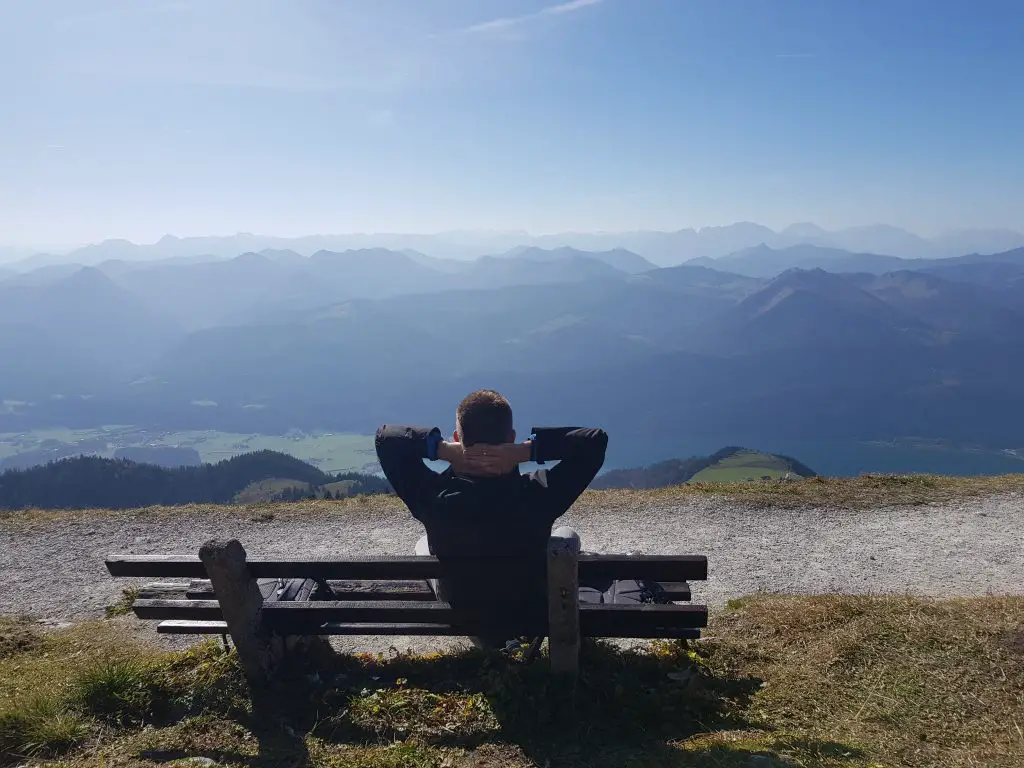 Can the view get any better than this? I don't think so! 😉 The views from Schafberg mountain are one of the best we have ever seen – one of the best places to visit in Europe!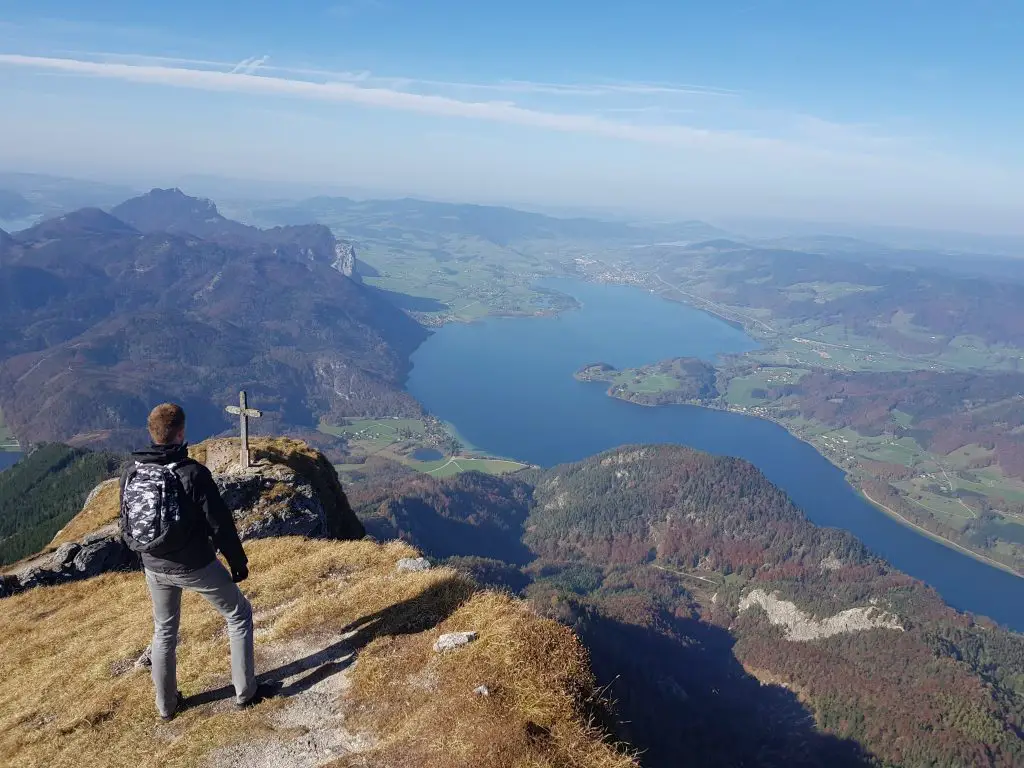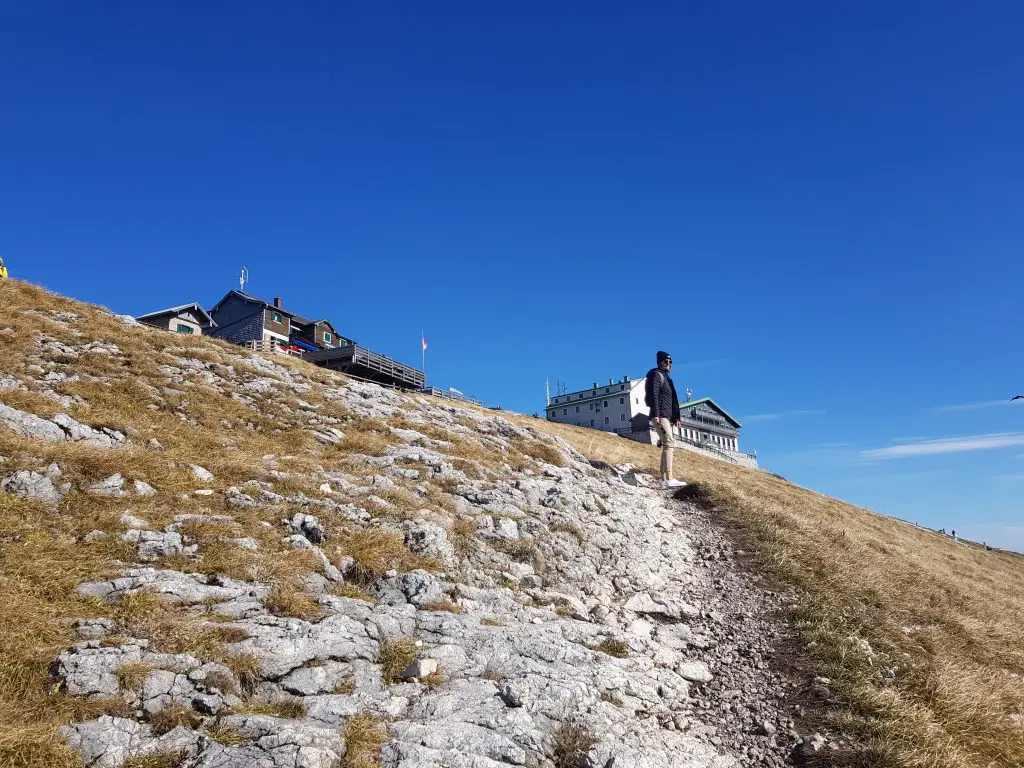 A sad moment when you have to say auf wiedersehen to Schafberg Austria… :/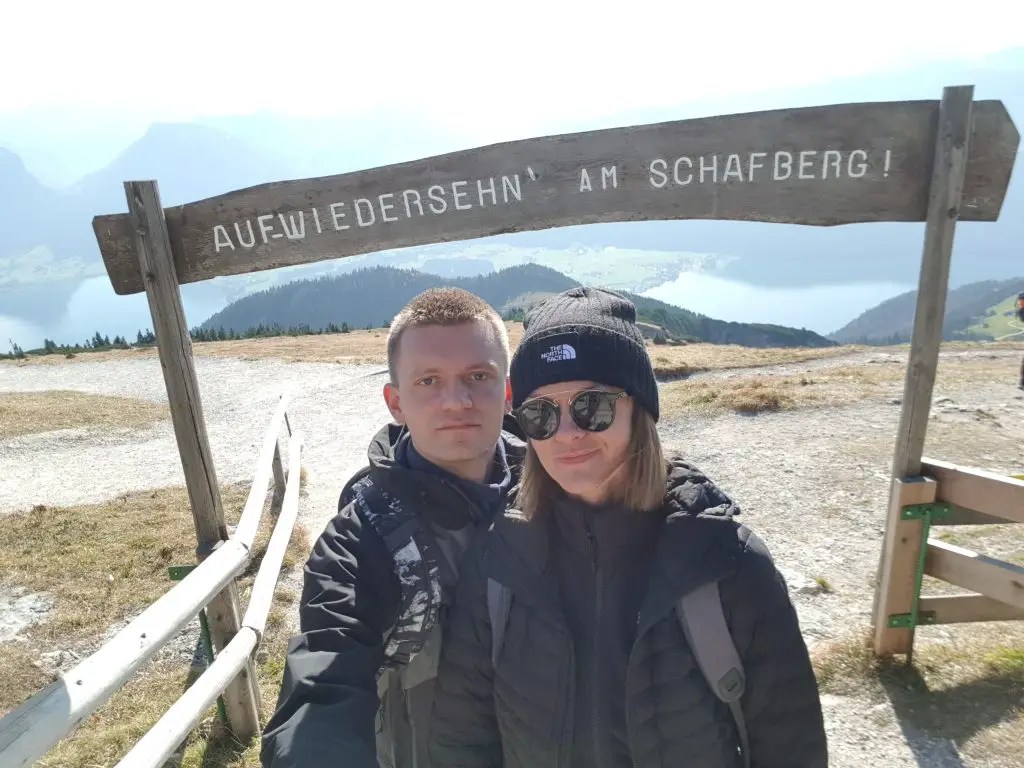 Where to stay around Schafberg mountain?
There is no shortage of amazing places to stay during your trip to Schafberg Mountain in Austria. Please see below some of the TOP hotels we have selected for you:
"Located at the base of the Schafberg Mountain in the Salzkammergut region, Schafberg Apartments is a 4-minute walk from Lake Wolfgang and 10 minutes from the village centre and the Schafbergbahn Cog Railway."
"Featuring panoramic views of the surrounding mountains and Lake Wolfgang, this guest house in Sankt Wolfgang offers modern rooms and apartments with a private balcony. The Schafberg Railway Station is 350 yards from Pension Wolfgangsee, and St. Wolfgang's centre is 550 yards away."
Is it worth hiking around Schafberg Mountain in Austria?
It can't get better than this hike! In fact, this is one of the best hikes in Europe! Whether you are hiking Wolfgangsee or going to the top of the Schafberg mountain – it is 100% worth spending a day in this part of Austria! 🙂
Schafberg Mountain Austria FAQ:
What is the steepest railway in Austria?
The steepest railway in Austria is the Schafbergbahn, which takes passengers to the summit of Schafberg mountain. With gradients reaching up to 26%, it offers an exhilarating and scenic journey for visitors.
How high is Schafberg Austria?
Schafberg in Austria has an elevation of approximately 1,782 meters (5,846 feet) above sea level. It is a prominent mountain in the Salzkammergut region, offering stunning panoramic views of the surrounding lakes and landscapes.
What's the closest airport to Schafberg Mountain?
Salzburg is the closest city with an airport and the most popular for all visiting Schafberg.
Salzburg to Schafberg train
There is a train route from Salzburg to Schafberg that takes approximately 1 hour and 30 minutes, with a transfer at either St. Wolfgang or St. Gilgen. From there, visitors can take the Schafbergbahn cog railway to reach the summit of Schafberg.
How long is the hike to Schafberg?
The hike to Schafberg typically takes around 2 to 3 hours, depending on the chosen trail and individual fitness level. The popular cog railway, Schafbergbahn, offers a quicker alternative with a journey time of approximately 35 minutes.
What else to see near Schafberg Mountain?
This part of the Austrian Alps is just stunning. Visit Hallstatt town and drive the Grossglockner High Alpine Road for an unforgettable experience!
St Wolfgang Schafberg hike
The hike from St. Wolfgang to Schafberg involves a challenging ascent, usually taking around 3 to 4 hours, depending on your fitness level. The trail offers beautiful views of the Wolfgangsee Lake and surrounding scenery, making it a rewarding hiking experience.
So, is Schafberg Mountain in Austria on your travel bucket list?
If you liked our article about Schafberg, then please check out the below posts too:
In summary, your expedition to Schafberg Mountain, Austria is a journey filled with countless rewarding experiences. As you ascend to the top, whether by the cog railway from St. Wolfgang or by hiking the mountain trails, you're signing up for an adventure like no other.
Reach the breathtaking summit, where you'll be standing at an awe-inspiring 1783 meters above sea level, boasting the most captivating views across Europe. Not only will you be marveling at the stunning Salzkammergut region, but the iconic sights of Wolfgangsee and Salzburg Schafberg will leave you speechless.
For those seeking a little tranquillity amongst nature, the Schafberg hike is an unmissable journey. It's your chance to bask in the Austrian landscape, which effortlessly blends majestic peaks and serene lakes.
And, if you fancy extending your mountain-top stay, the Schafberg House offers cozy lodgings with a view that's out of this world.
So whether you're starting your journey from Salzburg or embarking on a Schafberg Mountain hike, remember this: you're not just visiting a mountain, you're immersing yourself in Austria's natural beauty. Mount Schafberg is your gateway to the unforgettable, true Austrian gem that's set to steal your heart.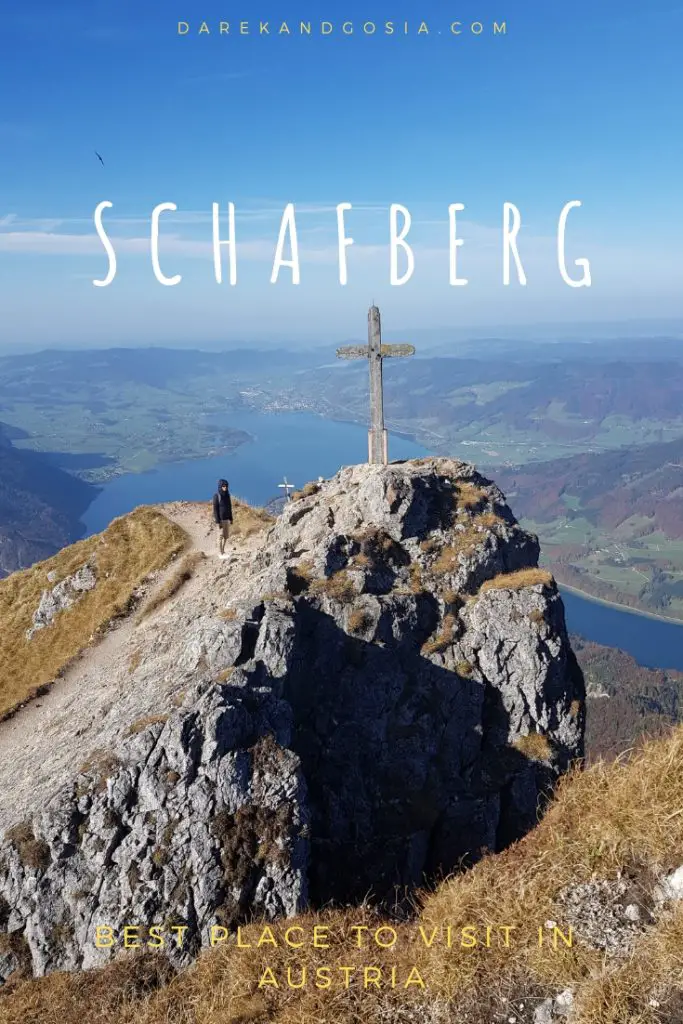 Articles you may like: