Looking for the best things to do in Bruges? This Belgian medieval, fairy-tale town is packed with beautiful architecture, charming little streets and yes, the famous Belgian chocolate. Everybody will find plenty of interesting attractions and things to do (or eat) in Bruges!
The city centre of Bruges is UNESCO World Heritage-listed so you can expect to see many picture-perfect market squares, cobbled lanes and beautiful canals. No wonder, this Belgian city has been named the Little Venice. Bruges is also one of the most romantic cities in Europe – believe me, it's totally worth it to book a weekend getaway with your partner! Is there anything else more romantic than chocolate? 😉
From visiting the Belfry tower, eating some Belgian fries to hiring a bike or taking a boat tour – there are dozens of things worth seeing and doing in Bruges.
Easy connection with Eurostar, makes Bruges a perfect destination for a trip from London, Brussel or even Amsterdam. Make sure you add Bruges to your European itinerary! If you love canals, bridges and cobbled streets, Bruges will be a perfect place to go to for your next city break. The variety of unusual things to do and many historical attractions just have to be recorded on your camera! 😊
The below article contains photography of chocolate and Belgian fries! If you are addicted to any of those do NOT continue reading! A trip to Bruges equals a few kilograms extra! You just can't stop eating them… 😉
If you are seeking inspiration for your next trip, here are some of the most beautiful places in Bruges we have visited, plus a little BOUNS at the end of the list 🙂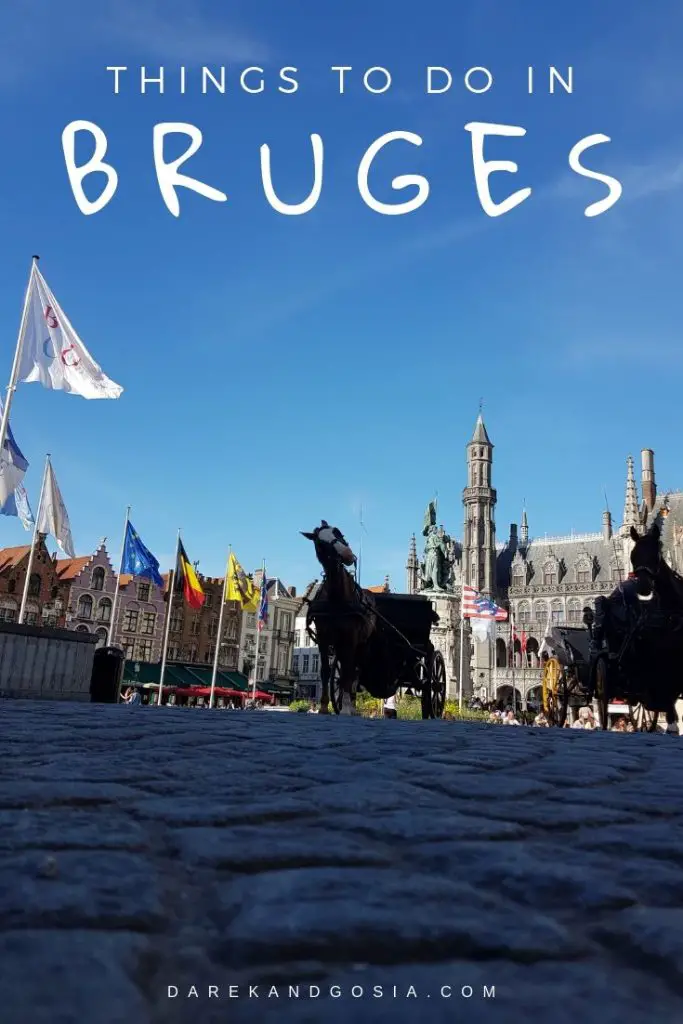 This is our list of the best things to do in Bruges – a Brugge bucket list:
TOP 30 Things to do in Bruges:
1. Markt
Know as the Market Square, the Markt is one of the most iconic spots in the entire Bruges skyline. Full of cafes and restaurants, Market Square has such a cool vibe and really is one of the best places to visit in Bruges.
Whilst the square itself is found to be a meeting place for locals and of course tourists alike, the one thing that sticks in people's minds has to be the stunning and impressive Belfry!
It's one of our favourite markets and possibly one of the best places to visit in Bruges.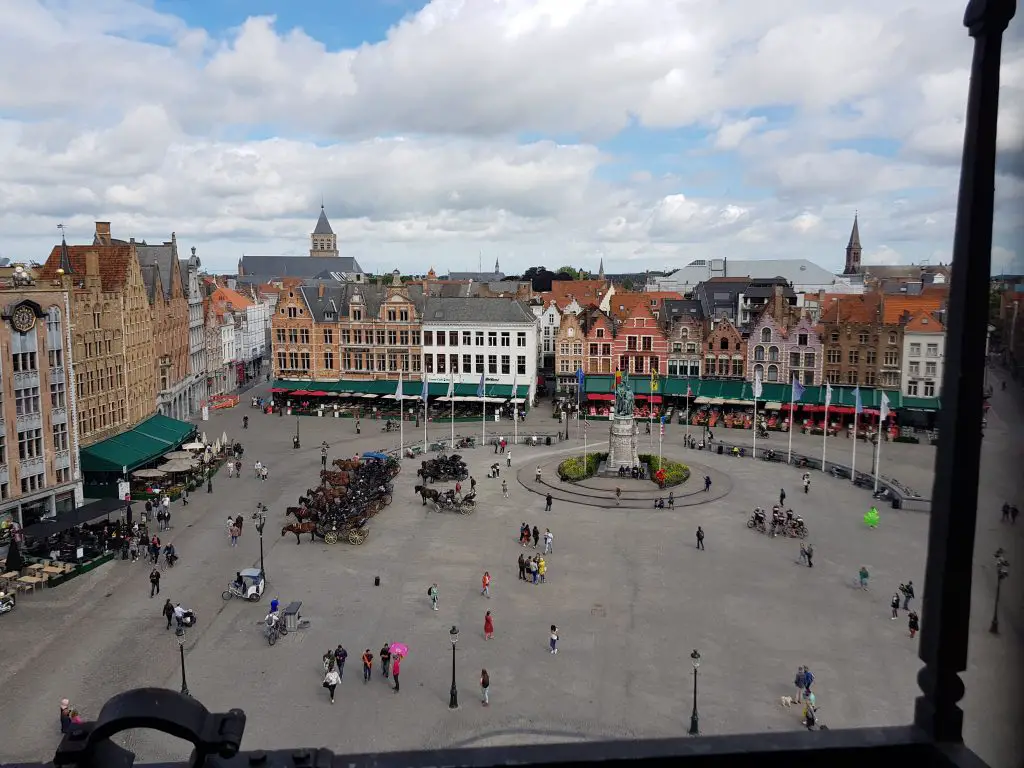 2. Belfry of Bruges
Standing at 83m tall, this is one of the most iconic buildings in Bruges. Visitors can climb the tower, and after 366 steps you will be rewarded with some of the most amazing views. Not only is this tower packed full of character, charm and history but it also comes complete with 47 bells.
You don't have to be superfit to get to the top of Belfry, but you will definitely feel it once you get there! 😉
You will honestly be blown away by how beautiful the view from the tower is and really is one of the best things to do in Bruges.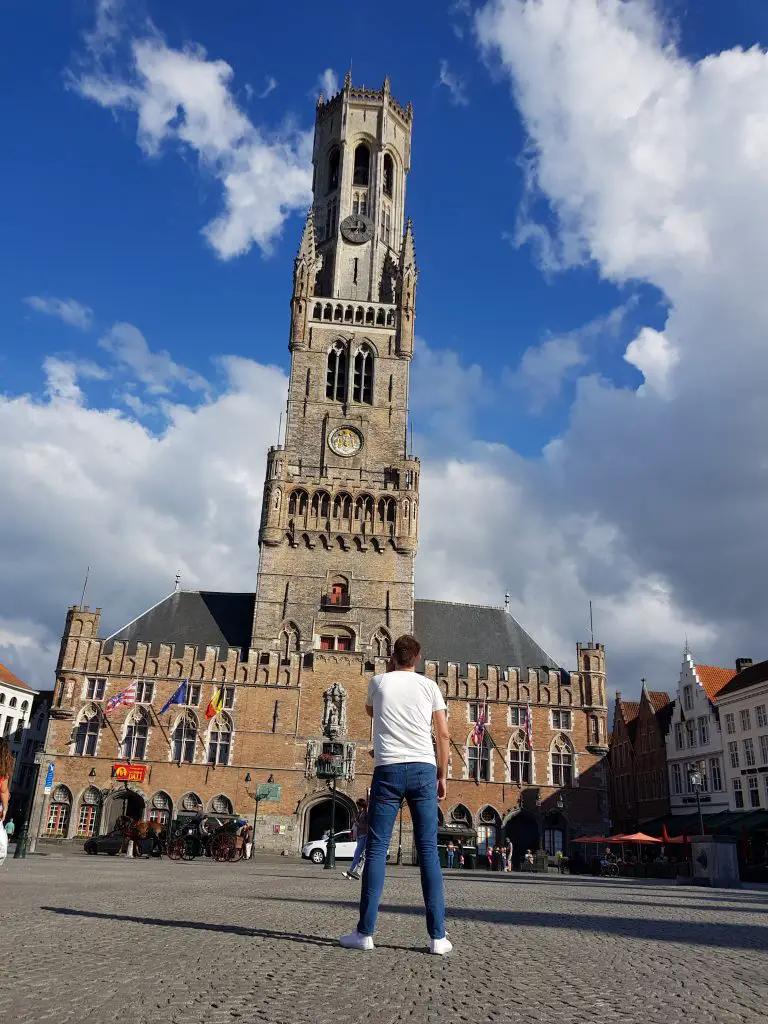 The tickets to the Belfry tower are at €12 for adults. Please note that it is not possible to buy the ticket in advance. You will have to queue with other tourists, and the queue will be long! This really is one of the best places to visit in Bruges.
We recommend getting there around 30 minutes before opening time as it really gets crowded during the day. There is also a limited number of people being able to climb the tower at the same time, which makes the waiting process a bit longer. Check the latest prices and updates here.
3. Church of Our Lady Bruges
Not only is the beauty of this building a reason to visit it alone, there is still so much more that the Church of Our Lady Bruges can offer.
Once you step inside the 115.5 high brick tower and church building, you will find a variety of valuable works of art, including Madonna and Child which is one of the most famous sculptures in the world.
If you are an art-lover, this is a top place to visit in Bruges for you!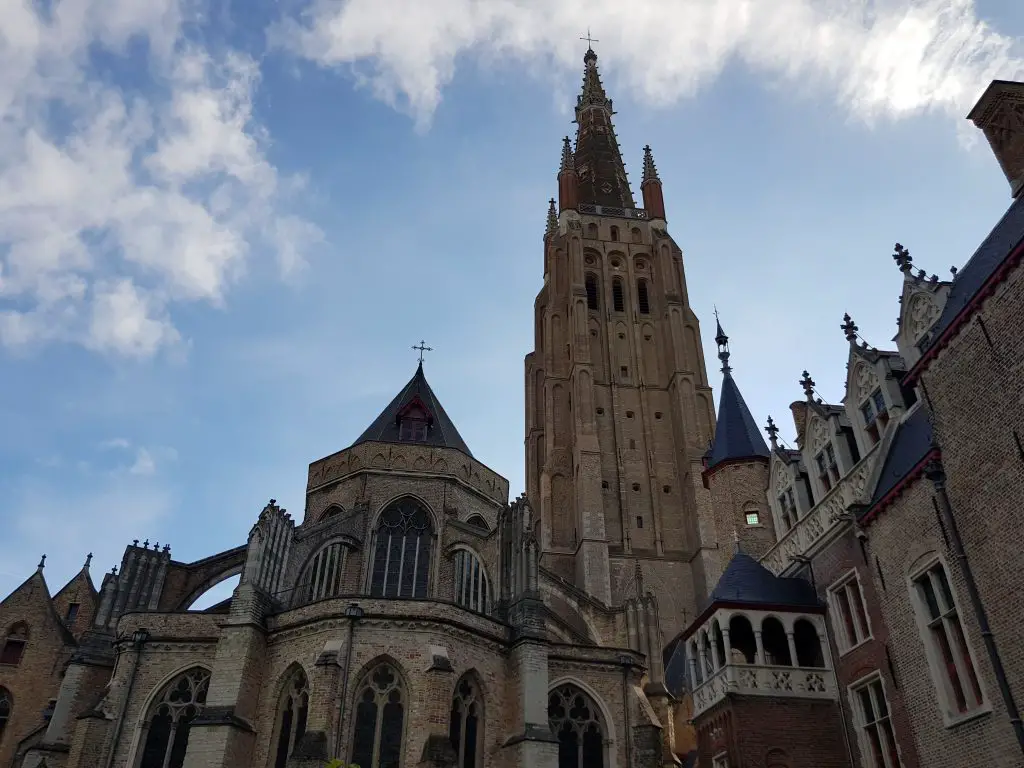 4. Basilica of the Holy Blood
There is something definitely gothic about this particular Basilica of the Holy Blood church. A double church, which is dedicated to Our Lady and Saint Basil.
The lower church has a distinctly Romanesque character about it, whilst the upper church, where the Holy Blood is found, is a neo-Gothic style space.
It is located just a few minutes walk from the Market Square and it's one of the best places to see in Bruges!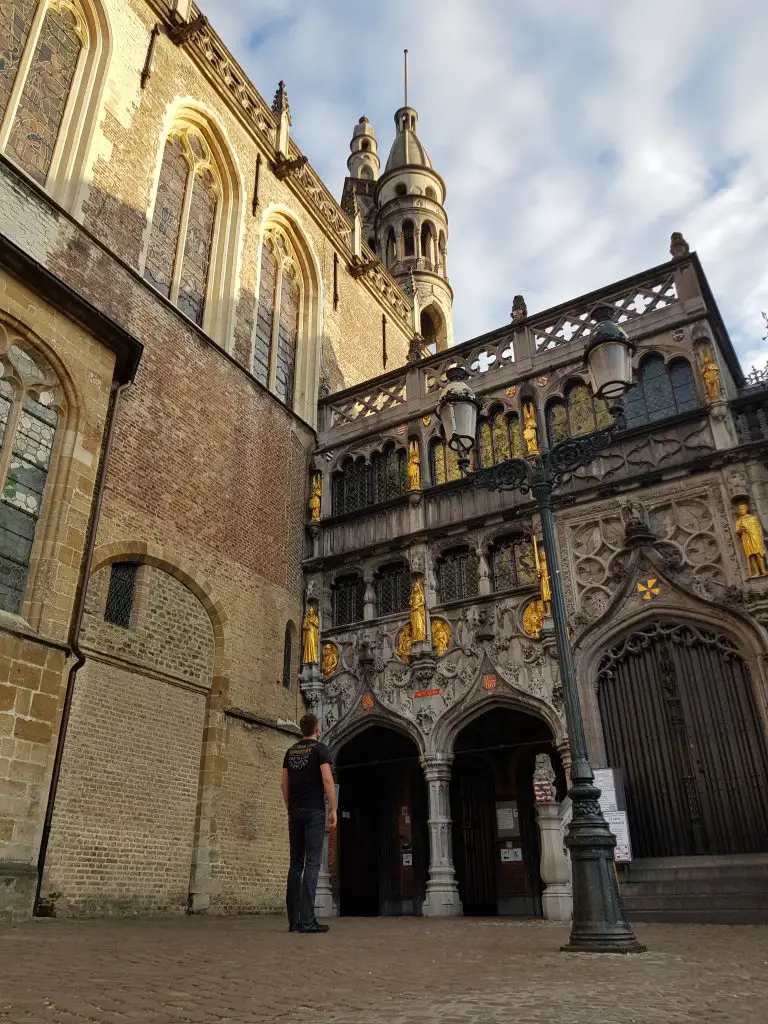 5. Jan van Eyckplein
If you like spots that are quaint, charming and beautiful, then you are definitely going to need to plan in a visit to Jan Van Eyckplein. One of the prettiest spots in Bruges this is not only a great place to stop and spend some time, but it is also a fantastic spot to take some photos and gain some treasured memories.
It really is a contender for the best things to do in Bruges.
6. Eat Belgian fries
You should never go to a country simply for food, however, if there are some delicious treats then all the better. Belgium is well known for their Belgian Fries, which are so much more than just your standard chips and definitely worth a munch.
Let's be honest! Eating fries is one of the best things to do in Bruges 🙂 There are many places in this historical city where you can buy this famous food. But it tastes best on the Market Square 🙂 Just remember to try Belgian curry-ketchup or you can have them with mayo.
It really is one of the best things to do in Bruges… especially for fries lovers!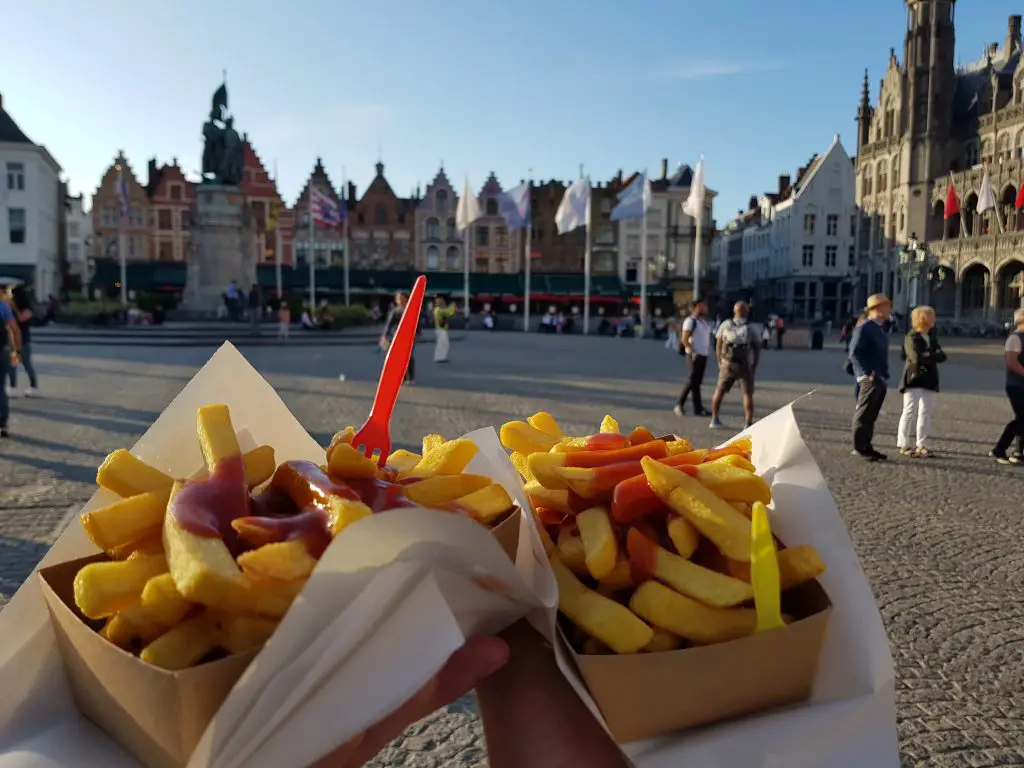 7. Sint-Salvatorskathedraal
The oldest parish church in the whole of Bruges, not only has this building been around since around the 12th century, but it also has a wealth of amazing paintings and work of art within it too.
Visit this amazing building and be prepared to be inspired as well as impressed.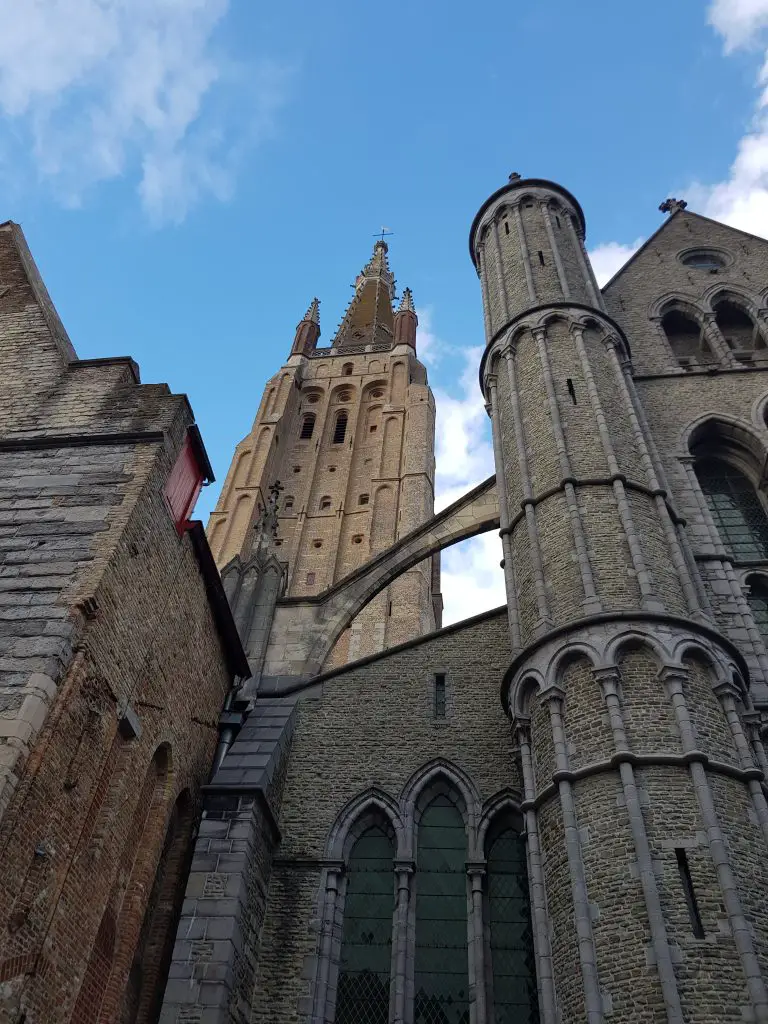 8. Old St. John's Hospital
As the name suggests, Old St John's Hospital has been around for some time, in fact, it has an 800-year-old history of caring for those in need.
It is home to medieval wards, whereby those who were sick and infirm would have been cared for by both nuns and monks.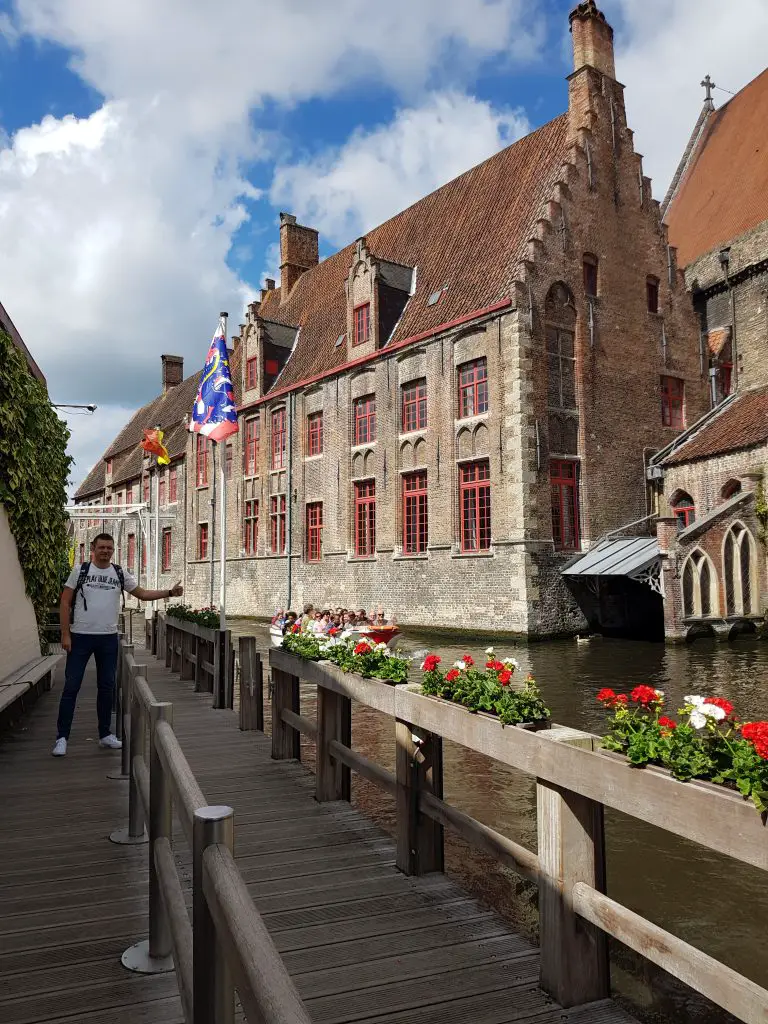 9. Burg Square
It is no secret that Bruges is packed full of beautiful buildings, and one of the most picturesque has to be the Gothic Town Hall, which is found, amongst other stunning pieces of architecture, in Burg Square.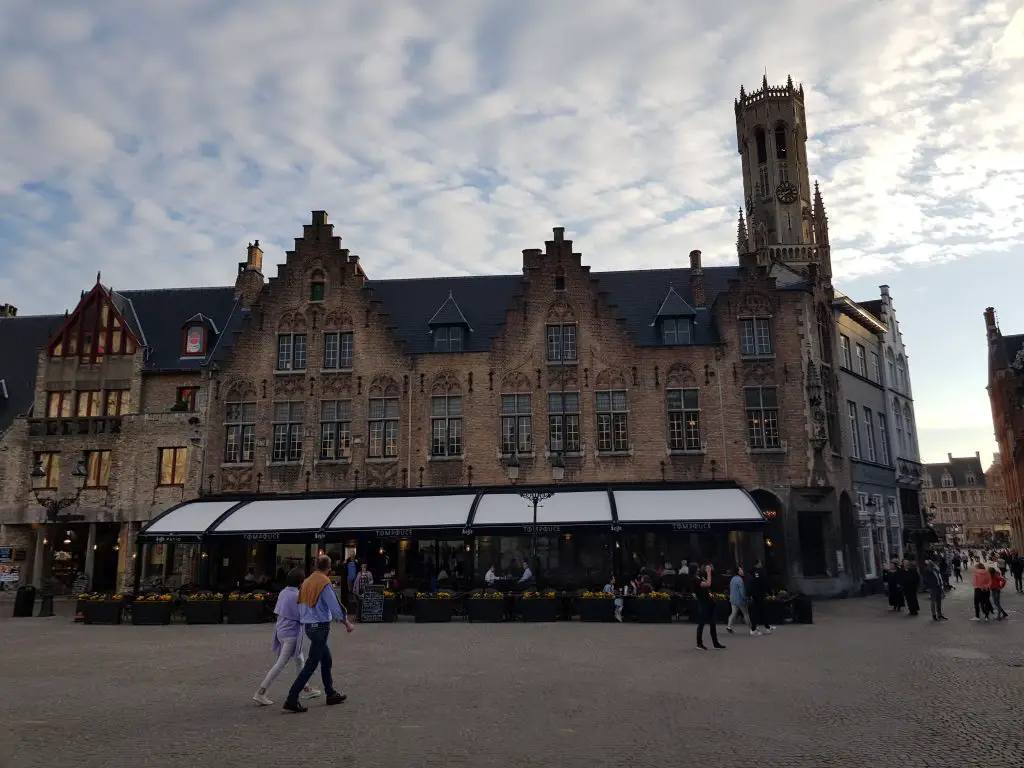 10. Hire a bike
One of the best ways to get around in Bruges is to grab a bike and cycle yourself to some of the most famous sights that the city has to offer. It really is one of the best things to do in Bruges – and we have done it too! 🙂
Thankfully there are plenty of amazing places to hire a bike from and get yourself around.
11. Choco-Story
I couldn't forget to shout out Choco-story as one of the best places to visit in Bruges, could I? 😉
What could be more amazing then heading to a museum that is dedicated to chocolate? If you can't think of anything, then you definitely need to head to Choco-Story whilst you are in Bruges.
Not only can you learn about the history of chocolate, but you get to sample some too and also buy some to take home too. A very yummy thing to do in Bruges.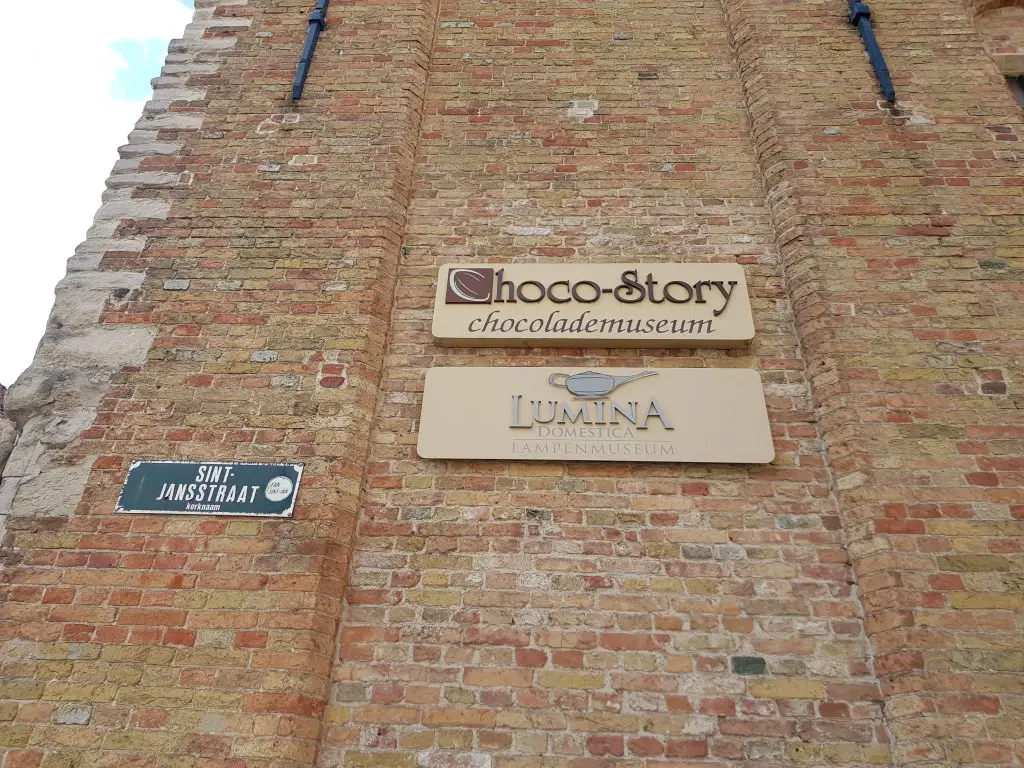 12. Huisbrouwerij De Halve Maan
One of the more unique museums to be found in Bruges, at the Huisbrouwerij De Halve Maan you will be able to learn more about the history of the Maes family brewery as well as get to sample some of the most amazing flavours too!
There is also a little bar located in the courtyard, which you have to visit! The best time will be in the evening when you can get a Belgium beer and try something delicious: bread served with cheese and mustard-mayo! A strange combination, which tastes amazing! 🙂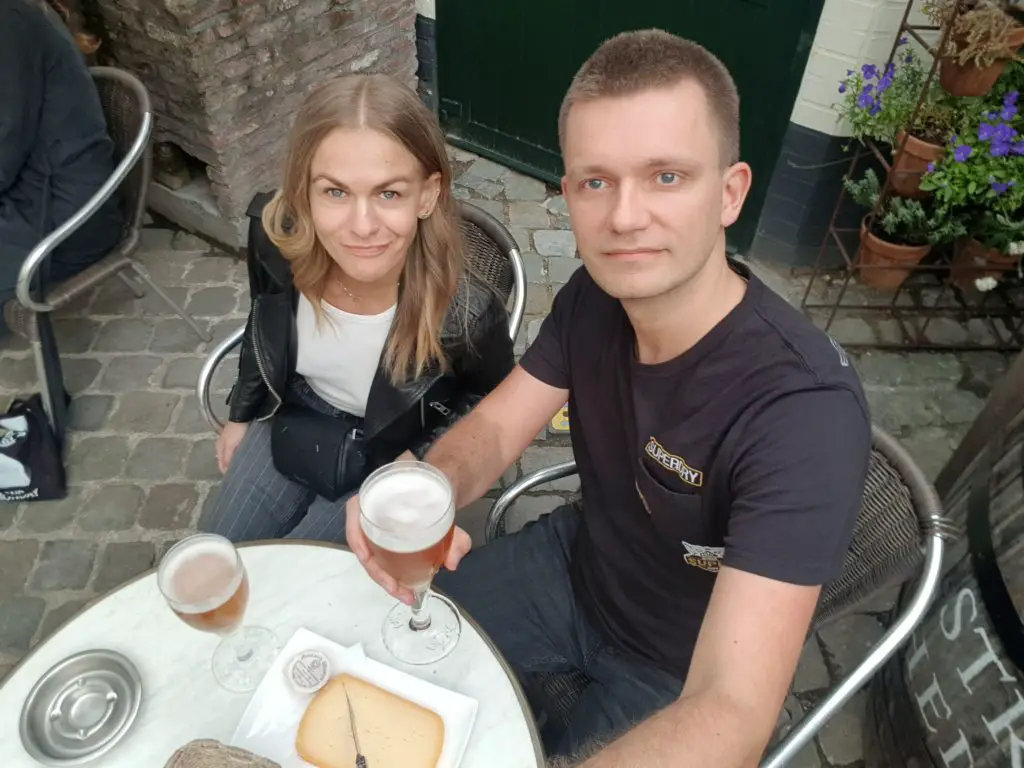 This really is a very testy thing to do in Bruges!
13. Frietmuseum
A museum dedicated to the beauty of the Belgian Fry, this is a delicious and fun museum which is not only interesting but will also take your taste buds on a flavour journey too.
It really is a contender for the best places to visit in Bruges if you are fries fanatic 😉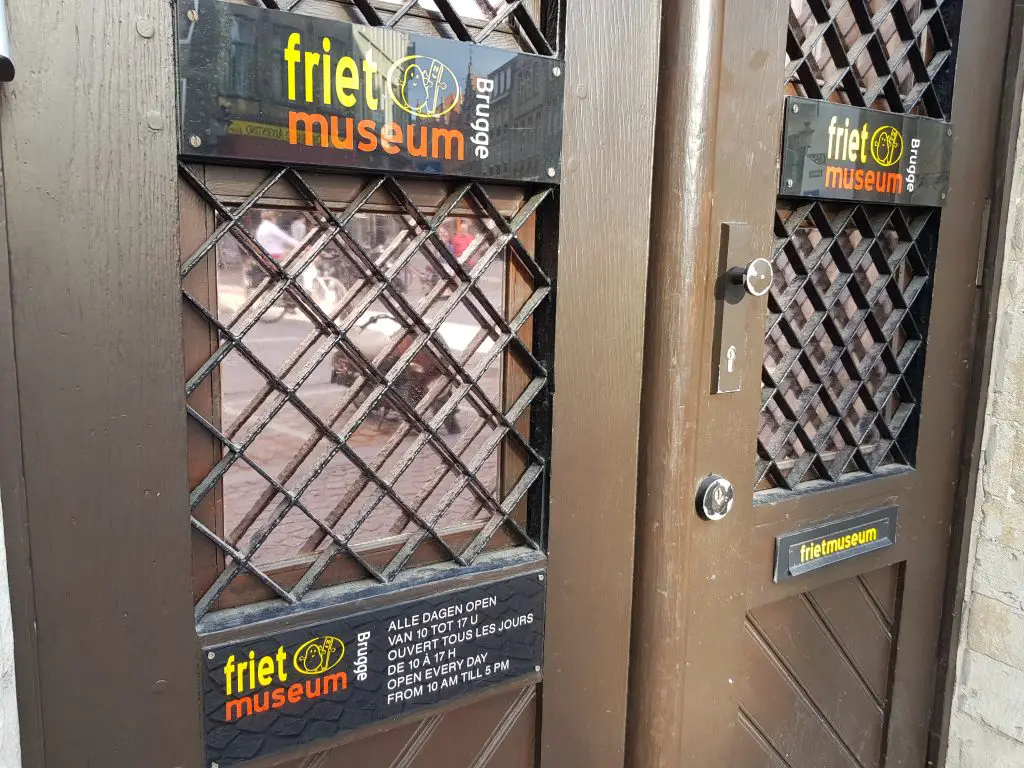 14. Bruges City Hall
You might not think that there is much interesting about a city hall, but in Bruges, the city hall is just as interesting.
It is from here that the city has been governed from for over 600 years and it is actually a beautiful and gothic building with plenty of charm too.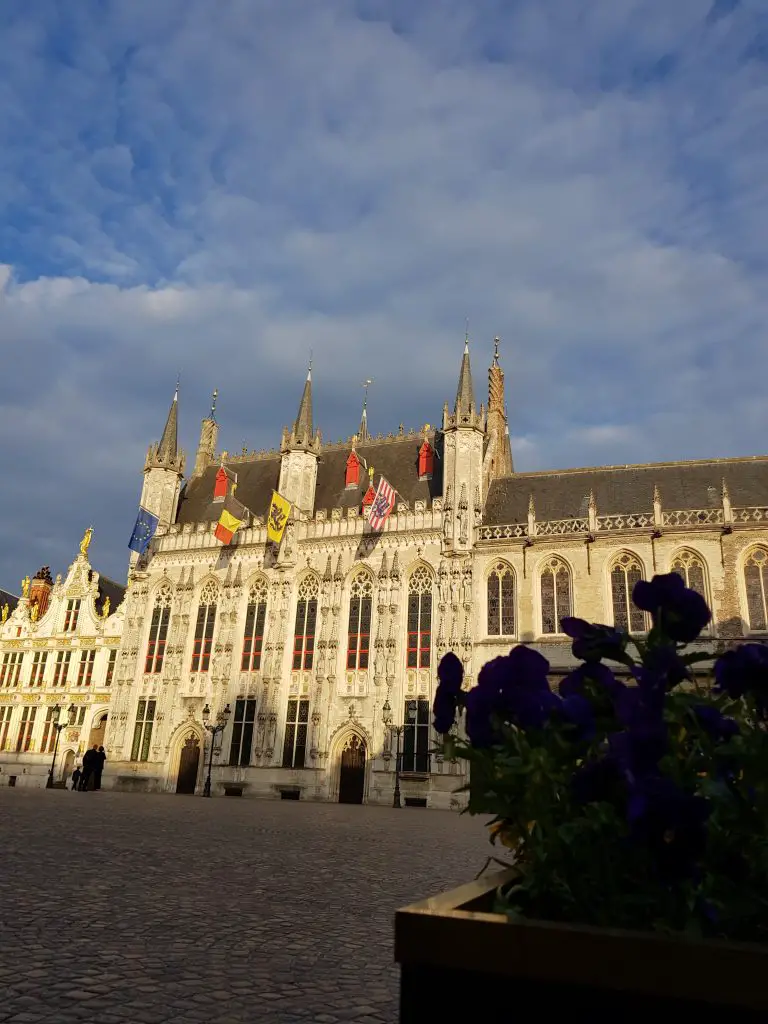 15. Eat lots of Belgian chocolate
Do we need to tell you twice? Bruges is the home of Belgian chocolate, which means that if you really want to get into the Belgian way of life, then you need to get yourself into one of the chocolate stores and treat yourself to something sweet.
It really is one of the best things to do in Bruges… especially for choco lovers!
16. Ten Wijngaerde
One of the most popular attractions in the whole of Bruges, the absolute best time to visit has to be either in March or April, as once you walk through the gate and into the wide-open space, you will be able to see nothing but an ocean of yellow thanks to all the daffodils that are blooming.
Would you add Ten Wijngaerde to your bucket list of things to do in Bruges?
17. Historium Bruges
Found on Market Square, the Historium Bruges is the perfect place to dive into and learn more about the golden age of Bruges and some of the fascinating history of the city and Belgium as a whole.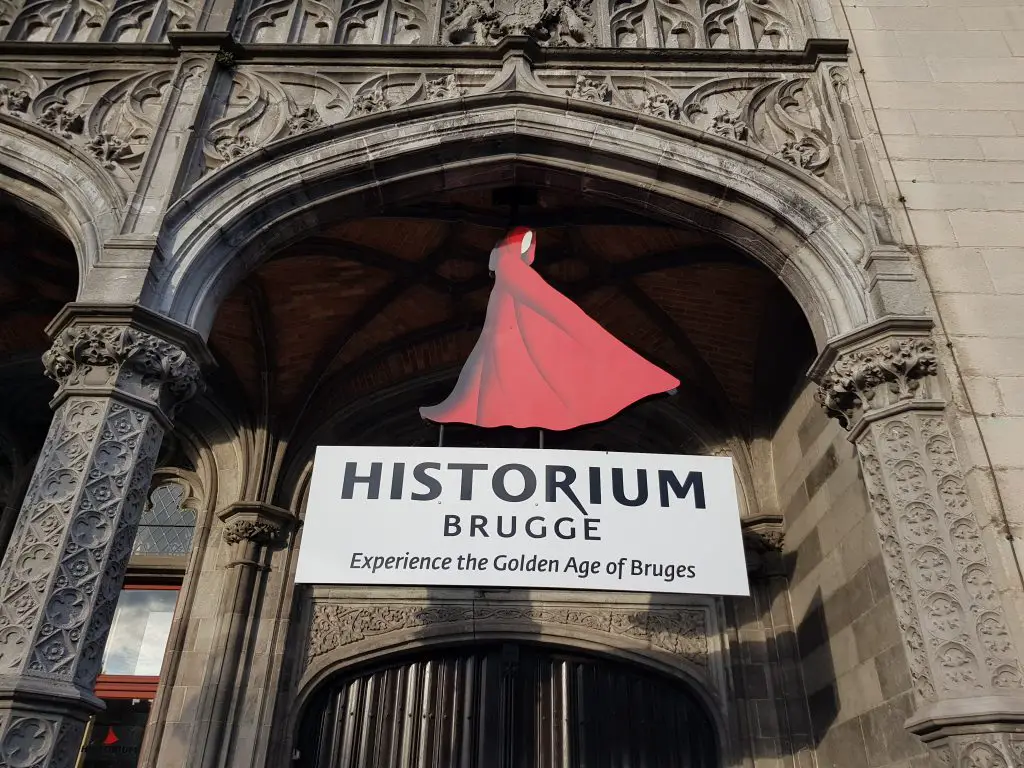 18. Wander through the Old Town
To really absorb the true beauty and charm of Belgium and Bruges, you need to take a walk through the fascinating Old Town. Recognised as a UNESCO Heritage spot, it is not only packed full of culture but also beauty and charm too.
19. Boat Trips Bruges
Bruges is home to its very own canal network and no trip to the city is complete without organising to head out on one of the many canal trips and see everything that the city has to offer on the water. Although there are no gondolas, Bruges is often called a Little Venice – and it's hard not to see why! 🙂
Boat tours in Bruges run all day between March and November. There are a few locations in the city centre where you can start your trip. With prices at €10 for adults, a boat trip is one of the unique things to do in Bruges. It also makes the city one of the most romantic places in Europe.
It really is one of the best things to do in Bruges.
20. Diamond Museum
Diamonds are naturally captivating and eye-catching, so if you want to be able to get up close and personal with this glittering stone then you are going to want to plan in a trip to the Diamond Museum in Bruges.
Boasting a memorable experience you will learn more about diamonds and even see how they are polished to perfection.
21. Rozenhoedkaal
If you are looking to take some amazing pictures of Bruges, then you are going to want to plan a trip to the Quay of the Rosary, Rozenhoedkaai.
Featuring canals that are lined with classic and historic buildings, there really is no better spot to stop and pull out your camera. You will honestly be blown away by how beautiful this place is! It really is one of the best places to visit in Bruges.
22. Begijnhof
Love the idea of walking through a stunning garden and simply enjoying some natural beauty? If this appeals to you, then you are definitely going to want to visit the Begijnhof and take in the charm and the stunning nature of this space.
23. Eat Belgian waffles
Another thing that Belgium is famous for are waffles and with so many waffle sellers around the city of Bruges, you absolutely must plan in to take some time to sample the many waffles on offer.
Pick your favourite toppings and dive in! How many waffles are you able to it during your weekend trip to Bruges? 😉
24. Minnewaterpark
One of the most tranquil spots in the entire city, there is so much to see when you take a walk through Minnewaterpark. Aside from the famous Lake of Love, this small but beautifully formed space is ideal to take a walk through or simply to spend some time relaxing and unwinding.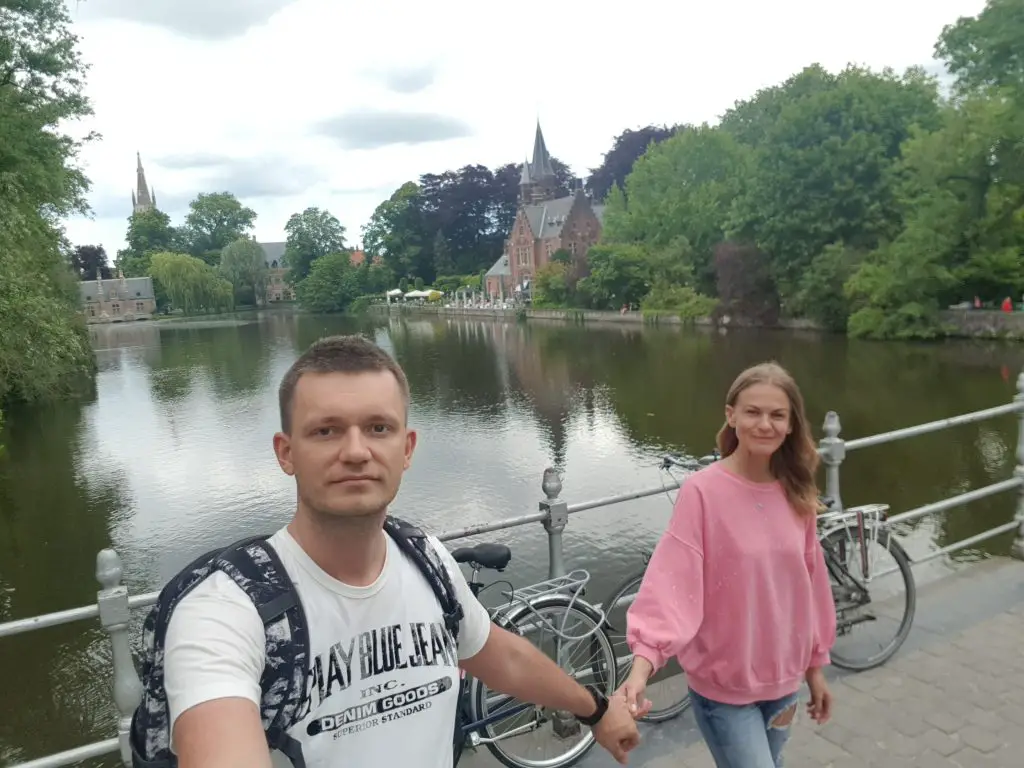 25. Lake of Love
There is so much to adore in this amazing water spot in Bruges. It might just be a small rectangular lake, but there is a lot of romance as well as tragedy around the entire spot. This means that you will often see plenty of happy couples taking a walk through the park or maybe sitting by the lake together.
We fell in love with the park straight away and it's really up there with the best places to visit in Bruges!
26. Bonifacius Bridge
Found close by the Groeningemuseum and not far from the Church of our Lady you will find this amazing bridge. Famous for being the ideal photo spot, there is something truly charming and quaint about this beautiful spot in Bruges.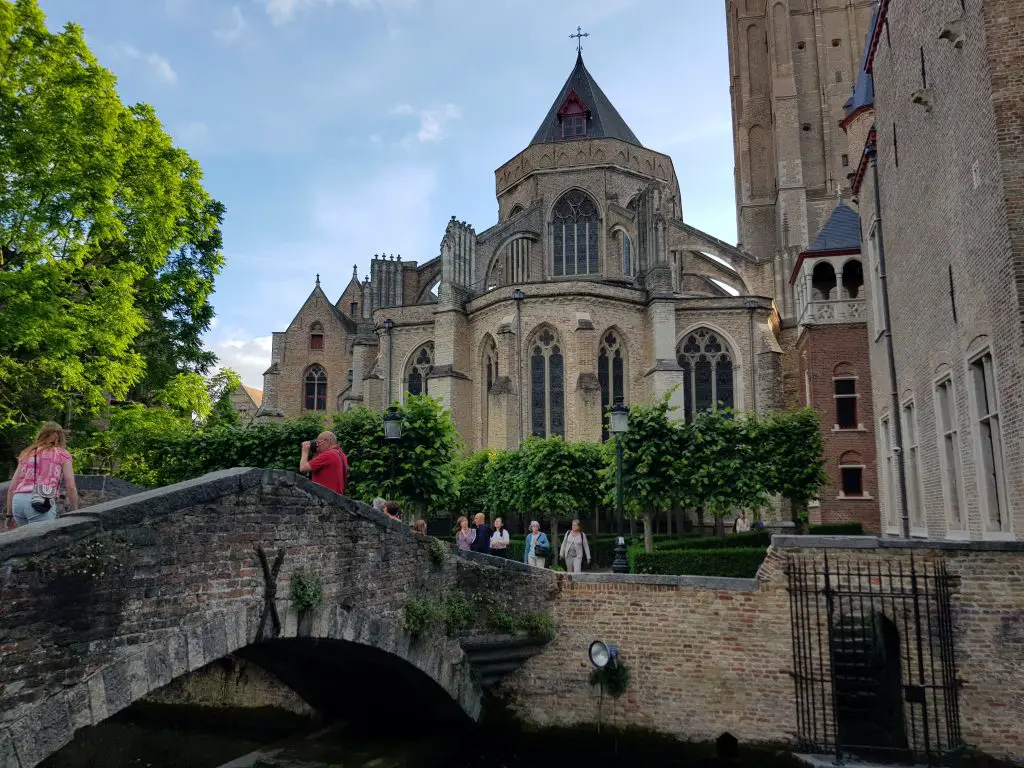 For many, the picturesque Bonifacius Bridge is one of the most romantic spots in Bruges.
27. Gruuthusemuseum
Within the walls of the city palace of lords, you will find some of the most fascinating parts of the history of Bruges. You will not only be able to learn more about its past, but you will also be able to see a variety of tapestries, paintings and even lace and silverware too.
Is Gruuthusemuseum on your bucket list in Bruges?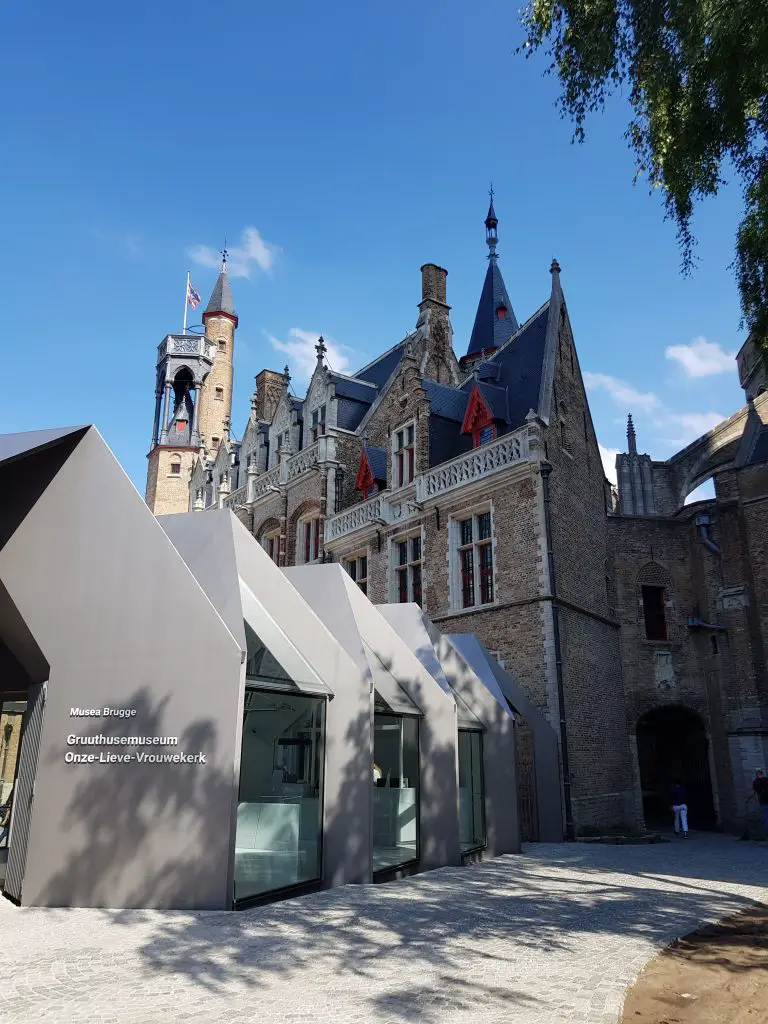 28. Try Belgian beer
After exploring all those amazing sights and spots you will definitely have worked up a thirst.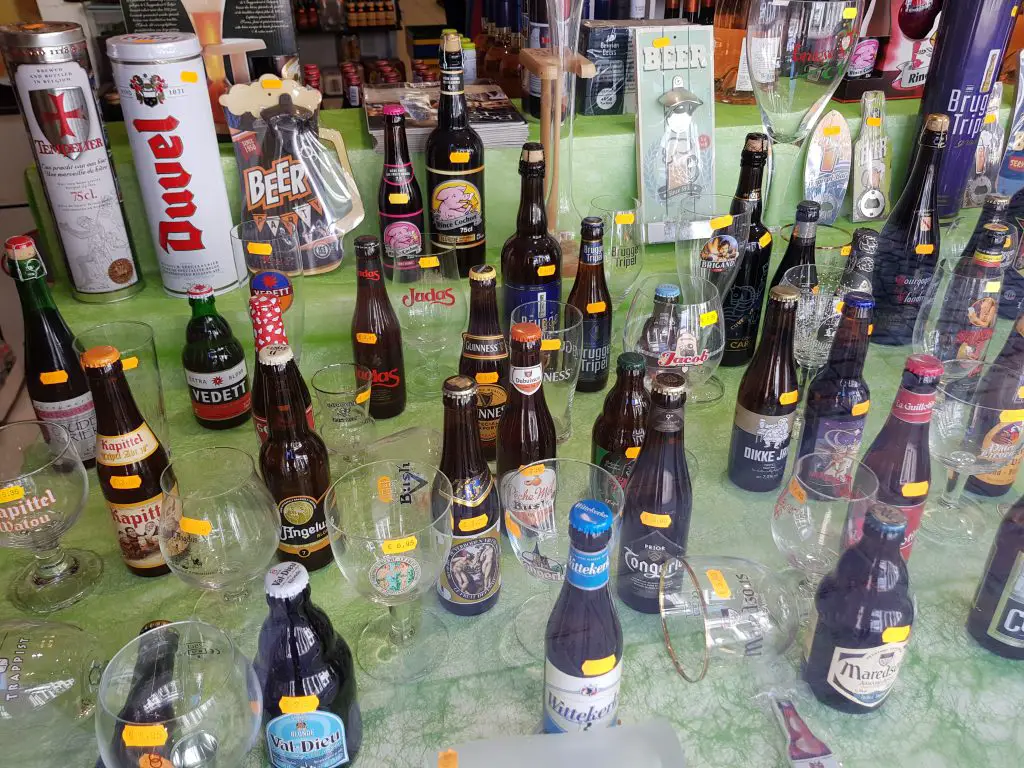 Thankfully one thing that Belgium is famous for is its beer. So, why not rest for a minute and sample some Belgian Beer, before you set off on the rest of your adventure?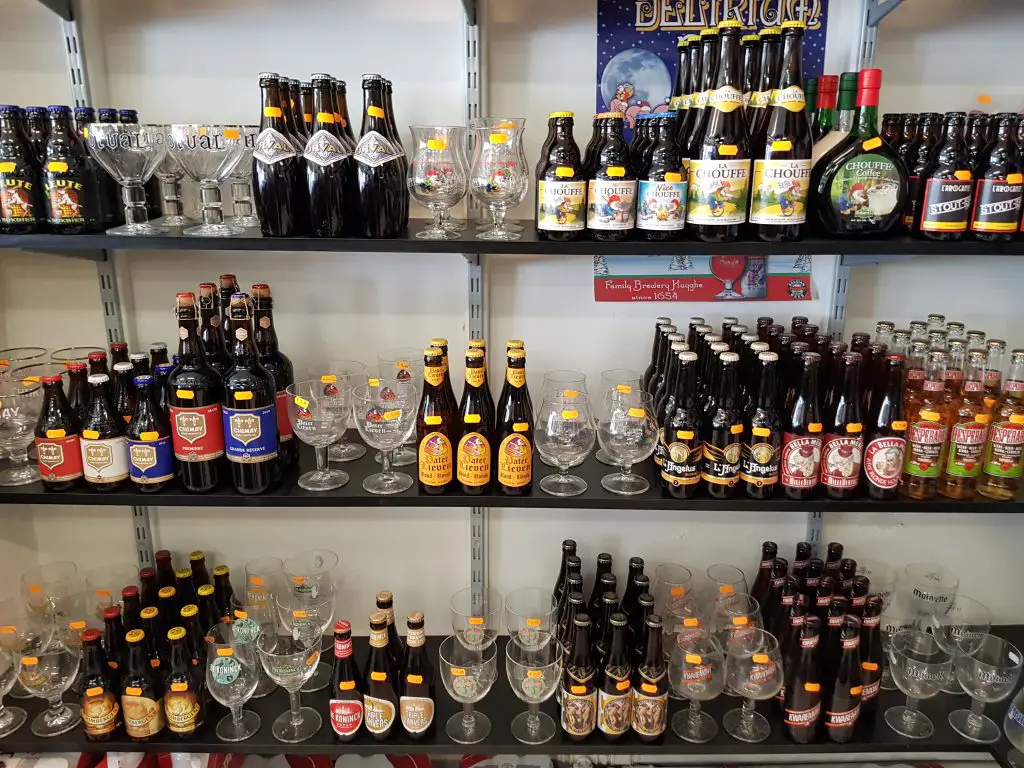 The only problem is… the variety of beers in Bruges is just huge! 🙂
29. Provinciaal Hof
Seeing as the Provinciaal Hof is a palace, it makes sense that it is also one of the most imposing buildings in the city. Built in 1887 and then carried on in 1914, this is an amazing place to take in and visit.
It features some of the most amazing interior decoration that you are ever likely to see, including stained glass windows and ironwork too.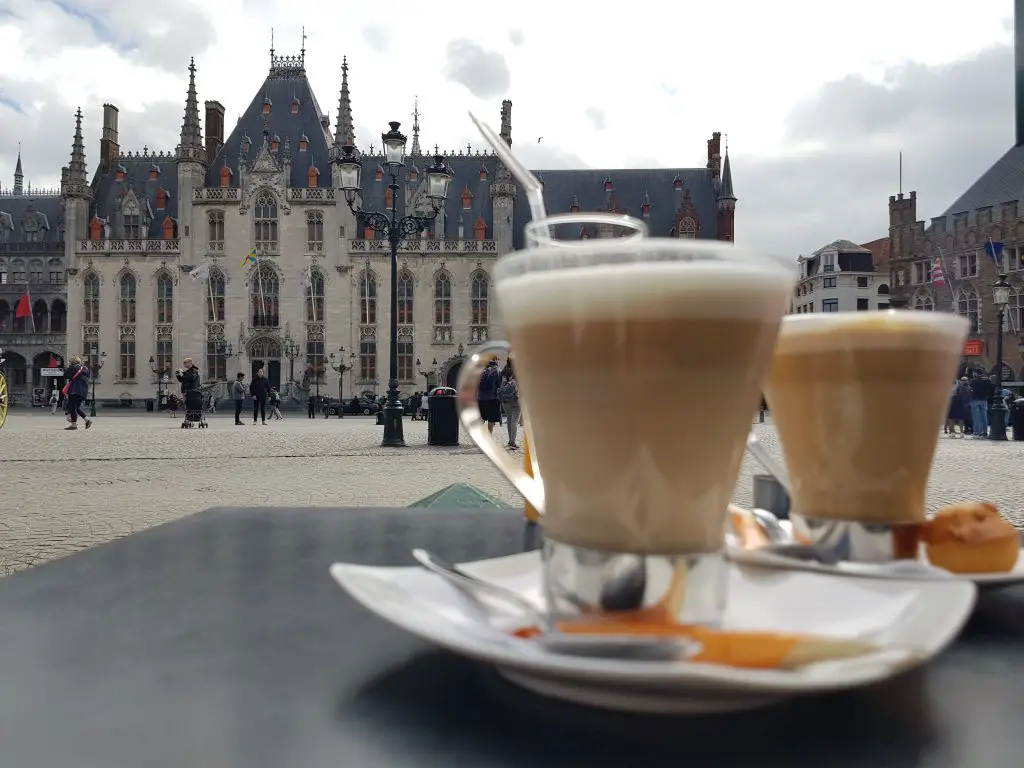 30. Sint-Janshuismolen
Windmills are as much a part of Belgian life as chocolate and therefore it makes sense if you want to take in the true nature of Bruges, that you need to visit the Sint Janshuis Mill. Built in 1770 this is not only an incredibly old mill, but it is also the only mill still grinding flour as well as being open to visitors too.
There are a few other windmills along the canal on the eastern part of Bruges. Hire a bike as this is the best way to visit this part of the city. It really is one of the best places to visit in Bruges 🙂
BONUS place to visit in Bruges:
31. Blankenberge Beach
Have more time to spend in Bruges? Then, leave this beautiful city and head north to Blankenberge – one of the main tourist attractions along the Belgian coast!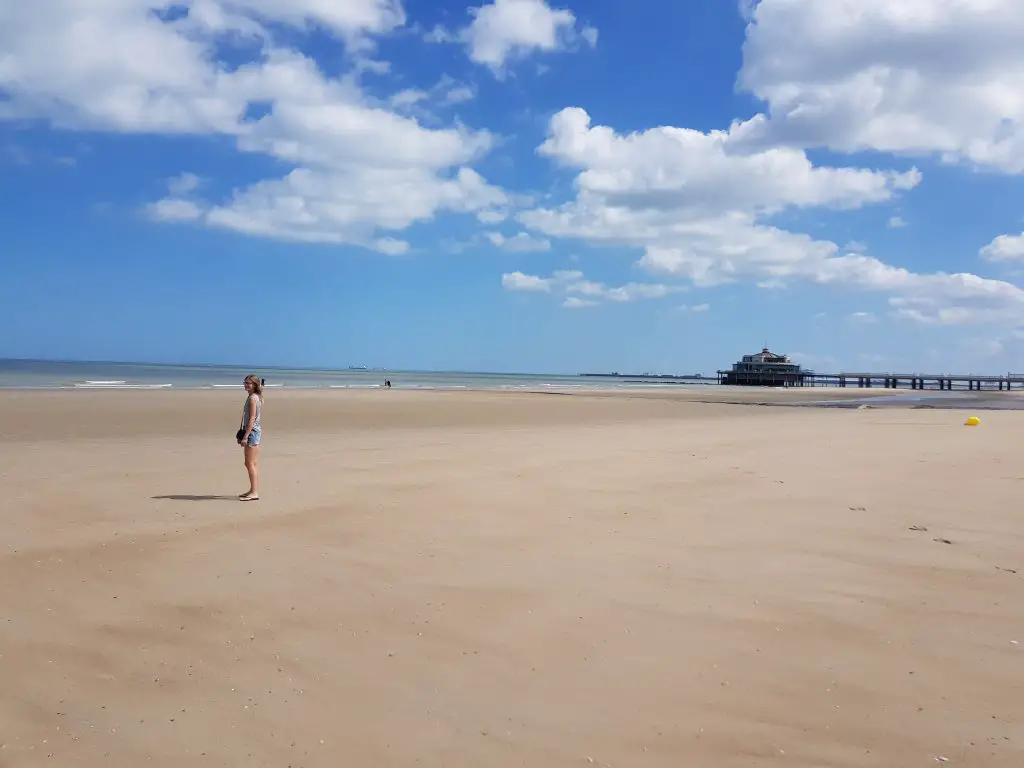 If the weather is nice you can spend a whole day at the beach, which is really stunning and can be easily considered as one of the best beaches in Europe! It's located only 25 minutes drive for Bruges which makes is one of the best things to do in (around) Bruges! 😉
Where to stay in Bruges?
There is no shortage of stunning places to stay during your weekend trip to Bruges Belgium. Please see below some of the TOP hotels we have selected for you:
"This 5-star superior hotel is located in a unique 15th-century former ducal residence in Bruges and only 300 yards from the Markt. Hotel Dukes' Palace Brugge includes a spa and rooms with classically elegant décor and luxurious 5-star facilities."
"Located along a canal, Hotel Ter Brughe is an 8-minute walk away from the Market Square, the Belfry of Bruges and the shopping district. Breakfast is served in a vaulted cellar with views on the water."
Need more inspiration? Browse the map to find a hotel in Bruges:
Where did we stay in Bruges?
We have stayed in Boat Hotel De Barge, a very unique hotel in Bruges which floats on the Bruges-Ghent Canal. It is also located 10 minutes walk from Bruges Railway Station and the Interparking where we kept our car during the 3-days trip to Bruges.
Is it worth visiting Bruges?
We really loved our trip to Bruges, one of the most charming and romantic cities in Europe! This fairy-tale town is just packed with beautiful medieval buildings and sights. Although there are many great things to do and see in Bruges, it is a city that can be easily visited on a weekend trip to get a general feeling of it.
So, is Bruges on your travel bucket list? 🙂
FACTS ABOUT BRUGES:
Does Eurostar go to Bruges?
If you want to head into the beautiful city of Brugge, then there are a variety of ways that you can travel there. One of the easiest ways to get there from London is to take the Eurostar. In fact, you can book tickets with ease and the train only takes 3 hours and 25 minutes.
How can I get from Brussels to Bruges?
There are two amazing places to visit in Belgium: Brussels and Bruges. However, you might wonder whether or not you are going to be able to fit both places in if you are spending some time in the country. The good news is that for those who are looking to travel between Brussels and Bruges there is a train that takes you between the two.
Can you do a day trip from Amsterdam to Bruges?
You might not realise it, but if you are spending some time in Bruges then you can actually take a trip to the wonderful capital city of the Netherlands. In fact, this is one of the best day trips from Amsterdam.
There is a train that takes you between the two cities, however, these trains are not direct and they do take around 3-4 hours to go between the two cities.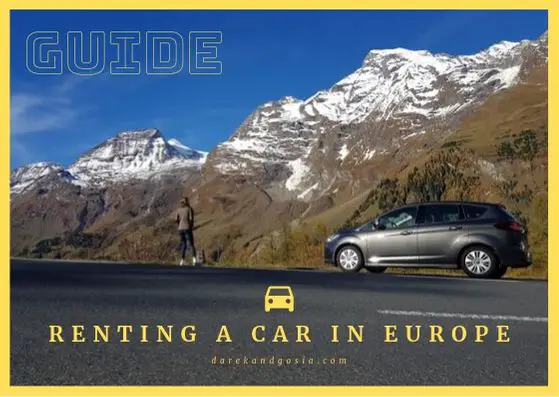 How do you get around in Bruges?
Compared to other cities in Europe, Bruges is relatively small. In fact, you can get end to end of the main parts of the city in as little as 30 minutes on foot. You can also choose to bike around the city too, which can be hired from a variety of places during your visit.
How many days do you need in Bruges?
Much like many other cities, if you are planning on heading to Bruges then you should plan for around the 3-day mark. Of course, you can spend as little as one or two days in the city and if you wanted to stay for 4 or 5 days you wouldn't run out of things to do.
Things to do in Bruges canal
One of the best things about Bruges has to be the fascinating canal network. If you are planning on spending time in the city and want to see as much of it as possible, then you should absolutely organise to take a canal tour. There are a number of boat trip operators on offer which will take you to see some amazing spots in the city.
Is Bruges famous for chocolate?
Who doesn't love chocolate? Thankfully if you fit into this number of people, then you are in luck if you are heading to Bruges. There are plenty of amazing chocolate shops to visit, after all, Bruges is famous for chocolate. In fact, you might find that you have too many choices rather than worrying about not being able to find chocolate in the city.
Is Bruges expensive?
It is no secret that many cities in Europe are expensive to spend some time in. Brugge is no different. However, if you do want to try and explore the city and save yourself some money, then this is possible. You might just have to think carefully about the things that you see, as well as the places that you choose to eat and drink.
What language is spoken in Bruges?
If you are planning a trip to Bruges then you are going to want to know the language is spoken. The majority of people will speak the local language of Flemish, which is a Dutch dialect. You may also find that other people speak Dutch, French or perhaps even German.
Are there any private boat tours in Bruges?
Bruges has a famous canal network, so it comes as no surprise that a popular thing to do in the city is to take a private boat tour along the canal. The water is not only great fun to travel on, but it also gives you the opportunity to see parts of the city that you might not otherwise get to see.
Articles you may like: