Where is the happiest place to live in Cornwall? Popular and highly regarded places to live in Cornwall that are known for their quality of life, community spirit, and stunning natural beauty include St Ives, Padstow, and Falmouth.
Looking for the perfect place to live in Cornwall? Cornwall's popularity as a place to live has grown in recent years, with many people drawn to its stunning rural and urban locations. With property prices rising across the UK, Cornwall offers an affordable and attractive alternative.
Boasting a stunning coastline and charming fishing ports, Cornwall has been a go-to holiday spot for generations. For those seeking a break from the fast-paced city life, the secluded beaches and rugged moorlands evoke a slower way of life.
Whether you're in search of a fresh sea breeze and leisurely coastal hikes, or you want your kids to experience outdoor activities like surfing, swimming, and exploring rock pools, this picturesque part of England has something for everyone.
With so many great options to choose from, it can be difficult to know where to start. But with its diverse range of towns, villages, and cities, Cornwall is sure to have something for everyone! Here are some of the top places in Cornwall to call home with your family.
What's living in Cornwall like?
Living in Cornwall is a unique and rewarding experience, offering a relaxed and laid-back lifestyle amidst breathtaking natural beauty. With its rugged coastline, quaint fishing villages, rolling hills, and charming towns, Cornwall has a strong sense of community and a relaxed pace of life that is appealing to many people. The county is home to a diverse range of people, from young families and retirees to artists, surfers, and outdoor enthusiasts.
Cornwall is rich in history and culture, and there is a thriving arts scene, with numerous galleries, museums, and festivals. The county is also famous for its culinary offerings, with an abundance of fresh seafood, local produce, and artisan food producers.
Cornwall has excellent transport links to the rest of the UK, including trains and buses, and a growing network of cycle paths and walking routes. However, owning a car can be helpful for getting around, especially in rural areas.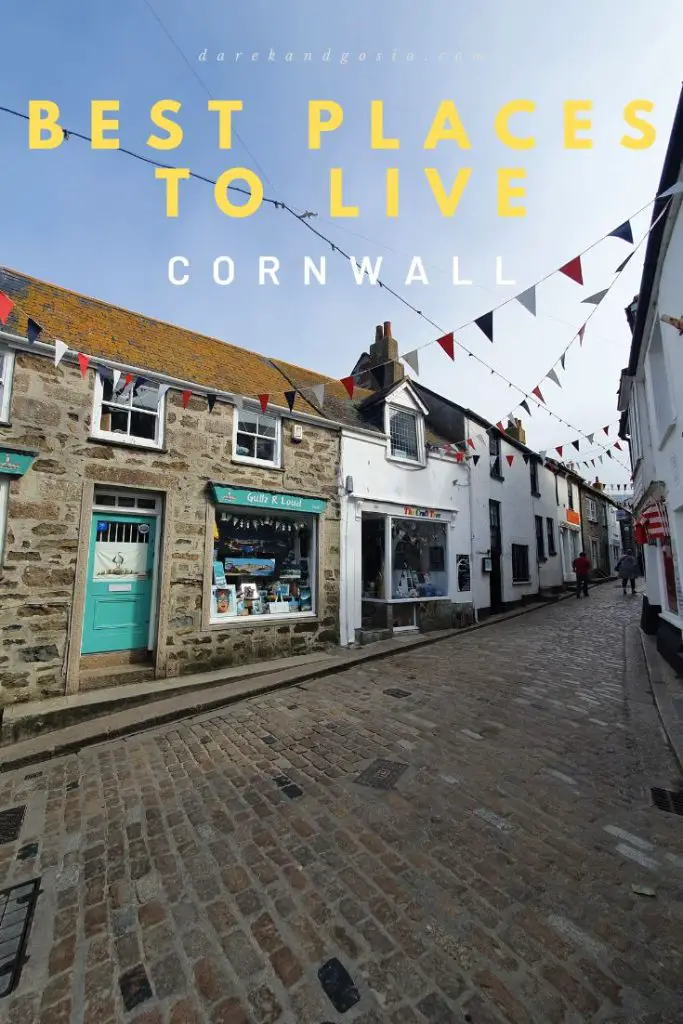 Living in Cornwall is all about embracing a slower pace of life, immersing yourself in the local culture, and enjoying the stunning natural scenery that surrounds you. It's an ideal place for people who love the outdoors and are looking for a peaceful, relaxed way of life.
Where is the best place to live in Cornwall in 2023?
1. St Ives
St Ives is an attractive town with a combination of picturesque white sand beaches and narrow, winding streets lined with traditional fisherman's cottages and alfresco cafes. The heart of the town is centered around the charming harbor, which boasts an 18th-century pier and a distinctive octagonal cupola.
Once a thriving fishing port since medieval times, St Ives has now shifted its focus to tourism, and is one of the few towns in the area that remains busy throughout the year. This is thanks to its notable attractions such as the Tate Gallery and the Barbara Hepworth Museum.
For those looking to indulge in the local cuisine, St Ives has a variety of dining options, from cozy pasty shops and classic pubs to upscale seafood restaurants. Whether you're in the mood for a quick bite or a fancy dinner, St Ives has something for everyone.
2. Penzance
Nestled on the shores of Mount's Bay with stunning views of St Michael's Mount, Penzance is the hub of commerce for the Land's End peninsula. With its historic pubs, unique independent shops and galleries, beautiful Morrab Gardens, and weekly farmer's market at St John's Hall, Penzance balances its charming, laid-back character with a more practical side.
A stroll along the promenade will lead you past the elegant Jubilee Swimming Pool with its art deco design, and on to the bustling working harbor, where ferries frequently depart for the Isles of Scilly. Penzance is a charming town that showcases a harmonious blend of history, culture, and natural beauty.
3. St Just
St Just-in-Penwith is the closest town to Land's End and is situated on the edge of the moors near the breathtaking north coast. This town was once the hub of the tin mining industry in Cornwall, as reflected in its rows of granite cottages and the numerous mining remnants in the surrounding area, which is part of a UNESCO World Heritage Site.
In the center of St Just is the Plain-an-Gwarry, an outdoor theater that was built for the performance of miracle plays during the Medieval period. Today, the Plain-an-Gwarry is used for the annual Lafrowda Day festival held in July. With its rich history and cultural heritage, St Just-in-Penwith is a must-visit destination for anyone looking to explore the unique beauty of Cornwall.
4. Newquay
Newquay, with its breathtaking coastal views, pristine beaches, and bustling nightlife, is Cornwall's leading tourist destination, welcoming hundreds of thousands of visitors annually. Renowned for its surfing culture, Newquay boasts an abundance of stunning beaches, including Towan, Great Western, Lusty Glaze, and Tolcarne which are conveniently located near the town center and offer safe and sheltered waters.
Fistral Beach, on the other hand, is a renowned surf spot that attracts surfers from around the world, hosting numerous surfing competitions. For those who prefer to stay out of the water, Newquay Zoo is a must-visit, situated in ten acres of sub-tropical lakeside gardens, while the nearby scenic countryside provides ample opportunities for hiking.
5. Padstow
Padstow is one of the most famous towns in Cornwall and is highly coveted by those seeking to live in the region. Known for its narrow, winding streets and charming old cottages, Padstow is the epitome of a quaint fishing village, and has been the inspiration behind several TV shows, such as Rick Stein's Cornwall and This Fishing Life.
The town's property market is thriving and many of the cottages are available for rent year-round. Padstow is renowned for its thriving seafood industry, and there are numerous restaurants along the harbor where you can enjoy fresh catches while observing the daily activity of the fishing community.
In addition to its picturesque scenery, Padstow is also a hub for water sports, serving as the start and end point for the Camel Cycle Trail. It has good amenities, including a large Tesco store and a variety of shops offering clothing, art, and one-of-a-kind gifts. Located on the west bank of the River Camel estuary, Padstow is just a short distance from the towns of Wadebridge, Bodmin, and Newquay.
For those seeking a laidback lifestyle, with breathtaking sea and landscapes, Padstow is the ideal destination. If you want to call Cornwall home, you should know that Padstow is one of the best places to live on the Cornish Coast.
6. Truro
Truro is the only city in Cornwall and boasts a magnificent neo-Gothic Victorian cathedral in the center. This city is a desirable place to live due to its blend of cobblestone streets, stone terraced homes, and palm trees. The schools in Truro are highly rated, with many of them being "outstanding", and there are also two prestigious independent schools.
With excellent transportation links and the beach just a short drive away, residents can easily enjoy both an urban and beach lifestyle. Truro is also known for its festivals, with the most famous being the Truro City of Lights, a visually stunning procession that brings together artists, schools, and community groups, and coincides with the lighting of the Christmas lights. The community is a valued aspect of life for Truro's residents.
7. Polperro
Polperro, a quaint village in Cornwall, is widely considered one of the most tranquil and serene destinations in the UK. It has earned recognition as one of the best places to visit or even reside in, thanks to its picturesque harbor, pristine white houses, vibrant community, and an array of dining and drinking options.
Although it is a popular Cornish tourist destination in the summer, with its memorable firework displays and festivals, Polperro remains a lively and active community even after the tourists have left. The village center is pedestrian-only, allowing for traffic-free exploration on foot. The narrow streets, cottages perched atop cliffs, and stunning blue sea of the Polperro Heritage Coastline make it an ideal destination for a peaceful UK getaway.
8. Looe
Nestled on either side of the River Looe, connected by a 19th-century bridge, East Looe boasts the town's bustling commercial hub and harbor, while West Looe offers a more tranquil atmosphere with a plethora of dining options and accommodations. Looe's charming and narrow streets come alive each year for its renowned New Year's Eve celebration, featuring a spectacular fireworks display on the Banjo Pier.
This pier also provides a great vantage point to observe the bustling activity of returning fishing boats unloading their daily catch. West Looe's Hannafore Beach offers panoramic views of Looe Island, which is open for visitors during the summer months.
9. Port Isaac
The charm of Port Isaac draws people in and captivates them with its history, picturesque location, and warm-hearted community. Despite the yearly influx of tourists and filmmakers, who are drawn to the village for its beauty and use it as a set for popular shows such as Poldark and ITV series, Port Isaac has maintained its authentic charm and identity.
For those who enjoy surfing, Polzeath is a short distance away to the west, and to the east is Tregardock Beach. For swimming, the harbor and nearby Port Gaverne village offer safe sandy beaches.
10. Falmouth
Falmouth, a bustling port town on the southern coast of Cornwall, offers a unique blend of traditional fishing heritage and contemporary growth. In recent years, the town has established itself as a hub for digital media, with numerous agencies and creative enterprises making their home here. This makes Falmouth an ideal location for those seeking a rural lifestyle while still having access to career opportunities. The nearby University of Exeter Penryn Campus and the Area of Natural Beauty offer additional opportunities for education and outdoor recreation.
As the proud owner of the world's third-largest natural deep-water harbor, Falmouth has a strong sailing culture, and visitors should not miss the annual Falmouth Regatta or Pendennis Cup. The town is also home to the award-winning Falmouth Art Gallery and boasts a mild climate, allowing for the growth of exotic plants in Kimberly Park and Trebah Garden. Just a short drive from the town, Gyllyngvase Beach provides an excellent spot for rock pooling with the family.
11. Marazion
If you're wondering if Marazion is a nice place to live, you'll be happy to know that this town has a rich history and is surrounded by breathtaking wildlife and breathtaking landscapes. Located just 400 yards from the National Trust protected site with a 12th century castle, Marazion offers breathtaking views and unique geology.
Marazion is a bird-watcher's paradise with protected marshlands that are home to Herons, Warblers, Chiffchaff, Starling Sparrowhawks, and Peregrine Falcons, to name a few. Just off the coast of the bay, Bottlenose Dolphins swim in large pods. Summer in Cornwall starts earlier and lasts longer than in the rest of Britain, so you can expect excellent weather even if you're not visiting in peak season.
Being situated on a peninsula, Marazion experiences the best of summer weather. While the coastline basks in glorious sun, the interior can have cooling, rolling mists. Marazion is an ideal location for exploring the beautiful regions of Penzance, St Ives, or Mousehole, which are all just 20 minutes away. The town is also the perfect starting point for exploring the rugged coastline and tranquil harbor towns of the Lizard.
12. Bude
Located near the Devon border, Bude offers a taste of the distinct culture and geology of Cornwall. The town is a starting point for exploring breathtaking bays and coves like Widemouth Bay and Sandymouth Bay.
Bude boasts excellent surfing options, including at Summerleaze Beach, which has more gentle waves for beginners. Additionally, the well-known Bude Sea Pool provides a safe swimming experience in a semi-natural setting.
13. Fowey
Fowey, a sophisticated spot near Falmouth, is a top choice for sailing enthusiasts due to its deep-water harbor. This port town boasts an array of pubs and tea rooms for you to enjoy, along with its impressive medieval and Georgian architecture.
Despite its upscale reputation, Fowey remains a thriving working port, with large vessels regularly loading cargo from the nearby China clay works. The surrounding region is designated as an Area of Natural Beauty and you can explore the beautiful gardens in Polruan by taking a ferry.
14. Mousehole
If you're searching for a charming and storybook-like town, look no further than Mousehole. The village is the inspiration for the famous children's book, "The Mousehole Cat" by Antonia Barber and illustrated by Nicola Bayley, which is based on a local legend.
Mousehole is a close-knit community where residents treat each other like family. Although the population increases during peak tourist seasons, there is a strong core of permanent residents who keep the community active and vibrant. The town's school is highly rated, with high demand, and the cost of living and property values are reasonable. There are numerous activities, events, and groups for all ages throughout the year, making it a lively and enjoyable place to raise a family.
15. St Austell
St Austell is a large town in Cornwall, England, and is known for its rich history, stunning coastline, and charming villages. It has a variety of amenities including shops, restaurants, and cafes, as well as cultural attractions such as the St Austell Brewery Visitor Centre and the Eden Project.
There are also good transport links to other parts of the county, making it a convenient place to live for those who need to travel. Whether or not it is a nice place to live would depend on individual preferences, but for many people, the combination of history, beauty, and modern amenities make it a great place to call home.
What's the weather like in Cornwall?
The weather in Cornwall can be quite mild and temperate, with warm summers and mild winters. However, it's worth noting that Cornwall is exposed to the Atlantic Ocean, which can bring wet and windy weather at times, particularly in the winter months.
In the summer, temperatures can reach into the high twenties Celsius and it can be sunny and warm, making it a popular time for visitors to the county. The sea temperature can also be relatively warm, making it a great destination for swimming, surfing, and other water activities.
In the winter, temperatures are generally around 7-12°C, and while it can be wet and windy, there are also sunny and mild days. Snow is rare in Cornwall, but there can be frost and ice during very cold spells.
The weather in Cornwall is changeable, with some sunny and warm days interspersed with periods of wet and windy weather. Despite this, many people find the diverse weather patterns to be part of the county's charm and enjoy the mild temperatures, clean air, and breathtaking coastal scenery that come with it.
Best place to live in Cornwall for retirees
The best place to live in Cornwall for retirees would depend on their individual preferences and lifestyle. Here are some popular options that retirees might consider:
St Ives: This historic town has a charming coastal atmosphere and a vibrant arts scene, making it a great place for retirees who enjoy the cultural arts.
Truro: The largest city in Cornwall, Truro offers retirees the benefits of urban living, including a wider range of shopping and dining options, and access to healthcare facilities.
Falmouth: This bustling town is known for its thriving arts and cultural scene, as well as its picturesque harbor. Retirees who enjoy boating and sailing may find this to be an ideal location.
Newquay: This popular tourist destination is known for its stunning beaches and lively atmosphere. Retirees who are looking for a vibrant, active lifestyle may find this to be an ideal location.
Padstow: This charming fishing village is known for its historic harbor and excellent restaurants, making it a great place for retirees who enjoy fine dining and outdoor activities.
These are just a few examples of popular places in Cornwall that retirees may find appealing, and the best place for them will depend on their specific needs and preferences.
Is it expensive to live in Cornwall?
The cost of living in Cornwall can vary depending on various factors such as location, lifestyle, and personal circumstances. Generally speaking, living expenses in Cornwall tend to be slightly higher than the UK average, particularly in popular tourist areas such as St Ives and Padstow. Housing prices can also be higher in these areas, with the average property price in Cornwall being around £250,000.
However, it's worth noting that prices can vary widely within the county and that there are more affordable areas, such as Truro and Redruth. Additionally, many people find that the quality of life in Cornwall more than makes up for the higher cost of living, especially with its stunning scenery, vibrant communities, and unique cultural offerings.
Best place to live in Cornwall for young couples
Truro: This historic city offers a mix of city living and close proximity to stunning coastline and countryside. There is a lively arts and culture scene, and plenty of opportunities for outdoor activities.
Falmouth: Known for its stunning coastline and maritime heritage, Falmouth offers a unique blend of history, culture, and modern amenities. There are plenty of opportunities for outdoor activities and a thriving arts and culture scene.
Newquay: A popular surf and beach town, Newquay is a great choice for young couples who enjoy the outdoors. With its lively town center, sandy beaches, and scenic coastline, Newquay has something for everyone.
St Ives: A charming coastal town with a bustling arts scene, St Ives is a popular destination for young couples who appreciate culture and the great outdoors. The town is surrounded by stunning beaches and the nearby countryside is ideal for exploring.
Padstow: A picturesque fishing village with a thriving food and drink scene, Padstow is a great choice for young couples who appreciate good food and the laid-back lifestyle of a small town. The stunning coastline is nearby, offering plenty of opportunities for outdoor activities.
Best places to live in Cornwall by the sea
St Ives: Known for its picturesque harbor and stunning beaches, St Ives is a popular destination for tourists and a great place to live for those who love the sea.
Newquay: With its numerous surf schools, beautiful beaches, and fun nightlife, Newquay is a great place to live for young couples who love water sports and an active lifestyle.
Falmouth: With its natural harbor, vibrant maritime culture, and excellent seafood restaurants, Falmouth is a great place to live for those who enjoy boating, sailing, and fishing.
Padstow: Known for its historic harbor and excellent seafood restaurants, Padstow is a great place to live for food lovers who also enjoy water sports and beach activities.
Penzance: With its mild climate, subtropical gardens, and stunning coastal scenery, Penzance is a great place to live for those who appreciate nature and the beauty of the sea.
Safest place to live in Cornwall
Generally speaking, areas with lower crime rates tend to be more affluent and have a higher quality of life. Based on crime statistics and overall quality of life indicators, some of the safer places to live in Cornwall include Truro, Penzance, and Falmouth. However, we would recommend researching specific neighborhoods and checking recent crime reports to make an informed decision.
Best places to live in Cornwall for families
Here are the top 5 best places to live in Cornwall for families:
Truro – This bustling city is known for its good schools, cultural scene, and access to the surrounding countryside. It's a great place to raise a family if you're looking for a blend of city life and nature.
St Austell – This town is well known for its large, spacious homes, making it a great place for families who want room to grow. The town is also home to several good schools and a variety of family-friendly activities and attractions.
Newquay – This popular seaside town is known for its stunning beaches and vibrant surf culture. It's a great place for families who enjoy outdoor activities and the beach. The town is also home to a variety of good schools and family-friendly amenities.
Falmouth – This charming port town is home to a great selection of schools, as well as plenty of outdoor activities and attractions for families. It's also a great place for families who are looking for a safe and welcoming community.
Penzance – This historic town is known for its beautiful scenery and relaxed pace of life. It's a great place for families who are looking for a peaceful, coastal lifestyle while still being close to plenty of family-friendly activities and amenities.
Is it worth moving to Cornwall to live there?
Whether moving to Cornwall is worth it ultimately depends on your personal preferences, priorities, and lifestyle. Some people find that the county's relaxed pace of life, stunning scenery, and strong sense of community make it a wonderful place to live, while others may find that the weather, remoteness, or cost of living are less appealing.
If you enjoy outdoor activities, appreciate natural beauty, and are seeking a slower pace of life, then Cornwall could be an excellent place to call home. There are many opportunities for outdoor recreation, such as surfing, hiking, and cycling, and the county is home to a thriving arts and culture scene. The quality of life in Cornwall is generally very high, with a strong sense of community, low crime rates, and a friendly and welcoming atmosphere.
However, it's worth considering that the cost of living in Cornwall can be slightly higher than the UK average, particularly in popular tourist areas. The weather can also be changeable, with periods of wet and windy weather, and the remoteness of the county can be challenging for those who are used to the conveniences of urban living.
Moving to Cornwall is a personal decision that depends on your individual circumstances, priorities, and lifestyle. It's worth researching the area, visiting for a trial period, and considering the pros and cons before making a decision.