Cornwall, with over 400 stunning beaches to choose from, is a paradise for beachgoers with its crystal-clear waters, excellent surfing conditions, and hidden coves with a rich history of smuggling.
With over 250 miles of golden sands, dramatic cliffs, and turquoise waters, there's a beach to suit every taste.
Whether you prefer the rugged beauty of the north coast or the peaceful serenity of the south coast, you're sure to find your ideal beach in Cornwall.
Choosing where to start in Cornwall can be tough, with so many fantastic options like St Ives, Padstow, and Penzance. But one place you won't regret starting is on the beach. The beaches in Cornwall are among the best in the UK, offering breathtaking views of sun, sea, and sand that will leave you breathless.
You'll find everything from sprawling sandy beaches to exciting waves, as well as secluded coves, towering cliffs, and charming fishing villages.
Are Cornish beaches good for a staycation?
Yes, Cornish beaches are perfect for a staycation. Cornwall is home to some of the UK's most beautiful beaches, with over 300 miles of coastline to explore. From long stretches of golden sand to hidden coves and rugged cliffs, there's something for everyone in Cornwall.
Some of the most popular beaches in Cornwall include Fistral Beach, Porthcurno Beach, and St Ives Bay. These beaches offer excellent facilities, including restaurants, cafes, and water sports activities. Many Cornish beaches are also dog-friendly, making them a great choice for pet owners.
In addition to its stunning beaches, Cornwall is known for its picturesque coastal towns and villages, such as St Ives, Padstow, and Falmouth. These towns offer a range of accommodation options, from luxury hotels to cozy B&Bs, making Cornwall a great destination for a staycation.
Cornwall beaches – car hire:
Need a car for your next trip to Cornwall? Book it on discovercars.com for the cheapest prices!
Check out our guide to car rental companies in the UK or simply explore the options directly on discovercars.com if you need a car during a trip to beaches in Cornwall.
Best beaches in Cornwall
1. Kynance Cove
Best beaches Cornwall? Nestled on the charming Lizard Peninsula in southern Cornwall lies the breathtaking Kynance Cove.
Regarded as one of the top beaches in Cornwall, Kynance Cove boasts a pristine white sandy beach paired with dramatic dark red and black cliffs that tower over the cove. Additionally, the cove enjoys one of the warmest climates in the UK, making its tranquil waters shimmer in a mesmerizing turquoise hue.
This secluded beach is the perfect romantic getaway from the hustle and bustle of larger towns. There is also a steep path that leads down to the cove, offering breathtaking views of the unique rock formations and the beach below.
Soak in the peace and tranquility of Kynance Cove and stop by the eco-friendly beach café, where you can indulge in delicious Cornish pasties and other local favorites.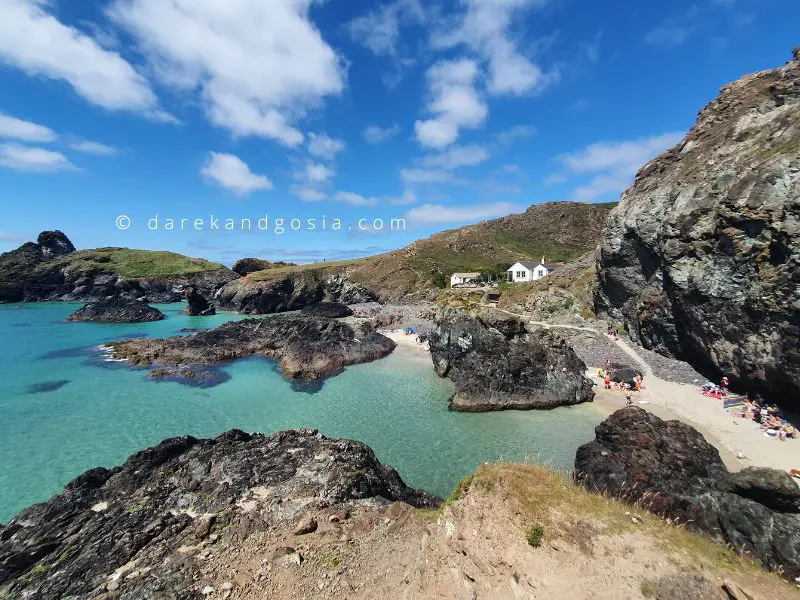 2. Porthcurno Beach
Best beaches South Cornwall? Porthcurno, a regular winner in the best beach awards of Cornwall, sits on the western coast. With its stunning blue waters and a long, golden sandy shore, it's no surprise that Porthcurno made the list of best beaches in Cornwall.
This beach is ideal for families with lifeguards on duty during summer, a designated safe swimming area, and high cliffs offering protection from the wind. Children will love playing in the natural paddling pool created by a stream at the top of the beach. Don't miss the chance to visit the breathtaking Minack Theatre, located on the cliffs above the beach for a truly dramatic natural setting.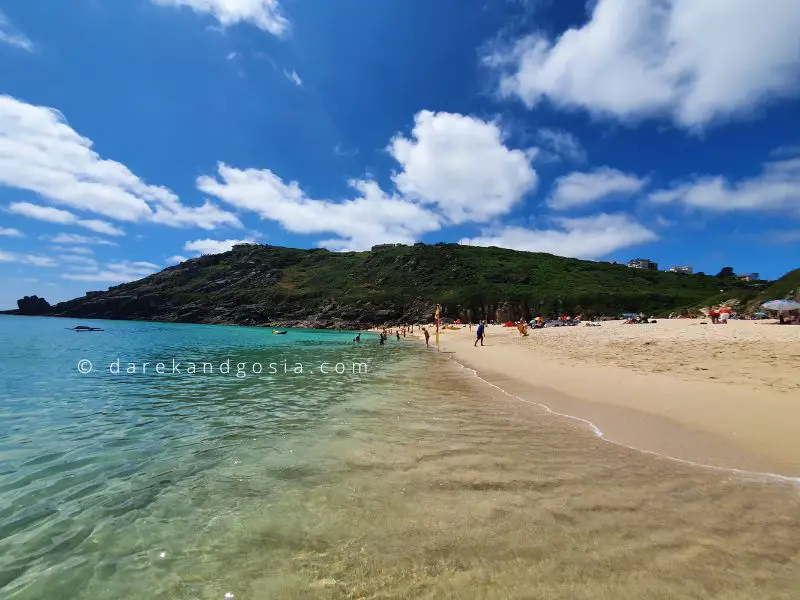 3. Porthminster Beach
Most beautiful beaches in Cornwall? Porthminster Beach, with its lush palm trees and beach volleyball, gives the illusion of being in a tropical paradise. Nestled between grassy headlands, this Blue Flag beach is safer and more protected than other St Ives beaches, making it an ideal choice for families.
With a lifeguard on duty during the summer and accessible facilities for the disabled, safety is a priority. In addition to lounging on the large expanse of soft golden sand, visitors can partake in various water activities such as kayaking, stand up paddleboarding, and surfing. And if you're feeling competitive, there's a mini-golf course on the beachfront to test your skills.
4. East Looe Beach
Top beaches in Cornwall England? Located right at the heart of the seaside town, East Looe Beach is a popular destination for both locals and tourists. Its sandy shore, hugged by the beautiful Looe Bay, offers an inviting setting for sunbathing and beach games. As a sheltered cove, the beach has calm, clear waters that are ideal for swimming, making it a family-friendly location. Watch the comings and goings of the fishing boats from the harbor, adding to the beach's lively atmosphere.
The seafront promenade is lined with traditional shops, cafes, and ice-cream vendors, making it perfect for a leisurely stroll. The backdrop of the quaint town provides a picturesque setting, while the gentle sounds of waves create a calming ambience. With its safe waters and vibrant local life, East Looe Beach is a quintessential Cornish beach experience.
5. Sennen Cove Beach
Best Cornish beaches? Discover the serene Sennen Cove on your next trip to Cornwall. Located just a short distance from Land's End, this beach boasts a magnificent stretch of golden sand and towering Atlantic waves that attract surfers from all over.
With its breathtaking blue waters, Sennen Cove transforms into a picturesque paradise when the tide is low. Soak up the sun, relax on the sand and immerse yourself in the natural beauty of one of the UK's most wonderful locations.
After a day of exploring, refuel at one of the local cafes or enjoy a drink at the charming Old Success pub.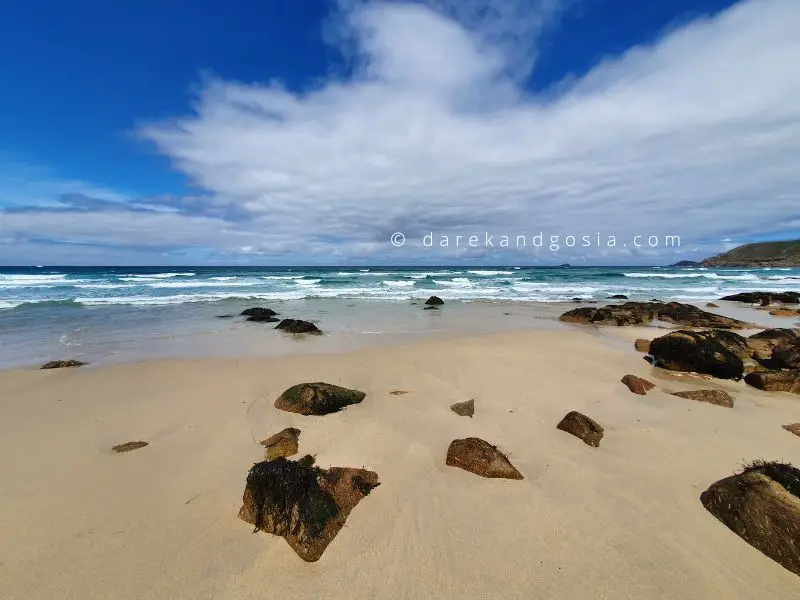 6. Godrevy Beach
Most beautiful beach in Cornwall? Godrevy beach is located at the northernmost and most dramatic section of a three-mile sandy stretch from Hayle to Godrevy Head. Exposed to the Atlantic swell, it experiences big swells and offers rugged beauty on stormy winter days.
The beach ends with a low rocky headland offering stunning views of the Godrevy lighthouse, which inspired Virginia Woolfe's novel, "To The Lighthouse." A top-notch cafe can be found in the National Trust car park behind the dunes.
7. Rock Beach
Nice white sand beach Cornwall? Lying across the Camel Estuary from Padstow, Rock Beach is an alluring destination with its pristine golden sands and tranquil setting. Its immaculate shoreline is a paradise for beachgoers and water sports enthusiasts, offering exhilarating sailing and windsurfing opportunities. Take a peaceful stroll along the coast, immersing yourself in the splendid panoramas of the estuary and the enchanting town of Padstow.
Sample the Cornish delicacies at the elegant beachside eateries, many of which specialize in locally sourced seafood. Don't miss out on visiting the historic St. Enodoc Church, an intriguing landmark nestled among the sand dunes. Less crowded yet no less captivating, Rock Beach is a serene sanctuary offering unforgettable sunsets.
8. Marazion Beach
Best beaches in South Cornwall? This beach is perfect for simply relaxing and taking in its enchanting atmosphere, but there's also plenty of activities to keep the most energetic busy, including windsurfing, kitesurfing, jet skiing, and sailing.
The long sandy beach is safe, and a quick walk through the sand dunes leads to secluded sunbathing spots. Explore rock pools near Chapel Rock and Marazion Harbour, and there's a well-equipped playground above the beach. Sailing and windsurfing facilities are available, including a windsurfing school at the far end of Marazion Beach (where it can get very windy).
At low tide, access St Michael's Mount via a granite causeway once used by pilgrims. At high tide, take a tranquil boat ride to the castle on the island.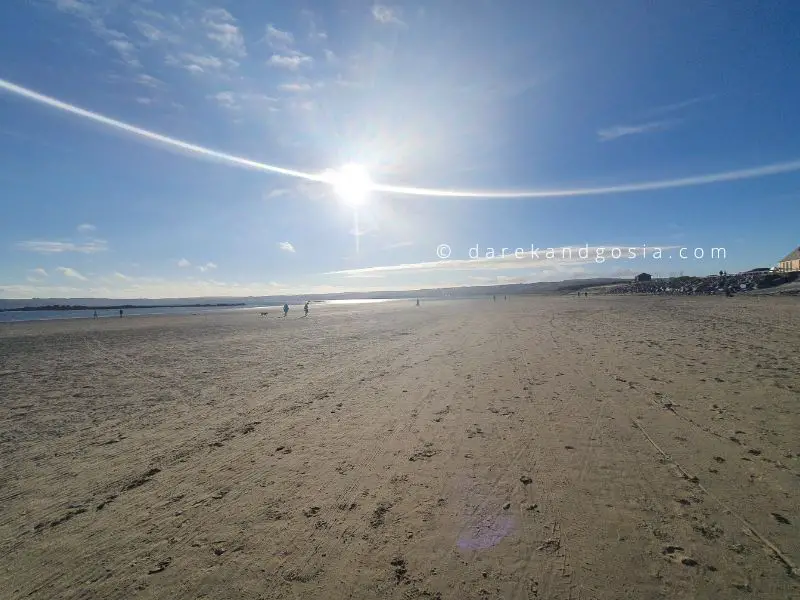 9. Porthmeor Beach
Most beautiful beach Cornwall? Porthmeor is one of eight beaches in Cornwall to receive the Blue Flag Award in 2022, which recognizes its water quality, safety, facilities, environmental management, and education.
Nestled near the iconic Tate St Ives gallery, Porthmeor is a sandy, safe beach that appeals to both surfers and swimmers. Conveniently located just a stone's throw from the bustling center of St Ives, it offers plenty of shops, pubs, cafes, and art galleries that the town is known for. This beach is an ideal place for families to spend a summer day, but don't forget to bring sun protection. During the winter, surfers and dog walkers take advantage of the long stretch of sand, braving the waves and strong winds, before settling down for a warm cup of coffee in a nearby café.
10. Mousehole Beach
Nice beaches Cornwall? Mousehole is known for being one of the most picturesque fishing villages in Cornwall, but it's not famous for its beaches. Despite this, there are two beaches in the area: a pebble and rock beach with a small pool located in front of the Old Coastguard Hotel on the Newlyn side of town and a small patch of sand in the harbor.
11. Fistral Beach
Sandy beach Cornwall? Fistral Beach, the crown jewel of Newquay, is celebrated as one of the premier surfing hotspots in the UK. Its expansive sweep of golden sands, bordered by imposing cliffs and undulating dunes, offers a visual spectacle. Come summer, the beach comes alive with surfers dancing over the waves, bringing a lively vibe. The beach is a stage for international surfing contests, attracting surfing aficionados from around the globe.
The beachfront is a hub for surf-related activities, with an array of surf schools, equipment hire shops, and thematic cafes to explore. For those desiring a calmer experience, the coastal walkway provides a peaceful retreat. Balancing thrill and tranquility, Fistral Beach is a destination that truly encapsulates the Cornish beach experience.
12. Great Western Beach
Beautiful Cornwall beaches? Families and surfers alike flock to Newquay's beach, which, despite its proximity to the town center, remains one of the more tranquil spots. Rock pools offer endless exploration opportunities for kids, and it's possible to walk to neighboring beaches at low tide. This beach is also a favorite among beginner surfers.
Tall cliffs towering above the beach offer some protection from strong winds, but also cast a shadow in the later afternoon, making it less ideal for sunbathing.
The beach earned its name from the Great Western Railway, which ran a popular service to Newquay between 1876 and 1960, putting the town on the map as a tourist destination. The railway also built the Great Western Hotel on the cliffs, opposite the railway station.
13. Pedn Vounder Beach
Cornwall sandy beaches? Pedn Vounder is one of Cornwall's most beautiful beaches, situated among the breathtaking cliffs of Treryn Dinas. It boasts crystal-clear turquoise water and a pristine white sand beach. The name "Pedn Vounder" translates to "end of lane" in Cornish, with "pedn" meaning head or end and "vounder" meaning lane. Locals generally refer to the beach as "Pednee."
Pedn Vounder is located at the eastern end of Porthcurno cove and can be reached on a low tide spring by walking from neighboring Porthcurno beach. However, be cautious as the tide rises, as you will become cut off and face a steep climb up the cliff "path."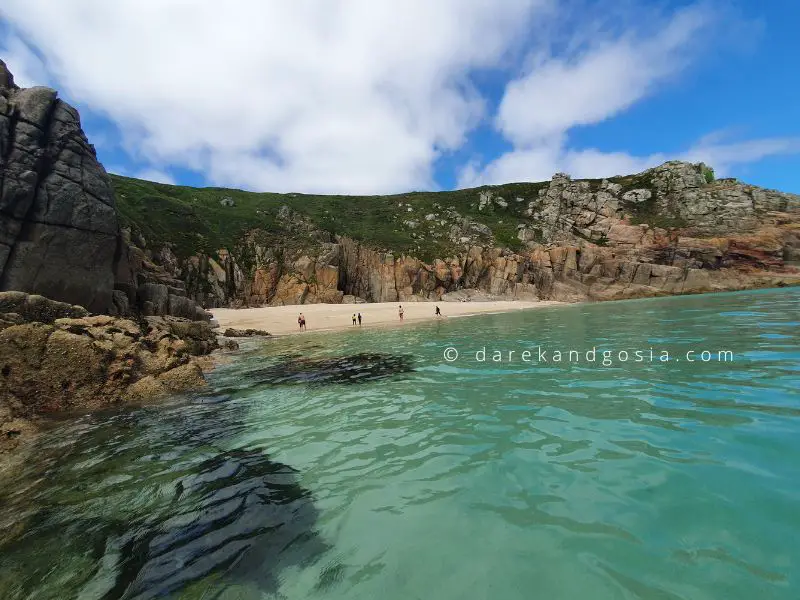 14. Gwynver Beach
Best beach to visit in Cornwall? Gwynver beach, located at the base of steep granite cliffs and accessible via a challenging path through the sand dunes, is never too crowded. It offers some of the best surfing conditions in Cornwall, attracting experienced locals with its large and persistent waves. Lifeguards are on duty during the summer, and it's recommended to seek their advice before entering the water.
This sandy beach, about 150 meters long, is located in a designated Area of Outstanding Natural Beauty. During low tide, it joins with the neighboring Sennen beach. The right side of the beach is dominated by the rocky headland of Aire Point, through which the South West Coast Path passes towards Cape Cornwall, offering breathtaking views from the cliffs and, on clear days, of the Isles of Scilly.
15. Ready Money Cove
Best beach in Cornwall UK? Sheltered by cliffs near the mouth of the River Fowey Estuary, this small sandy beach is surrounded by the medieval part of Fowey on one side and St Catherine's Castle on the other. It's slightly shelving, but the beach may become covered during high tides.
The cove is relatively safe for bathing, but it's not recommended to swim in the Fowey Estuary. Note that there may be water pollution after storms or heavy rain.
During peak season, the beach is cleaned daily and there are litter bins available. There are also tidal rock pools to explore.
Above the cove is a former coach house that was once the home of author Daphne du Maurier during World War II.
16. Porthgwidden Beach
Cornwall best beaches? Porthminster is a small but much-loved beach in St Ives. Despite its size, it remains popular with families due to the sheltered east-facing location that makes it a great sun trap. The beach's rocky outcroppings, which can be explored by snorkelers and offer rock pools at low tide, add to its appeal. On-site amenities include a small café, toilets, and a row of beach huts that can be rented. The Island car park behind the beach is a popular spot, but it fills up quickly during the summer, so plan accordingly.
While the beach does not have a lifeguard, it is monitored by the St Ives National Coastwatch Station, which is manned by volunteers year-round. Swimming is usually safe unless the winds are coming from the east.
17. Perranporth Beach
Nice beaches in Cornwall? When the tide is low, Perranporth Beach and neighboring Penhale Sands join forces to create one of the largest expanses of uninterrupted sand on the North Coast. The town of Perranporth, with its high street that borders the beach, serves as the epitome of a beach town. As you move towards Penhale Point, a vast network of sand dunes towers behind the beach, which is also a Special Area of Conservation and the site of an ancient buried church.
Most of the amenities and attractions in Perranporth are located near the town end of the beach, including rockpools, caves, a stream, and Chapel Rock, which has a small pool for swimming on its ocean-facing side. The "Watering Hole," a pub situated directly on the beach, offers stunning views of the shoreline.
18. Praa Sands Beach
Cornwall's best beaches? The trip from the car park to Praa Sands is a short one, but the brilliant white sand is sure to leave a lasting impression. The sand's unique shade is due to its composition of seashells, which have been finely ground by the forces of the ocean over millions of years. Bordered by the Lizard and west Penwith and situated in a south-west facing bend, the mile-long beach boasts sheltered sand dunes and is a popular destination for families and surfers alike.
The shallow waters are ideal for children to play and build sandcastles, and the nearby shoreline provides endless opportunities for splashing and swimming. The beach's convenient location means you won't have to travel far from the car park to enjoy its beauty. Whether you're looking for a spot to relax with a coffee or a fun-filled day at the beach, Praa Sands is a wonderful destination for all.
19. Crantock Beach
Top Cornwall sandy beach? Crantock boasts a vast stretch of golden sand that is bordered by dunes to the west and the Gannel River to the east. It's a popular destination for swimming, snorkeling, surfing, and windsurfing, with equipment rentals available on the beach. Dolphins have even been known to make an appearance.
The beach is equipped with convenient facilities, including cafes, toilets, and a 150-space parking lot, as well as a nearby campsite. To reach the beach, take the level path from the right corner of the National Trust car park. Please exercise caution when accessing the beach from Rushy Green, as the dunes can have steep drops following stormy weather.
Crantock Beach is owned and maintained by the National Trust and is preserved through the support of its members, volunteers, and donors. National Trust members can park for free, but overnight camping is not permitted.
20. Carbis Bay Beach
Sandy beaches Cornwall? Carbis Bay, located just under a mile from St Ives, is a wide, sandy beach that is well-equipped and particularly popular among families. Its position in the lee of large, tree-covered cliffs provides shelter from the wind and waves.
Surfing is possible at Carbis Bay on rare occasions, but only when there is an enormous northerly swell. When surf is up, the beach is a popular spot for bodyboarders, with powerful, wedgy waves breaking close to high tide.
Carbis Bay is easy to reach and conveniently located just outside of St Ives, allowing you to avoid summer traffic. It also has its own station on the St Ives train line.
Are beaches better in north or south Cornwall?
Both the north and south coasts of Cornwall have their own unique features and attractions.
For example, the north coast is known for its rugged and wild landscapes, with dramatic cliffs and hidden coves. Beaches in this area are often more secluded and quieter, offering a peaceful escape from the crowds.
In contrast, the south coast of Cornwall is known for its more developed beaches, with a wider range of amenities and activities available. These beaches are often busier and more popular with families, as the water is usually calmer and safer for swimming.
Dog friendly beaches Cornwall
Cornwall is known for its beautiful beaches and many of them are dog-friendly, making it a great destination for families with dogs. Here are some of the best dog-friendly beaches in Cornwall:
Perranporth Beach: This 3-mile-long beach is a popular destination for families with dogs. Dogs are allowed on the beach all year round.
Watergate Bay: A popular destination for families and dogs, this beach is known for its golden sand and excellent surf.
Porth Beach: A sheltered cove that is popular with families, this beach is dog-friendly all year round.
Harlyn Bay: A sheltered beach with good surf, this is a great destination for families with dogs.
Daymer Bay: A sheltered bay with a long stretch of sand, this beach is a popular destination for families with dogs.
Kynance Cove: A stunning cove surrounded by cliffs, this beach is dog-friendly in the off-peak season.
Summerleaze Beach: A sheltered beach with good surf, this is a great destination for families with dogs.
It's important to note that while many beaches in Cornwall are dog-friendly, they may have certain restrictions in place during the peak season, so it's always best to check with the local authorities before visiting.
What is the most photographed beach in Cornwall?
The most photographed beach in Cornwall is widely considered to be Kynance Cove. It is known for its turquoise waters, dramatic cliffs and rock formations, and stunning sunsets. This secluded beach is a popular spot for photographers and visitors alike, who come to admire its natural beauty and take in the breathtaking views.
Which beaches in Cornwall have the best clear water?
Cornwall is known for its clear blue waters, and many of its beaches offer great opportunities for swimming and other water activities. Some of the beaches in Cornwall with the clearest water include:
Porthcurno Beach: This sandy beach is surrounded by cliffs and has crystal-clear turquoise water that is perfect for swimming.
Kynance Cove: This beach is known for its clear blue waters and is a popular spot for snorkelling and diving.
Porth Chapel Beach: This small and sheltered beach is located near Porthcurno and is surrounded by cliffs, making it a peaceful and serene spot to swim.
Perranporth Beach: This long, sandy beach is surrounded by rolling dunes and is a popular spot for swimming and surfing.
Sennen Cove: This sandy beach is surrounded by cliffs and is popular for swimming, surfing and other water activities.
These are just a few examples of the many beautiful beaches in Cornwall with clear water. Whether you're looking for a peaceful and serene spot for a swim or a lively beach for surfing, there is a beach in Cornwall to suit everyone's needs.
Which beach in Cornwall looks like Caribbean?
There is no beach in Cornwall that exactly resembles a Caribbean beach as the geology and climate of the two regions are very different.
However, some beaches in Cornwall, such as Porthcurno, Kynance Cove and Porth Chapel, are known for their clear turquoise waters, which are reminiscent of the Caribbean in some ways.
Best beaches in Cornwall for families
Cornwall is a popular holiday destination and has a number of beaches that are great for families. Some of the best beaches in Cornwall for families include:
Porthminster Beach, St Ives: A large, sandy beach with excellent facilities, including a café, toilets, and showers.
Praa Sands: A mile-long sandy beach with sheltered sand dunes and easy access, making it a great destination for families.
Gyllyngvase Beach, Falmouth: A sheltered sandy beach with good facilities, including a café, toilets, and showers.
Widemouth Bay: A large, sandy beach that is great for families and offers a range of water sports, including surfing and bodyboarding.
Polkerris Beach, near Fowey: A sheltered sandy beach that is perfect for families, with a café, toilets, and showers.
Carlyon Bay Beach, near St Austell: A long, sandy beach with good facilities, including a café, toilets, and showers.
Watergate Bay: A popular beach with families and surfers, with a café, toilets, and showers.
These are just a few of the best beaches in Cornwall for families, and there are many more to explore.
Is it worth visiting sandy beaches in Cornwall?
Yes, it is definitely worth visiting sandy beaches in Cornwall. With its scenic coastline and clear waters, Cornwall is home to some of the UK's most beautiful beaches. Its sandy beaches offer a range of activities such as sunbathing, surfing, swimming, and rock-pooling.
The combination of stunning scenery, clear waters, and a mild climate makes Cornwall's sandy beaches a popular tourist destination for families, surfers, and beach lovers.
So if you're looking for a beach holiday, consider visiting the sandy beaches in Cornwall.