This article explains how I managed to speed up my blog and got 98 score (desktop) and 63 (mobile) with Google site speed test while using Ezoic ads!
Are you obsessed with the speed of your WordPress site?
If you are not, then you should really start working on it! Or at least check how quick your blog is and if the speed (or lack of it) is affecting your performance!
Psst… my blog used to be slow too, but I managed to get it back on track and I'm now happier with its speed.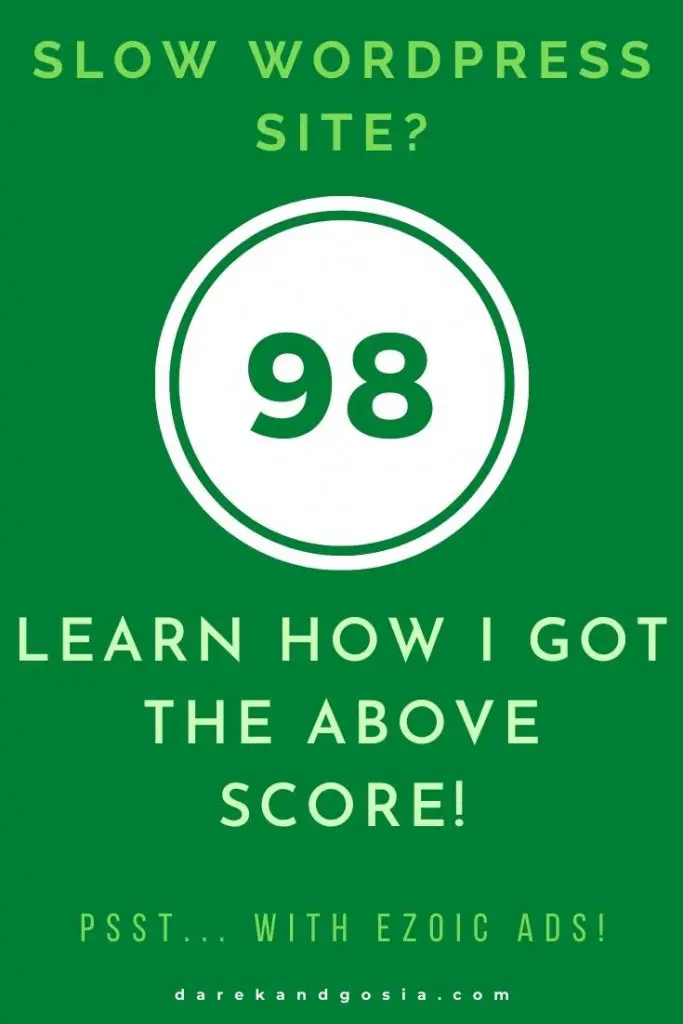 This article was created as many bloggers, who consider implementing Ezoic ads, are concerned about the site speed. Are you one of them? If yes, then you are in the right place to learn all about our experience with Ezoic ads and the speed of our blog.
If you are already with Ezoic and your blog is slow, then… it's only YOUR fault!
Yes, you hear me correct – I believe that you, as the owner of a blog, are responsible for all the aspects of your online business. Blaming Ezoic for the lack of speed is just not fair.
Just to clarify.
The below is only my experience and all the improvements were achieved after implementing below action points. This article is NOT sponsored by Ezoic, I don't work for them and didn't get anything from the company for writing it. All numbers are truly reflecting the optimization I have done. Yes, there are some affiliate links so I might get a small commission if you do decide to use some of the items I mentioned below.
In the meantime, look at the below ad. Yes, this little buster is slowing down your site – but you need it to make your blog profitable.
All site speed tests were done for our Amersham Buckinghamshire blog post.
This is a fairly new post which currently is ranked on page 5: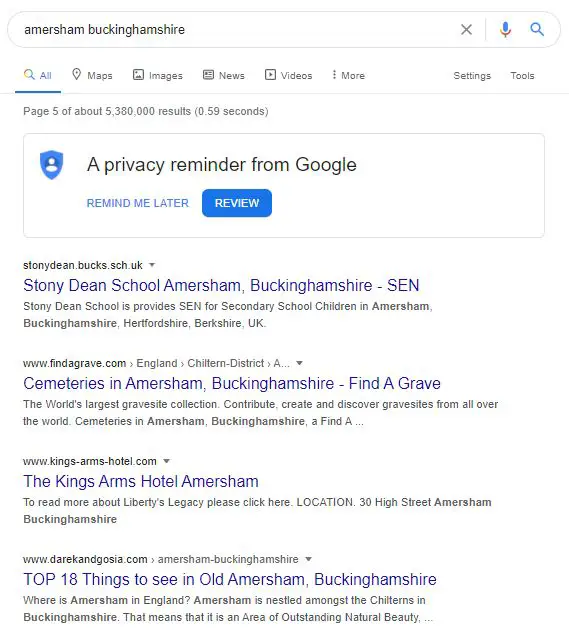 Please see my results below as a proof 😉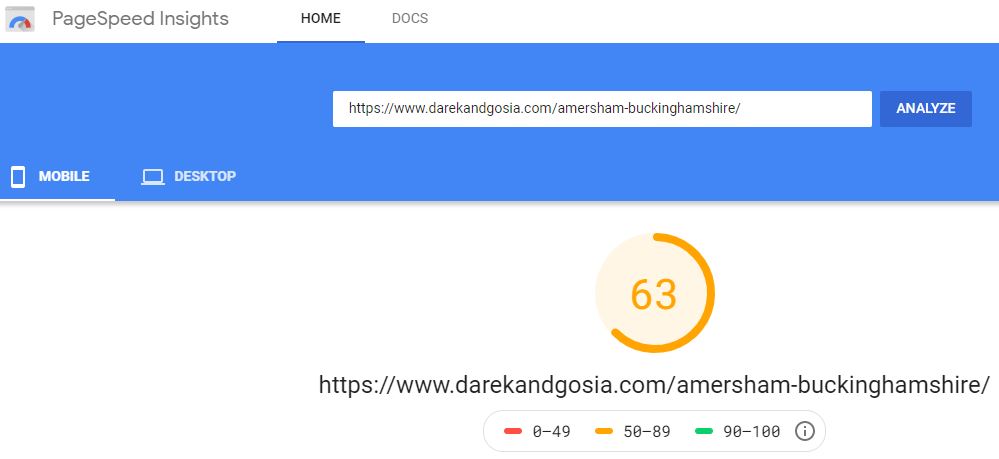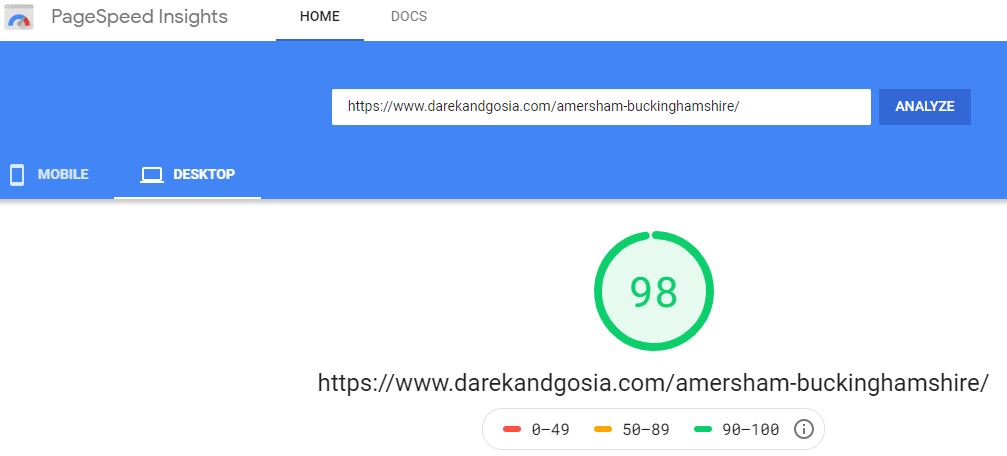 The above scores are for my blog post with Ezoic ads. Before I optimized the speed both were in red and around the mark of 15-30.
Yes, the speed was rubbish!
Do I get every time the same score? No. My mobile score is between 43 and 63 and desktop between 77-98 – still not bad 🙂
It is also worth mentioning that before implementing Ezoic ads, my site speed score was around 45-55 on mobile and 77-85 on desktop. So, now my blog is faster, even with Ezoic ads.
Pretty awesome! 🙂
How to speed up a WordPress site?
Right, if you don't have enough time to read the whole article at the moment, you can see below the top 5 steps you can implement to speed up a WordPress site.
You are welcome! 😉
In short: Top 5 steps to improve your site speed!
Get ride of scripts & plugins you don't need
Use plugins to speed up your blog (WP Rocket)
How much does it cost to speed up your blog?
If you don't want to spend any money to make your blog faster, then do NOT continue reading this post.
Let's face it – your blog is your business, and as in every business, there is a cost involved too.
I strongly believe that if something is free (or cheap) there is probably a reason – it's simply not great!
So how much do you have to spend to get better results? It mainly depends on where you are with your blog and how well it's optimized. The main cost involve:
All the above will help you improve the score in Google site speed test.
What is Google site speed test?
The Page Speed Insights report looks at the below Lab Data:
First Contentful Paint
Speed Index
Largest Contentful Paint
Time to Interactive
Total Blocking Time
Cumulative Layout Shift
Below you can see our performance, which achieved 98 score on desktop: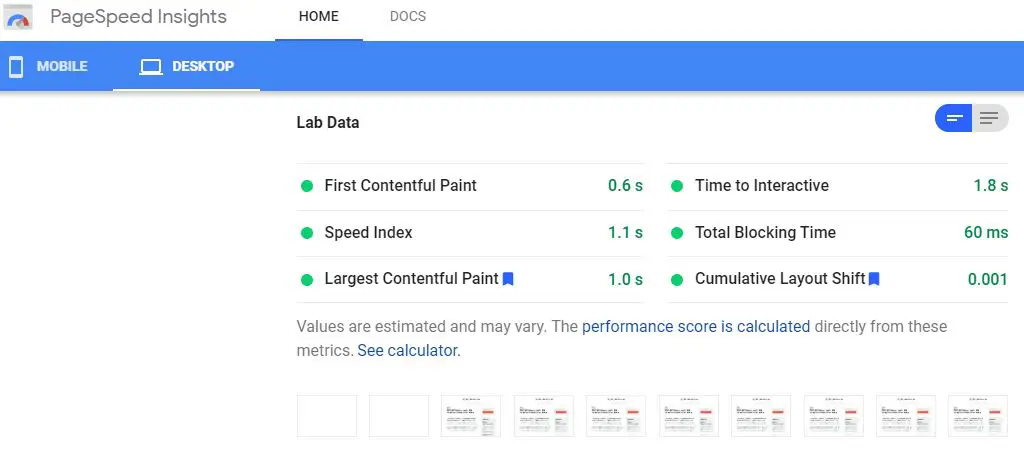 Do you have to worry about all the above?
No.
Actually, the answer to the above question is the Google Search Console – I will cover this later in this post.
Lighthouse site speed test
If you are very obsessed with the numbers and are interested in understanding how the Lighthouse Scoring is calculated, click on the see calculator under the Lab Data.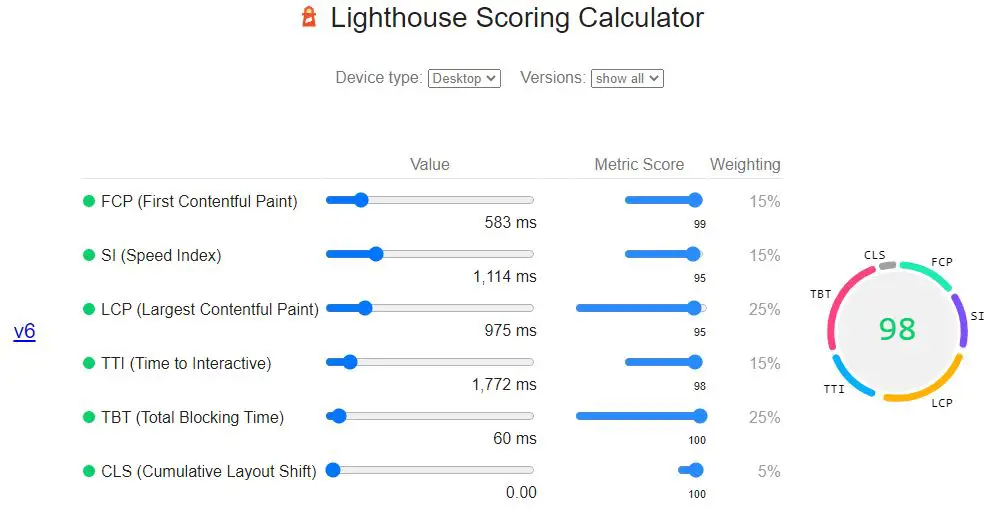 How important is site speed for SEO?
Remember my Amersham Buckinghamshire post? I use a simple technique to see if my competitors have much quicker posts and if the site speed is a huge factor influencing my SEO ranking.
So, how do I do that?
Just type the main keyword for the blog post you want to optimize and check the top positions. In my case, the below sites are ranked on the 1st page:
– thecrazytourist.com/15-best-things-to-do-in-amersham-buckinghamshire-england/
– en.wikipedia.org/wiki/Amersham
– tripadvisor.co.uk/Attractions-g499482-Activities-Amersham_Buckinghamshire_England.html
– wanderlustchloe.com/amersham-buckinghamshire-perfect-24-hour-break-london/
– britainexpress.com/counties/bucks/az/amersham.htm
– visitsoutheastengland.com/places-to-visit/amersham-old-town-p90181
– hamptons.co.uk/buy/search/amersham-buckinghamshire/
– britannica.com/place/Amersham
Then, you have to check each of them in Google's PageSpeed Insights.
Note the results. I got the below when I checked the site speed for each of the pages: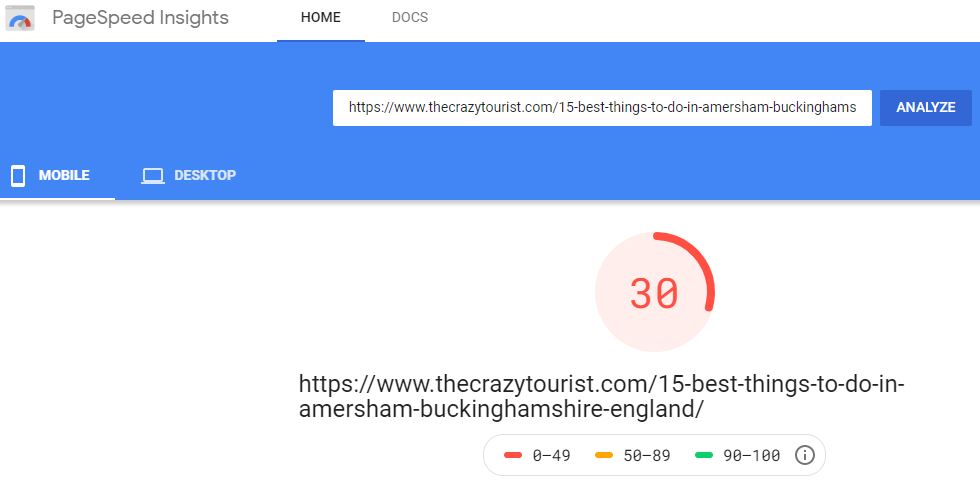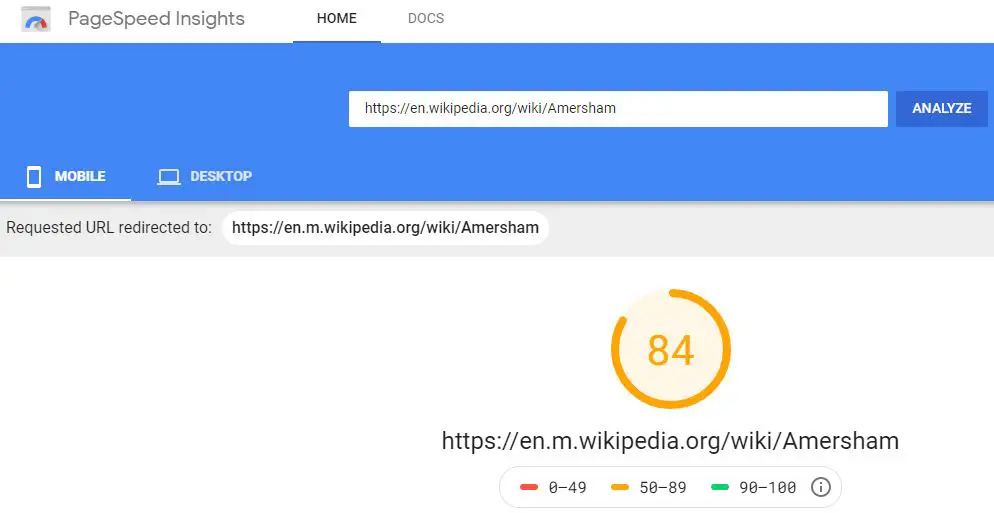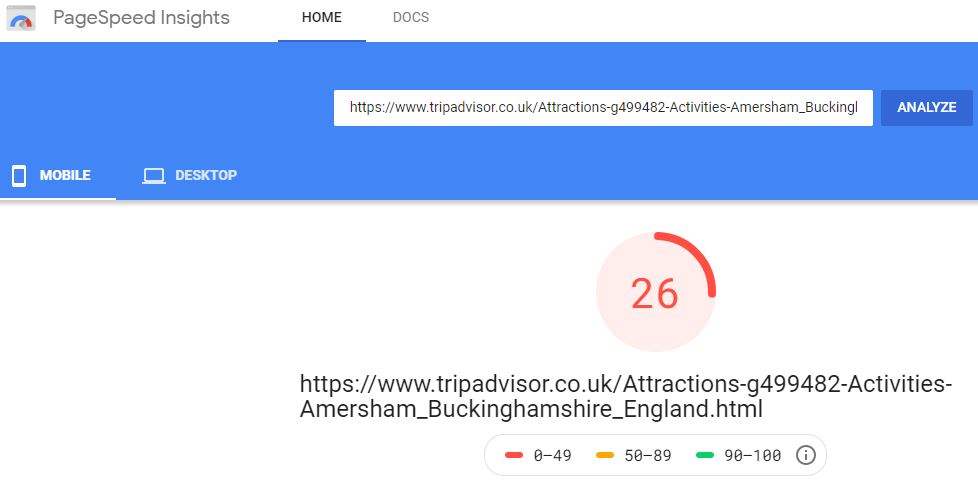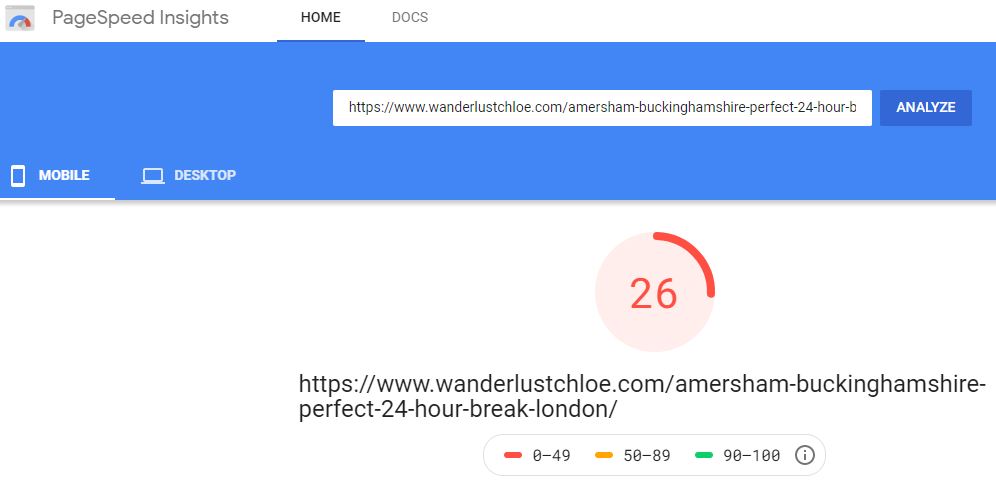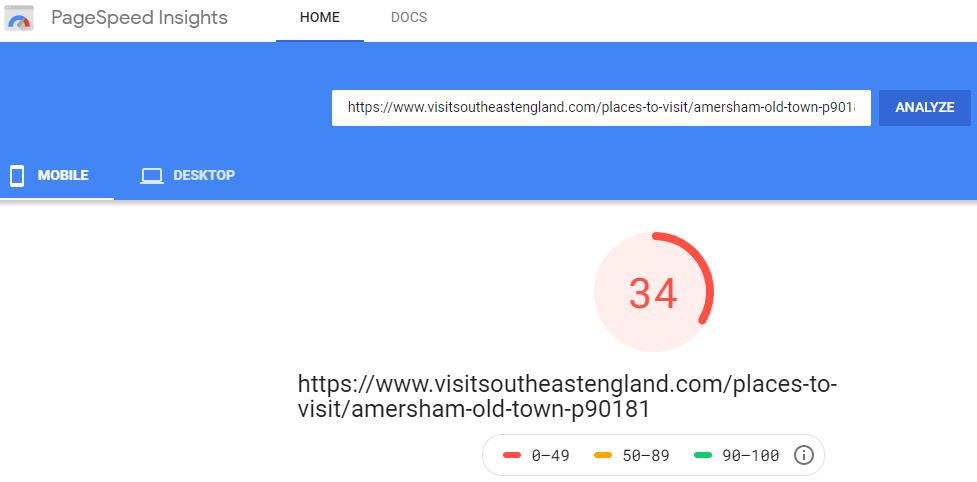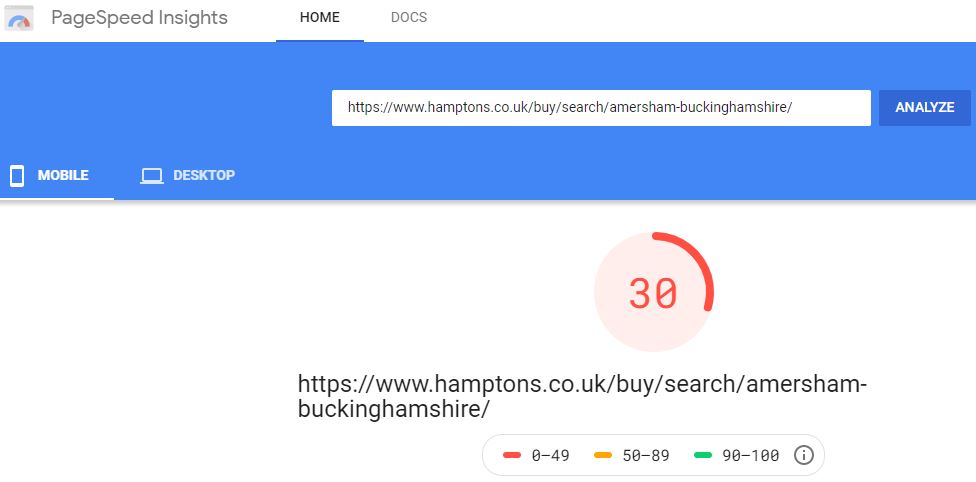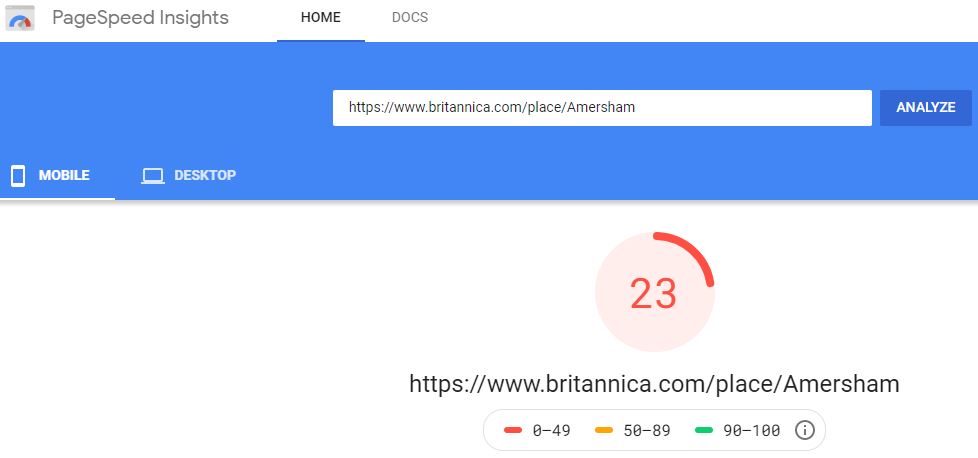 Yes, I only included the print screens for mobile results but you get the point – many of the top pages have just very bad site speed score in Google!
In fact, only Wikipedia had much better site speed score on Mobile vs. my blog post – I can't really complain about that 😉
Did you check if my site is SEO optimized? Yes, I could probably do a bit more to get better on page SEO score. But I was not checking if I have SEO optimized blog – the above will only show if speed can/will impact my SEO ranking.
So, how important is site speed for SEO? Based on the above test, not so much… for now.
Core Web Vitals
As Google announced in May 2020:
…Today, we're building on this work and providing an early look at an upcoming Search ranking change that incorporates these page experience metrics. We will introduce a new signal that combines Core Web Vitals with our existing signals for page experience to provide a holistic picture of the quality of a user's experience on a web page…
This means only one:
A major change to the algorithm is coming and it's going to be an interesting one 🙂
But if you read carefully you will notice that they talk about user experience, not the 98 site speed score you can get!
Is site speed affecting SEO?
Many people say that site speed affects SEO massively. I don't really believe that the speed affects the SERP ranking.
It's not the speed itself, it's the user experience!
The site speed score is only an indication for you to start investigating where you can improve and hopefully speed up your blog.
Is your blog so slow that a user just gives up and leaves the blog post before reading it?
Not sure how to check that? There are a few metrics in GA you have to monitor for that.
Google Analytics – how site speed affects user experience?
Looking at my GA from the last 8 months, you can see that almost 60% of the traffic came from SEO. This is currently a bit higher as I don't do much to promote Pinterest.
The key metrics to see in GA are:
Bounce rate
Avg. Session Duration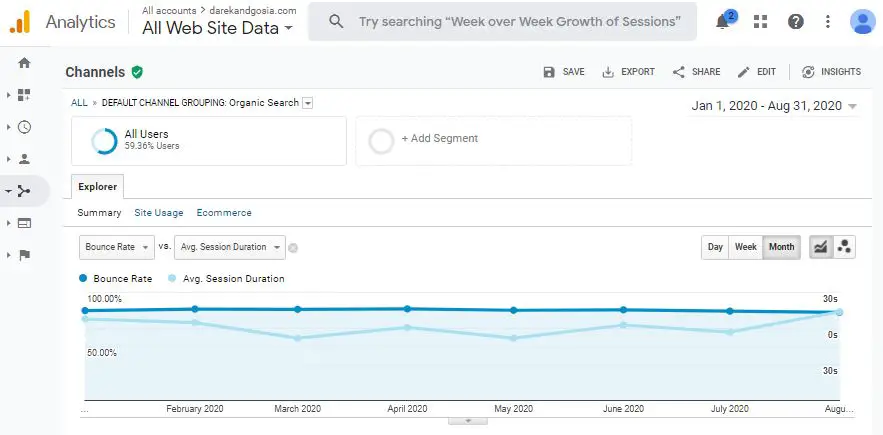 You probably can't see exactly the numbers, but so I include the below table:
| | | |
| --- | --- | --- |
| | Bounce Rate: | Avg. Session Duration |
| January | 83.35% | 1:08 |
| February | 84.79% | 1:05 |
| March | 84.53% | 0:52 |
| April | 84.90% | 1:01 |
| May | 83.69% | 0:52 |
| June | 84.04% | 1:03 |
| July | 82.85% | 0:57 |
| August | 81.76% | 1:14 |
I implemented Ezoic ads on the 30th of June. So the last 2 months in the above table is my performance with "slow" ads. Then, the month of August is the 1st month when I optimized the speed.
Can you see a difference? Yes, people spend a bit more time reading my blog.
Ezoic site speed issues! What issues?
Ezoic page speed: is Ezoic slow?
The truth is that Ezoic's ads will slow down your blog!
But, all ad providers will have a negative impact on your site.
In fact, any additional script has a smaller or bigger impact on your WordPress site speed – this includes Instagram feed, pop-up windows etc. Funny thing that I don't see people complaining about other scripts which are slowing down a blog…
Going back to Ezoic.
Are you using Ezoic ads and see that your blog is slowing down?
Great, it's time to implement some action points and take ownership of the ad placements! You don't need any special Ezoic WordPress hosting but you can improve Ezoic speed – just follow the below points:
How many Ezoic ads should I have?
If you read Ezoic blog you will learn a lot about Ezoic ad index, Ezoic speed test or Ezoic WordPress plugin. But before reading about Ezoic ad revenue index or Ezoic site speed pricing focus on one thing – the number of ads you have on your blog!
The main factor will be the length of the article. You should also be sure that you never see 2 ads at the same time when browsing on Mobile.
Remember, you have to focus on user experience and not spam your blog post with too many ads.
If I had to put a number, I would say that ONE ad per every 250 words of text is reasonable. So, if your article is 2,000 words long, you can have ~8 ads.
I would never include an ad above the fold either. Why? Yet again – this is a very poor user experience. Just think for a moment, is ad the first thing you expect to see after landing on a blog post?
NO, it's not!
So, why would you keep ads at the top of your blog post?
Sidebar – the killer of your site speed!
There is a little secret that nobody talks about.
The sidebar is becoming less useful and it kills your WordPress site speed!
How come?
Well, have you checked your GA recently? What % of your traffic comes from Mobile? We have around 60-65% from that device – and will only increase in the years to come.
You probably ask yourself – how the hell is this part of the blog impacting site speed and how to speed up ads?
The answer is simple – nobody sees your sidebar on Mobile! Or at least only a small % of the users. So, why would you keep ads in the sidebar if only a small % of users will ever see it? Those ads are not even profitable and drive very small % of your Ezoic revenue.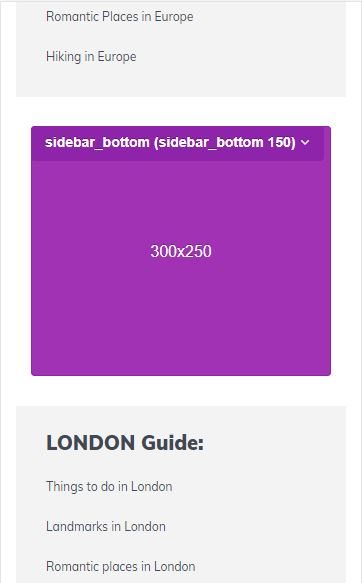 How to see which Ezoic ads make a profit?
I will write a separate post about how to check which Ezoic ads are profitable.
FAQ: How to improve site speed WordPress?
Top thing to do to speed up wordpress site?
Without a doubt, using WP Rocket plugin is the best & quickest way to improve the speed of a WordPress blog!
Is WP theme affecting site speed?
Yes! You should use an optimized WP theme – check out Elegant Themes, StudioPress or ThemeForest to find SEO optimized themes.
Would your blog speed up after implementing the above steps?
I can't guarantee that.
I can't promise that.
And… I don't know that!
All I wanted to show you here was my experience. If you follow my steps you might be the lucky one who stops moaning about site speed. If you don't, then stop using ads and your site will be fast again! 😉 😉
All changes done to your blog are at your own risk. If you are not confident with making such changes just hire a professional to do that 🙂
What's your site speed score?
If you don't know the number, run the speed test to see if you need to speed up your site. This really can help to improve performance!